It's the end of the working week and what better way to celebrate the start of the weekend than with a bright and sunny, English country wedding, courtesy of Tom Redman. This wedding is full of one of my favourite colours green, from the grooms socks to the brides polka dot shoes and all those lovely wedding details.
Sunshine, socks and spotty shoes… We wanted a memorable day for our friends and family filled with personal touches and a lot of love and what we got was nothing short of perfect. If you like the hand-made approach and you're not afraid if things don't really 'match' then you might just like our version of an English, country wedding.
Kat and Rich who were married on 25th May, at St James' Church, Alderholt with the reception at Chettle House, Chettle near Blandford. 30 years previously my (Kat's) parents were married at St James' Church and it was really the only place I wanted to say my vows. We chanced upon Chettle House having trawled through a load of unsuitable venues that didn't suit our quirky ideas. We wanted something different, a place that would really let us put our own stamp on things. The church was packed, we have no idea how many people actually arrived! There were 70 guests for the Wedding Breakfast, with about 100 in the evening, it took 18 months to plan.
How they met
We came across one another in a local pub about three years ago, our eyes met across a crowded room…or something like that! It took a bit of persuasion, but eventually Kat agreed to go on a date and the rest as they say is history.
The proposal
Picture a chilly Boxing Day morning, you are suffering with Bronchitis and the last thing you want to do is go for a walk, but Rich was determined that we should have a stroll along the beach to celebrate the festive season. After an awkward walk along the sea front, I didn't realise at the time why he was so nervous, we stopped under the pier to 'look at the view'. Rich then produced a box from his pocket, "as it's Boxing Day, I thought I better give you a box." And then asked me to be his wife, there was no 'down on one knee' as apparently it was too sandy and everybody would stare!
Why did you choose your photographer?
Tom Redman was the first photographer we looked at, he was recommended to us by our venue and we absolutely loved his work. Not wanting to go with the first person we found we did meet with a couple of other photographers but none of them got close to the work we had seen. Having met with Tom to discuss our requirements we realised that we couldn't have anybody else. His natural photography and eye for detail was perfect for the day we had in mind. After an amazing engagement shoot on the beach we knew we had made the right choice.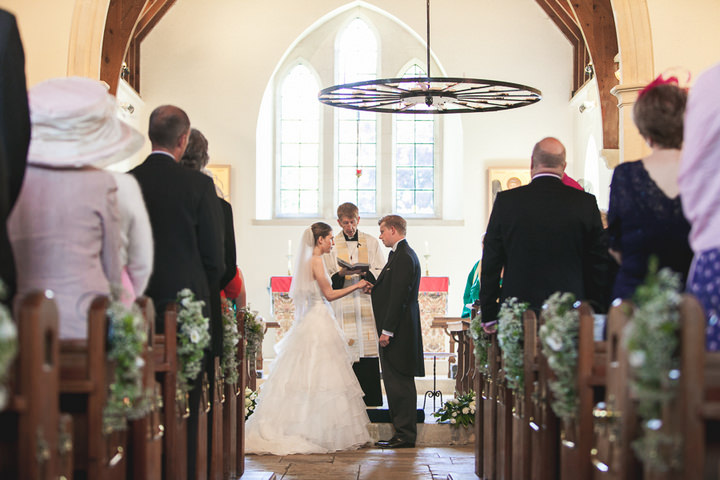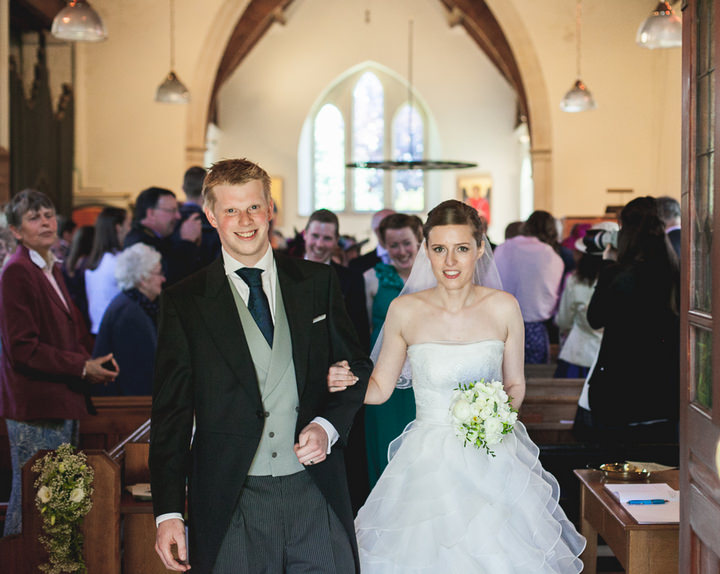 The dress
My dress was by Eternity Bridal and I found it at Special Occasions Bridal House in Ashley Cross, Poole. It was the 24th dress I tried on and I knew it was the one as my mum burst into tears before we'd even done up the back! My shoes were Irregular Choice, I wore my grandmothers veil, the one she had been married in 66 years previous. I'm not a fan of jewellery so let the dress do all the talking.
The suit and bridesmaids
The suits were hired from Moss Bross, the groom wore a tie from PINK bought for him by his lovely wife as a pressie. The socks the groomsmen wore we bought them as a cheeky present. The Bridesmaid dresses were from Jane Norman, and absolutely perfect.
Theme or colour scheme
We wanted a natural, country theme for our wedding and were working with a range of greens and neutral tones. We really wanted the day to reflect us as individuals and as a couple.
Decoration
The decorations were very simple; the backdrop of Chettle was so beautiful we didn't want to take away from the venue and its surrounding grounds. A very simple ivory marquee was decorated with a 'beg, borrow or steal' attitude with lots of friends and family providing things for the occasion. We had potted herbs on the tables as our centre pieces as we both work with food and used a scattering of leaf skeletons as pop of colour. A bit of bunting here and a few fairy lights there and judging by the 'oohs and aahs' of our guests we did a pretty good job.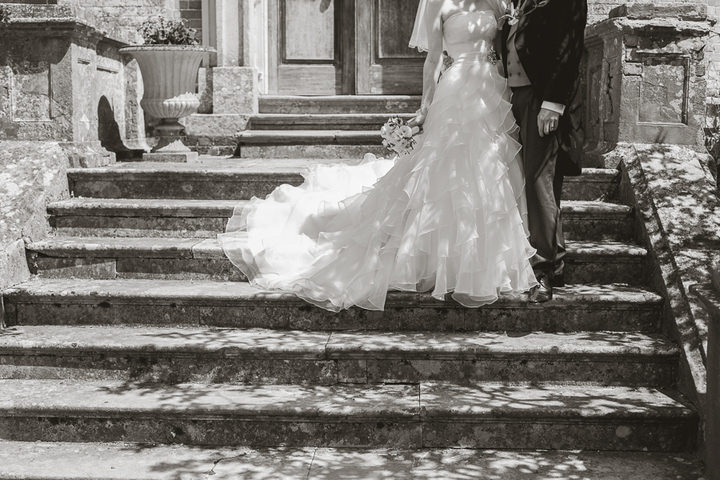 Food
As the groom is a chef this part of the wedding was particularly important to us. We designed a menu with our caterer to suit our tastes and reflect the rustic country theme we were after. After a delicious starter of mackerel pate on homemade sourdough bread, we enjoyed slow-roasted pork belly on a bed of chick pea and chorizo ragout and finished it up with very generous helpings of lemon tart or rich chocolate torte (or both if you had room!).
Entertainment
The Brides brother and best mate – they were entertainment enough! We had wanted a band, but after trawling the internet we realised that we wouldn't be able to find somebody to play the eclectic mix of music we wanted so we settled on a DJ. As the thought of Wedding DJs fills us with dread and dodgy 'This one's for the ladies…' we asked my brother and a friend to provide the music. They did an amazing job and the dance floor was packed all night long.
Flowers
All the bouquets were made by my very talented grandmother and her friends. My bouquet was made up of Ranunculus, Veronica, Gypsophila, lisianthus and little white roses, it was stunning. The girls carried bouquets of gypsophila and lisianthus. The church was filled with cow parsley and cabbages.

Personal / DIY touches
I don't like the term DIY, it brings up images of wonky shelves and light fitments that don't work, but yes this was definitely a DIY wedding…well DIO (Did it ourselves!) The whole day was very personal and we have so many friends and family to thank for the help and support we had in putting it all together.
– From the Save the Date cards, invites and Service Sheets to the table plan and place names, the Bride made them all. A crafter at heart I had a whale of a time putting everything together, a lot of vintage print paper was used and the effect was rather impressive, even if I do say so myself! I had scoured many blogs just like this one for ideas and may take up wedding planning as a hobby just as an excuse to keep looking!
– My best friend and maid of honour put her talents to good use and embroidered us a guest book, and I wrote a silly poem to encourage people to write us some messages.
– The gorgeous and quite delicious cake sat on top of a vintage sewing machine table which has stood in my grandmother's garden for as long as I can remember. It was a really eye-catching way to display the wedding cake and made for a great talking point.
– The cake itself was reproduced from a blurry photograph I found online, we were very lucky to have a pastry chef in the family who created it for us. Each tier was a different flavour and was enjoyed by all.
– The favours were a favour from the groom's very talented Step father who produced hundreds of chocolate chickens to sit on the tables; we have three real-live chickens clucking round our garden at home so felt it was rather fitting to make these for our guests.
– We both live in our wellies, rain or shine there is always and excuse for a wellington boot. I wouldn't allow Rich to wear his all day, but we did put them on for a few humorous photographs.
– The wedding transport was one of our favourite parts of the day, my brother is the proud owner of a very handsome VW Camper van which just so happened to match our colour scheme.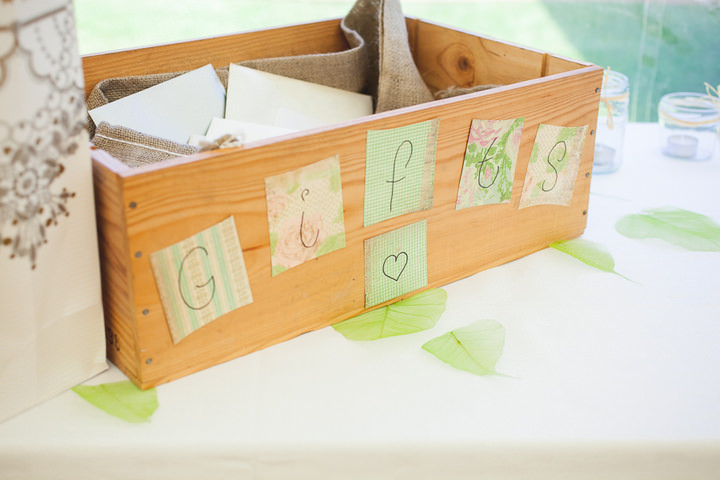 Special moments
The whole day was special and picking a highlight would be far too difficult, being surrounded by friends and family (and the sunshine) was all we could have asked for.
Advice
Just Smile! The day goes by in a flash of camera and well wishing, and it really is all too much to take in. My greatest piece of advice would be to take time and step back during the day and just look at everyone enjoying themselves. It really is amazing to look at your family and friends and see them celebrating your day. There may be things that don't go how you wanted them to or something you think you could have done differently, but at the end of the day the wedding day itself is really only a drop in the ocean, your lives together before and after that day will make any dress disasters or table setting blunders pale into insignificance.
Biggest
Rich – I can answer this one! We planned the whole day together and having a very organised woman in my life we were pretty sure of what was going to happen minute by minute. But the only thing I wasn't allowed to be a part of was the wedding dress. I only really got to look at it properly when Kat was being photographed on her own and it was amazing. I had no idea what to expect, but she looked amazing.
Supplier Shout Outs 
For more information on Toms work go to 
www.tomredmanphotography.com
www.tomredmanphotography.com/blog
[email protected]
FACEBOOK
@tomredman
0789 999 1709