Today we are back with Lisa and Alex from 2 people 1 life for wedding number 34.  After completing their 5 weddings in 5 days at It's the The Myrtle Beach Wedding Extravaganza it was time to get some R&R and what better place to so than the Bahamas! So today we meet up with them on this gorgeous Island for wedding number 34! and their traditional Bahamas wedding
(In case you have missed it the whole story Lisa and Alex have spent the last two years travelling round the world getting married in every country they visit, you can read more about their adventures HERE.)
I'll pass the Blog over to Lisa……………..
On our wedding day morning, we woke up at Grand Isle Resort, nervous and excited for the day ahead. We laughed that as we laid in bed that we were catching a tan, since we had gone to sleep with the doors wide open to let in the Ocean breeze. Alex joked that it was his finest multi-tasking moment and I had to agree.
We went down for breakfast and had a quick stroll on the pristine beach a stones throw from our table and before we knew it, it was time to get our wedding on for the last time in the Americas. 34 weddings in 18 months seemed so incredible and what a way to finish our tour of this amazing continent!
We were driven to the other side of the island where we picked up a water taxi with Elvis. Elvis took us for a small tour around the edge of the island we were heading to to get ready for the wedding. Elvis dropped us off at St. Francis where we were going to have lunch and get ready for the wedding. The proprietors, George and Jillian, originally from South Africa, welcomed us and we enjoyed the view from their balcony and the gorgeous sea breeze it affords.
The ceremony was due to take place at sunset so we had a little time to kill, which is really not a chore here. We soon dressed for the ceremony and again we hopped on Elvis' Water Taxi and were whizzed over to Kwanza's island to Chat 'N' Chill™, the wedding ceremony location. A cool little island with a beach 'shack' bar. The view over the water is idyllic to say the very least and the conch salad is reputably one of the best in the Exumas…and all this before I even mention the people! Kwanza and her husband Ken (aka KB) run the bar and a destination wedding planning business and it was thanks to them that we were even in this heavenly place!
We arrived expecting a handful of guests, a conch salad and a good few Sands Beers to celebrate but we were greeted with more than we had ever imagined.
A huge sign welcomed us to Chat N Chill and fairy lights were strung EVERYWHERE. Chandeliers hung from tree branches and soft sand squished between our toes. Ribbons fluttered in the breeze and then I saw the tables. Two long trestle tables dressed in a perfect reflection of the islands. Orange corals stretched over the crisp white plates, place names sat delicately in shiny mother of pearl shells. Huge flower arrangements screamed EXUMAS in the middle of the tables and storm lanterns held flickering candles everywhere….I don't know if someone had tipped off Cleo, the decorator, that orange was my favourite colour, but I was bowled over! It looked stunning.
While I excitedly took in the tables Alex was nudging me in the arm…I am busy telling him how perfect this all is and he is silently nudging me whispering 'Piggy….PIGGY…LOOK!'…I looked up to see the beach set up for the ceremony. An arch dressed in blossoms facing the ocean, pews lined up on the beach to form a congregation and a small table set up for us to 'sign' the register.
We had no idea that this was all going on around us. We found Kwanza and told her how amazing this all was and just so perfect, she introduced us to the singers and our 'bridesmaids' and 'best men' and we saw Ken  preparing for the ceremony. My nerves hit a peak and then it was time. Music started to play, Alex went off to stand by the altar and I awaited my signal to walk down the aisle and join him. The bridesmaids and groomsmen danced hand in hand down the aisle before me and I tried to walk as slowly as I could to get to Alex's side so I didn't catch up with them. Once I got there the ceremony began.
The Junkanoo ceremony was similar to a Christian ceremony. Christian beliefs are strong in the Bahamas and while marriage ceremonies follow that traditon, Bahamians add a Junakanoo flavor to nearly everything they do and weddings are no exception! Even the setting sun behind us was very much Bahamian, bright and making the sky burst with colour! We kissed to seal the deal and then were asked to perform a sand ceremony. We both poured our sand into one container and were told that if we ever wanted to seperate we had to first separate every single grain of sand together before we could part.
Next we signed the register which seemed surreal to us, having never done this before it felt a little alien and a surplus to requirements part of the wedding. But everyone was so happy to see us sign and they all cheered and we listened to the amazing voice of Cindy Romer (Nelson, the photographer's sister) in celebration.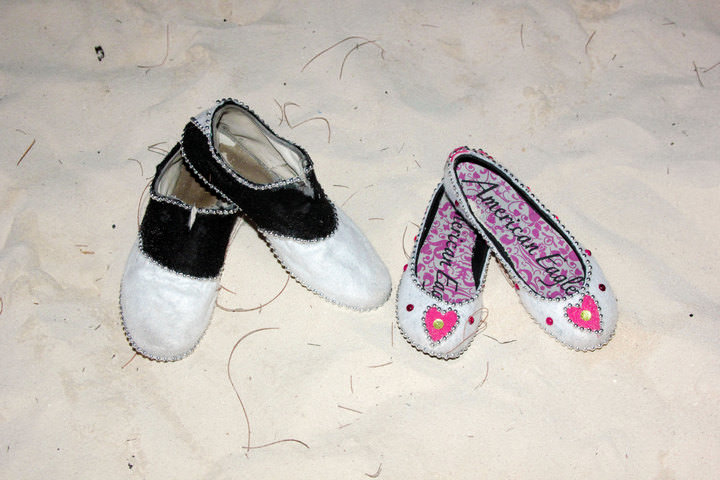 The sunlight was quickly disappearing and we grabbed a few shots with Nelson before being handed a Sands Beer in our Exuma handmade coconut cups from Mr. Coconut himself. We chatted with our guests and thanked everyone for taking part in this craziness and the dancing began before we had even eaten! We tried our hardest again to show a LITTLE rhythm, everyone else had enough for all of us and we just joined in as best we could.
The food was great and everyone tucked into their Conch salad in handmade pottery from local Exuma artist, Sandpiper and then suddenly it was time to cut the cake! The huge white and gold iced cake, decorated with icing shells stood before us, 3 tiers of sugary heaven made by J.C. Cakes. We clumsily cut into the top tier and started to hand out the cake to awaiting plates.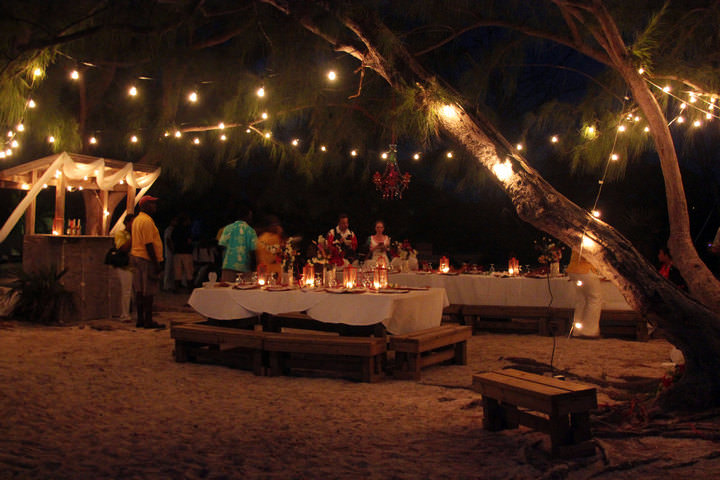 More singing and dancing followed the cake and the time flew by, suddenly it was time for us to leave on the last ferry boat to the island. We were all crammed in like sardines by torch light and the party continued all the way back to the island. The singing and laughter rang out over the quiet water and in the darkness I sat holding Alex's hand, staring at the stars, grinning ear to ear and crying with happiness. Everyone had come together to make this day special for us and I was so touched that we had again been made to feel so welcomed. We had been enveloped in a group of friends and been accepted so readily as though we had always been there. I'll never forget the wedding but more so, I will never forget the boat ride home.
So many people made this day possible and there is even an official page you can visit to find out more about the whole'Authentic Bahamas Wedding Adventure!Go see!
To follow Lisa and Alex's journey go to
http://2people1life.com/blog/
http://2people1life.com/blog/the-whole-journey
FACEBOOK
@2people1life
If you have missed any of the previous weddings you can catch up HERE,HERE , HERE, HERE, HERE, HERE , HERE  HERE , HERE ,  HERE , HERE , HERE ,  HERE , HERE, HERE,  HERE , HERE  and HERE