Today on Diary of a Boho Bride we are chatting to Charlotte and Alan. Charlotte and Alan will be the last of the 5 remaining Boho Brides and Grooms to get married this year, their wedding takes place on 7th September, so only 10 weeks to go! Last time Charlotte was telling us all about choosing her wedding dress, today it's all about the Photography. As many of you will know, I LOVE Photography, and I do try to make sure that all my brides spend as much as their budget will allow on the right photographer. The Photographs will be one of the few things you get to keep from your day and the one thing that will hold your memories for you, so who you choose is SO important ! Luckily Charlotte ad Alan, feel the same to and today they tell us all about finding their photographer and about the all important engagement shoot.
I'll pass the Blog over to Charlotte…………..
10 weeks to go…..where has the time gone?!
Needless to say it's been a busy few weeks since my last blog. I have been a bridesmaid at my best friends wedding, which was ultra special as the ceremony was held in the same church we are getting married at, so I have had a full on practice of walking down the aisle. Invites out and RSVP's back and favour making is well underway. Our kitchen/diner has turned into wedding planning HQ with bits and bobs everywhere. It's an organised mess though….honest!!
Amidst the marriage mayhem we had our long awaited love shoot with the fantabulous Paul and Kelly of Paul Joseph Photography. I love photography; I'm nick named "click click" by my friends who are never in any doubt that my camera will always be strapped firmly to my wrist wherever we go. So finding the right photographers was one of the first and most important things to tick off the list.
At many a wedding over the years we have waited around to be called for the group shots or asked to stand and pose for a picture as soon we walked through the door, we have seen album after album of friends and family and although nice in their own way they have always been very traditional and all tend to look the same and this really wasn't what we wanted.
We wanted someone with a creative flair, quirkiness and not afraid to break the mould.
I came across Paul and Kelly's work totally by accident when looking up a friend on Facebook, it turns out that was the first wedding they shot, not that you would know and I instantly fell in love with them.
From the moment we met these guys in a local pub and saw more of their work we knew they were the ones for us, they made us feel totally at ease. From then on they have been on hand to help with anything wedding related, whether it be recommending bridal shops, blogs to look at, calm me down when I have been stressing about the venue, they are even the reason I am on here writing after they suggested I answer Kelly Boho's plea for new Brides last year.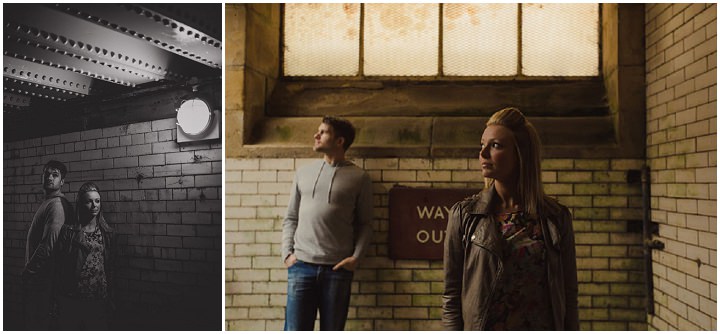 Part of out package included a love shoot, when deciding on locations we chose to stay local, so it was personal to us and was somewhere we would visit regularly.
The Keighley and Worth Valley Railway is a 5-mile-long branch line that served mills and villages in the worth valley. It is now one of only two heritage railways that operate in its original form. Its also one of the few railways to provide real ale on board which we took full advantage of and throughout the year runs events such as the Santa Special at Christmas, The Haworth Haddock where you can enjoy steam hauled Fish and Chips and even a Beer & Music festival.
We live a short walk up the road from the Oakworth Station made famous as the set for the 1970's classic film The Railway Children. It literally is like stepping back into Edwardian times. There is no electricity the whole station both inside and out is lit by gas and the waiting rooms are heated by coal fires. Milk churns on a hand cart and platform fencing used to display old advertisement signs for products, brings back images of a former age and felt to us like the perfect and most romantic place to have our love shoot, right on our doorstep.
We met Paul and Kelly in Oakworth before catching the train to Keighley where the line starts. For weeks I had been re-assuring Al that it would be great fun and there was no need to be nervous. How the tables turned that morning when we set off and I was the one with butterflies in my stomach and he was cool as cucumber.
Having built a bond with Paul and Kelly over the previous months it was like spending a day out with friends, 10 minutes in the nerves had turned to excitement and the giggles…Paul kept telling me off for laughing when I was meant to be serious and moody!!
After shooting in the underground tunnel and platform at Keighley we travelled up the line to Ingrow where we were able to shoot amongst some disused trains, I found the romantic poses here very emotional and started to cry!! That didn't last long as it was freezing, my hair was going frizzy with the rain and playing havoc with Alan's quiff so we took shelter in the museum where we could make use of some old fashioned carriages, see if you can spot Kelly photo bombing one of them with us blissfully unaware.
Next stop was Oxenhope where the line ends and the foremen literally turn the train around, this was fascinating to watch and allowed Paul to get some close ups of the engineering that goes into these amazing locomotives. Then we headed towards Haworth where we tucked in to a lovely lunch on Main Street, endured more rain and picked up a nik-nak or two in the vintage shops.
Back in our home village of Oakworth we talked our way into the station masters office, it was amazing. Full of periodic features such as the old fashioned telephones, a wall full of coloured train tickets dating back years, the cashiers till, nothing like the mod cons we use at Sainsbury's and a wonderfully warm roaring fire to warm us all up.
It was hard to imagine throughout the day what the images would look like when Paul and Kelly have you stood, sat and sometimes laid in all these weird and wonderful positions, but I think you will see from the finished article that the quality and creativeness speaks for itself and we hope you enjoy them as much as we do. They have created some beautiful images for us to cherish and I can't wait for round two on the big day.
For any of you who are thinking about having a love shoot as part of your package I would highly recommend it, it's the perfect opportunity to become completely comfortable with your photographers and the camera before your wedding, it gives you a day away from all the wedding planning to enjoy yourself and most importantly some beautiful lasting memories of you as a couple, just being you.
Love Lottie x x
If you are interested in becoming one of the next Boho Brides, then make sure you check back next Friday as I will be announcing my hunt for my new selection of brides and grooms to write for me. 
Fore more information on Paul and Kelly's work go to
www.pauljosephphotography.co.uk
http://pauljosephphotography.co.uk/blog/
FACEBOOK
Paul on Twitter
Kelly on Twitter