Today on Diary of a Boho Bride we catch up with Charlotte and Alan for their first Diary Entry. Today we find out how Alan proposed to Charlotte, how they found their perfect venue and Charlotte gives you all a few tips for the beginning stages of your wedding planning.
I'll pass the Blog over to Charlotte…………..
Hey I'm Charlotte. I am a daughter, a sister, a best friend, a god mother and since September 2010 I have been a bride-to-be and there is only one thing on my mind…..weddings!!
For all of us it starts with those four little words " will you marry me?"
I had known Al long before we started "going out" . Our first date was the usual meal out and trip to the cinema followed by a cheeky kiss in the car as he dropped me off, in full view of a nosey mother sneaking a peak at the window, followed by a million questions on where we had been and what's was he like.
Fast forward 4 years and we were in Switzerland. Alan travels a lot with work and I get to tag along from time to time, so when he asked me to meet him in the town of Crans-sur-Sierre for a long weekend, I thought nothing of it and packed my bag.
I remember feeling daunted about travelling alone on two connecting flights followed by a two and half hour train ride from Geneva to Sierre, but all was forgotten as I took in the amazing sights of my new surroundings. For anyone who has experienced this train journey you will know how truly beautiful the scenery is, so much so I nearly forgot to get off!
On Saturday afternoon after a wander around a town full of picture perfect wooden houses with their flower filled window boxes, we took a cable car up the mountain with a local guide to see the glaciers. Nearing the top we had to walk the remainder of the way, I had never been at such high altitude and seen such stunning views, my breath was literally taken away.
There wasn't a soul in site, our guide had made himself scarce, knowing of what was about to unfold. It was just us two and the mountains and the silence. Al started to stutter, breath heavy, rub his chest and go down towards the ground……I thought he had taken ill and was asking him what was wrong!!
As he went down on bended knee and unveiled a small pink box containing the most perfect ring we had seen months before at Element, a contemporary jewellers in Hebden Bridge, I realised this was my proposal and I wanted to soak up and cherish every moment of it. As it happens I was so shocked, so happy, so overwhelmed and tearful I can't actually remember a word he said. It's all a big, fuzzy, happy blur.
For weeks after our return it was a whirlwind of champagne, congratulations, all the jokes that come with taking on a surname like Muff and devouring every wedding magazine and website within my grasp. I was glued to my iPad, trawling through and saving hundreds of pictures from Pinterest and Instagram. I was in wedding heaven!!
Not one for long engagements it was straight down to business. I didn't bother with the wedding fairs, our best friends are getting married 4 months before us so I had already been dragged around every one going. I knew i wanted my day to have a rustic woodland/shabby chic feel to it as I love wooden signs, fabric hearts and lots of candle light.
I love to plan and organise, so I was in my element compiling lists of budgets, venues, suppliers, bridal shops….you name it, I had a list for it!!
Things happened quickly and with ease from there on, we knew September was our month, our first date, first home together and engagement all happened at this time of year so we wanted to carry on its significance. We love to travel but wanted to make our wedding accessible for everyone and keep it local. We decided on a church wedding in our local village of Haworth, we spends hours on the moors up there with our pooch Paddy on a weekend and enjoying tea and cake in the cafe's down Main Street. Famous for the Bronte sisters and their writing, Haworth is extremely popular with tourists so it will be interesting on the day to have an extended audience and being papped like a celebrity!!
The venue hunt was just as easy. The patterned carpets and floral curtains of hotels did not appeal to us. We wanted stone floors, log fires and beamed ceilings where our shabby chic/woodland theme would fit right in. We wanted to create our own bespoke wedding package with no restrictions and work with a wedding planner who took care of our individual needs. We wanted good hearty Yorkshire food for our guests to tuck into and countryside views for those all important photo's. We found all this and more with The Alma Inn at Laneshawbridge, a typical country inn which oozes character and charm. We left our first meet and greet knowing we had made the perfect choice and the arrangements for our special day are in safe hands.
With two main items ticked off the list and our DIY save the dates out in the post, the foundations are set. We know we are getting hitched on Saturday 7th September 2013 (hopefully not unlucky for us) and its already shaping up to be our dream day.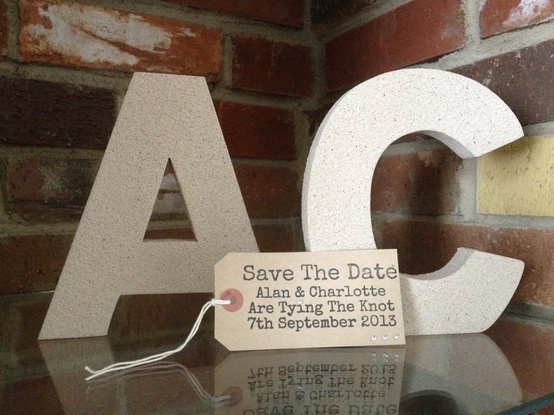 My top tips for all you newly engaged couples:
Enjoy every minute of being engaged, it should be the happiest of times for both of you to not only plan a wedding but your whole life together.
Purchase a wedding planner/journal, if like me you are little miss organised, it will help you keep your focus and stay on track as many details can be forgotten in the flurry of wedding happenings and the plastic wallets inside keep all your clippings in one place.
Don't try to do everything at once, with all the excitement of being engaged your head goes into overdrive. By sitting together and planning you can save yourself a lot of wedding stress. I found that good suppliers get booked up quickly so find the ones you want to work with, tick it off the list and worry about the small details nearer the time when you are more clear on what you want. You will sleep better knowing they have your date in their diary.
Read our blog every Friday, and follow our unique journeys from fiancé's to wives.
See you in a few weeks for the next part of my adventure when I go in hunt of the most important dress I will ever wear…..now this is what little girls dreams are made of!!It's a pleasure to be writing on these lovely boho pages and I hope you enjoy sharing my journey from fiancé to wife over the coming months.
Lottie x x x