We are in Australia for today's wedding, Victoria to be exact and the Heide Museum of Modern Art in Bulleen. It is a a wonderful location and a fantastic spot for a wedding. The wedding was sent into me by Andrew Noble from Noble Photography who is also based in based in Victoria, not far from the Museum. The wedding has a gorgeous outdoor ceremony, as well as some fantastic spots for the portrait shots, holding your wedding in an art gallery sure does have it's benefits! I am also loving all the shots of the flowers, lovely details and of course the food!
Andrew tells us a bit more about the day…………
Nicholas and Rebecca were married at the beautiful Heide Museum of Modern Art located in Bulleen, Victoria.  on 8th December. Nicholas and Rebecca are a wonderful couple from Sydney, Australia.  I immediately had a liking for this couple from the very first contact from them.  They had me laughing from the start and I knew they would be great to work with.
It was a scorcher of a day and as our gorgeous bride arrived, the cool change came through.  It was a much-needed change in the weather making it more pleasant for everyone.  Unfortunately with the drop in temperature also came the wind but that's Melbourne weather for you!   Under the shelter of the amazing Oak Tree, the ceremony took place followed by family photos.  As the guests enjoyed pre-dinner drinks, we set off exploring the amazing Heide's Gardens and captured some beautiful images. We made the most of the beautiful gardens, sculptures, ornate doors and modern and historic architecture that Heide has to offer.
The reception was also at Cafe' Vue at Heide which features floor to ceiling glass walls that open onto a private terrace.  The food was amazing and the venue the perfect setting for the modern Cocktail Reception.  Nicholas and Rebecca did an amazing job styling their day.  Rebecca's beautiful lace dress by Karen Willis Holmes together with Nicholas in his stylish M.J.Bale Suit and Purple Tartan Tie was very chic and modern.  The wedding flowers had hints of oranges and yellows that matched with their home-made Bonbonerie finished with orange tartan ribbon.  Small pots and sprays of flowers decorated the Cafe but mostly it was left fairly simple leaving the beautiful wedding venue as the feature.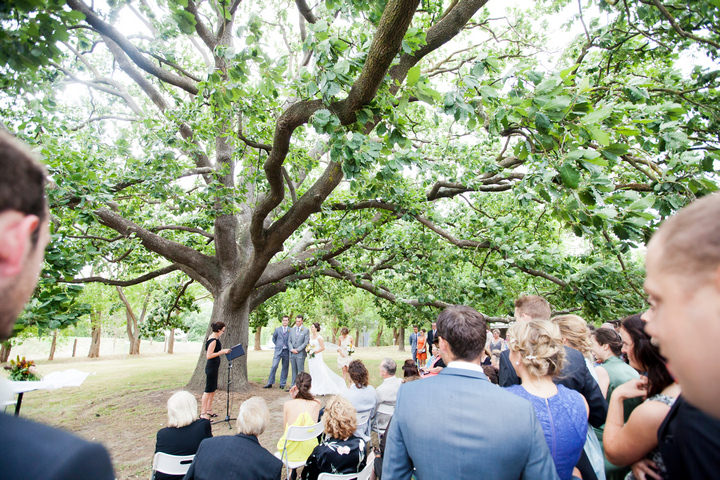 Supplier Shout Outs
Fore more information on Andrews work go to
http://noblephotography.com.au
FACEBOOK
@noblephoto