Today we are back with Lisa and Alex from 2 people 1 life for wedding number 29 AND 30. The reason for two weddings is that we have a lot of catching up to do. Also these two weddings and in fact the next FIVE weddings all took pace in one week. It was a big project organised by August (a wedding photographer from Myrtle beach) and also Alex. The plans took shape and culminated in a 5 day wedding extravaganza  – The Myrtle Beach Wedding Extravaganza
Today we are Looking at Wedding 29 A fairy-tale Plantation Wedding and Wedding 30 Willy Wonkery style Candyland Wedding!
(In case you have missed it the whole story Lisa and Alex have spent the last two years traveling round the world getting married in every country they visit, you can read more about their adventures HERE.)
Wedding 29 A Fairy-Tale Plantation Wedding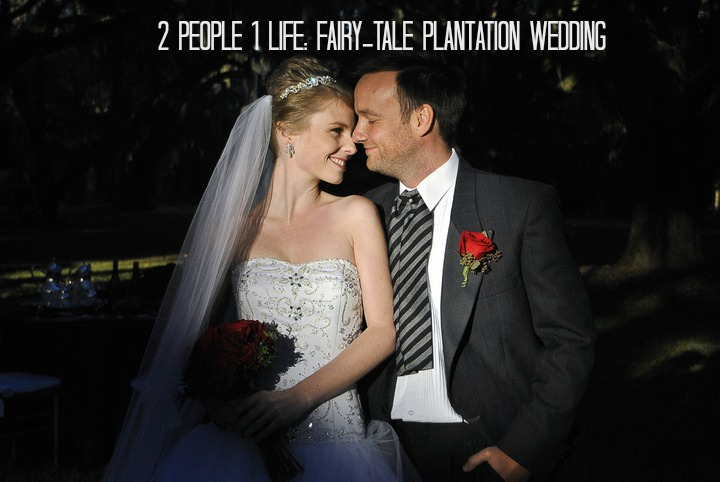 I'll pass the Blog over to Lisa……………..
I don't think as I woke up that morning that I had any idea of how the next five weddings in five days was going to play out. I think that we had kind of failed to realise how much fun we were about to have. We were fairly blasé about the whole thing, I think me more than Alex as I had very little clue what was actually going to happen other than we would be married 5 times in the next 5 consecutive days.
Alex and August however had a complete idea of how much was actually going to happen…what we would be experiencing, how different each day was going to be and how much work everyone had put in to pull this wedding extravaganza off. BUT, fear not, my eyes were about to be well and truly opened.
I opened my parcel of shoes from the fabulous Tony Bianco, squealed with joy and ran out of the door to meet up with a family friend of Augusts. We all set off bright an early to get to the first wedding which was to be held at Litchfield plantation house.
The house, built in the 1700′s and was restored in 1926 and has been run as an up scale Bed and Breakfast for some years. The house itself is impressive but the most beautiful sight has to be the quarter mile avenue of oaks that leads you to the front of the stunning property.
As soon as we stepped out of the car we began to meet people. We were reunited with Debbie and Kelly with whom we had celebrated some of Thanksgiving and who had been at the Plantation since the early hours making it even more beautiful. They had draped wreaths and red ribbon on the balconies giving the house a VERY Christmassy feel and had even strung up candelabras in some of the amazing trees. We said hi and left them to it as we were introduced to everyone. Meagan who had been helping August remain in contact with everyone throughout the planning, Sybil who was going to be creating live art for us at most of the weddings and then there were just people everywhere! An enormous chocolate fountain was set up on the table, wine was being carried in to be served throughout the day, the owner of the plantation house was just so thrilled to have us there, Tripp who would be taking control of uploading images for the photographers so that they could just shoot the day away was getting set up in the kitchen.
Mercedes who would be with us for all 5 weddings as Augusts second shooter,Wing Wong who was going to be my hairstylist for the week, Alyssa my make up artist for the week (I KNOW! How lucky am I?!?!) and Reverend Brown who would be our pastor for today's ceremony! We also briefly said hi to Cupcakes by Cravinleys who had made us THE most amazing cake and would be making us a different cake every day!
Mercedes and Mikela snapped images of the dress by Amanda's Collection and Alyssa began by applying my eyelashes. Alex chatted with Reverend Brown and decided to go and do a coffee run. By the time he had returned I had been transformed (miraculously on Wings part) into a Princess of Disney standards! I was stepping into my dress and beginning to feel the nerves.  Vickie from Flowers in the Forest handed me a beautiful bouquet and Alex quickly got changed into his black tie and tails, had his button hole pinned and we were ready to roll!
The sun had just broken through the trees and was drenching the balcony in perfect light, I was whisked away in a horse drawn carriage to the end of the avenue of Oaks to make my grand entrance. We awaited a signal that Alex and Rev Brown were ready for us and Sarah the horse pulled us happily to the steps of the Plantation House where Strand Strings were playing beautifully and Alex helped me out of the carriage for the ceremony.
Reverend Brown's ceremony was beautiful and blessed everyone that was in our thoughts as well as everyone present. The Christian ceremony with additional prayers for our friends and family was so thoughtful and we can't thank him enough for such a lovely Service.
After the ceremony we took a lap around the grounds in the carriage together and were delivered to a table nestled in the trees in the romantic dappled light for a glass of wine and to toast each other.
Next up was to cut the fantastic looking cake and to dip some strawberries and marshmallows into the liquid chocolate under a multi coloured candelabra. It was amazing to see how simply the Plantation House could be transformed into the perfect venue for a wedding. Such a beautiful location with perfect surroundings, the trees, the rice fields in the background. Once we had gorged ourselves on cake and chocolate and had a chat with everyone we got changed out of our fairytale clothes and back into our civies to go for something to eat.
We had been invited by Divine Dining to eat at a different one of their restaurants every night! A group of restaurants ALL with a totally different menu. We were excited to eat (as always) and particularly were looking forward to meeting the couple that had offered such a wonderful treat to look forward to at the end of each day. We headed over to Bovines in convoy with August, Mercedes, Rev. Brown and his daughter and Grandson, Mikela,  the wonderful couple who had kindly driven me around in the horse drawn carriage, and we all tucked into amazing food and great wine! We had had an amazing day and as we drove home were looking forward even more so to the ext four days. We had made some lovely friends on our first wedding day and were looking forward to spending more time with them as the week went on.
Everyone was genuinely happy that we were there and that they could help us celebrate our love for each other South Carolina style and we were So so happy we had been invited!
Wedding 30 Willy Wonkery Style Candyland Wedding
We woke up early again to give us plenty of time to check our emails and do a little bit of work before we were due at Wing Wong's studio at around lunch time.
Alyssa had asked me the day before if I would like eyelash extensions to save her having to give me false lashes everyday. For the next hour I was laid with my eyes shut while Alyssa painstakingly glued individual lash extensions to my own natural lashes.
Wing wond utilised his time with Alex by adding coloured metallic streaks to his hair in blue and purple and when I came out of my lash induced coma it was my turn. Once my hair was curled, my eyelashes trimmed and my colour added to my hair I got dressed. I LOVE the little dress I wore from Amandas it was perfect for the theme!
We drove to the fairground in Peggy and were excited to see all of the nostalgic rides going. We were greeted by Vickie from Flowers in the forest and handed an AWESOME bouquet complete with candy canes, lollypops and sweets and Alex had his candyland themed button hole pinned on before we were welcomed into the fair and to the 'goodies' table!
Bradley had done a FANTASTIC job of thecake, it was metallic purple adorned with all kinds of candy delights. The top table glittered with trinkets filled with multicoloured gob stoppers, mints, rock and M&M's and candy themed songs were being played by DJ Dennis Hubble just next to the carousel!
Soon enough it was time to start the ceremony and we were thrilled to hear that Bradley would be performing the ceremony for us today. He was dressed in a powder blue top hat, a velvet waist-coat and some amazingly jazzy pants and started with amazing flair. The ceremony was taken from Alice in Wonderland and it was perfect!
My favourite part of the cermony was when Alex presented me with a HUGE candy Ring and then Bradley asked Alex if he was ready to say the most important 2 words of his life. When Alex said he was, Bradley whipped out a piece of paper and made him read it aloud after each vow…the piece of paper said 'YES DEAR'!
We were congratulated by all of our guests and then it was time for some rides! We all clambered onto the swings for our own private ride. DJ Hubble played fairground music as we all flew through the air! The swings went really fast and quite high, its been a long time since I went on them and couldn't stop smiling, my teeth were freezing and my face aching when our extra long ride came to an end.
Next was the carousel and we sat snuggled up in a carriage and enjoyed the slower pace. We had a few shots in front of the rides and with some sparklers and balloons and with the cake and the sweet jars and before long it was time for food!
We were frozen stiff by this point so I changed into my jeans and then August (myrtle beach wedding extravaganza planner extraordinaire) came over and said we had one more thing to shoot before food and that we should follow him in Peggy, we were going to the go-carting track!
We arrived at the track and were so excited we weren't really taking much notice of what was going on. We were led to a little hut where I was expecting to get helmets etc and before we could blink we were being strapped into a harness a little like a sleeping bag. Alex looked at me and I at Alex and then both of us at August who was grinning like a Cheshire cat. He said this was part one of our next wedding theme…..James Bond! He had tried to arrange a parachute jump but it hadn't happened and instead we were about to do a bungee swing!
We thanked the guys at Speedpark for having us and letting us have the park all to ourselves and jumped into Peggy and went to meet everyone at the Mexican restaurant Nacho Hippo Alex seemed to be in a stupor so we ordered a couple of Margaritas and some great food and began to come back to our senses. We had great food and great company for the rest of the night until our faces were almost falling into our dinner and we had to call it a night.
If the bungee and the go-karting was anything to go by we were about to have a busy day for wedding number 3 (actually 31)! of theMyrtle Beach Wedding Extravaganza …. James Bond style!
Come back in a couple of week to see wedding 31 the James Bond Wedding
Photography Credits
www.augusttmichelphotography.com
http://mercedessnowblog.com/
To follow Lisa and Alex's journey go to
http://2people1life.com/blog/
http://2people1life.com/blog/the-whole-journey
FACEBOOK
@2people1life
If you have missed any of the previous weddings you can catch up HERE,HERE , HERE, HERE, HERE, HERE , HERE  HERE , HERE ,  HERE , HERE , HERE ,  HERE , HERE and HERE