Today we are back with Lisa and Alex from 2 people 1 life for wedding number 31 AND 32. These two weddings and in fact the next FIVE weddings all took pace in one week. It was a big project organised by August (a wedding photographer from Myrtle beach) and also Alex. The plans took shape and culminated in a 5 day wedding extravaganza  –The Myrtle Beach Wedding Extravaganza.  I shared wedding 29 and 30, a couple of weeks ago.
Today we are Looking at Wedding 31 – 'Bonding' and Wedding 32 'Yachts of fun'
(In case you have missed it the whole story Lisa and Alex have spent the last two years traveling round the world getting married in every country they visit, you can read more about their adventures HERE.)
Wedding 31 – It takes a REAL woman to be James Bond!
I'll pass the blog over to Lisa…………..
Zach and Pete had come along all the way from LA to film the next 3 weddings and to spend some time with us building a trailer to try to sell our story as a TV show in the US. We met them on the sidewalk, introduced them to Peggy and of course August and we got down to some early morning, life endangering (??) James Bond-esque (???) ziplining!
We climbed the stairs round and round and round and round to the top of the free fall tower. I stepped up to go first as the man hooked me up to yet another piece of string and told me to just walk off the platform! I looked down at the ground below us which was covered in shredded tyres and a man waiting for me to land in a heap at the bottom gave me a smile and a wave. The scariest thing in my mind was that it didn't look THAT far! The thought racing trough my mind was that if it did all go wrong that I would just break every bone in my body rather than die! I looked straight out and after a little indecision took a deep breath and did as the man said, I just walked off the platform!
I actually enjoyed it. The rope didn't go slack at all like the bungee so no sense of panic cascaded over me, just the feeling of falling in the bottom of my tummy! I shouted up to Alex and told him he would be fine as the man was fastening him up to go next. I ran back up the stairs to be there when he went over the edge and to tell him it was easy and that he would be fine. He was attached to the rope and teetering near the edge. In the end he said he'd have another think about it and I stepped up to go again. It was easier to walk off the edge the second time but it still didn't convince Alex to go. August and Caleb both had a go and we thanked the team at Myrtle Beach Zipline Adventures and went off to our next adventure…Scuba diving!
We met Larry and his wife from Nu Horizons Dive & Travel. They handed us our wetsuits and we went into Peggy to get them on. Anyone ever put on a wetsuit?? If you have, you get it…. if you haven't you have no idea! Imagine trying to pull on inch thick, skin tight rubber….now imagine 2 people trying to do the same thing in a tiny space ie. inside a van. The minute you start to sweat may as well be the minute you give up! Any kind of moisture makes it even more difficult to get on. Anyway we fought our way into our wetsuits in Peggy and stepped out into the parking area to be greeted by Zach and Caleb with a video camera, August with a camera, Larry and Pete and they all just laughed at us! I looked like a black ironing board with a overheated, angry red face and Alex had lost the argument as he had his wetsuit on BACK TO FRONT! He had to get it back off again and then back on the right way around hahahahahaha!
While we waited for Alex to get his bottom on the right way around I had a tank that weighed the same as me strapped to my back, a diving knife strapped to my ankle, flippers draped over my arm, a mask and mouth piece attached to my face and a harpoon stuck in my free hand! I was ready to drop and I hadn't even taken a step yet! Alex once dressed properly had the same regalia attached and was handed a gun!
We prepared to go into the 4 degree water. By prepared I mean we mentally had a word with our selves as Larry poured near boiling water into our wetsuits through the head hole! Once we were human hot water bottles it was time to wade out into the big blue inhospitable Atlantic Ocean.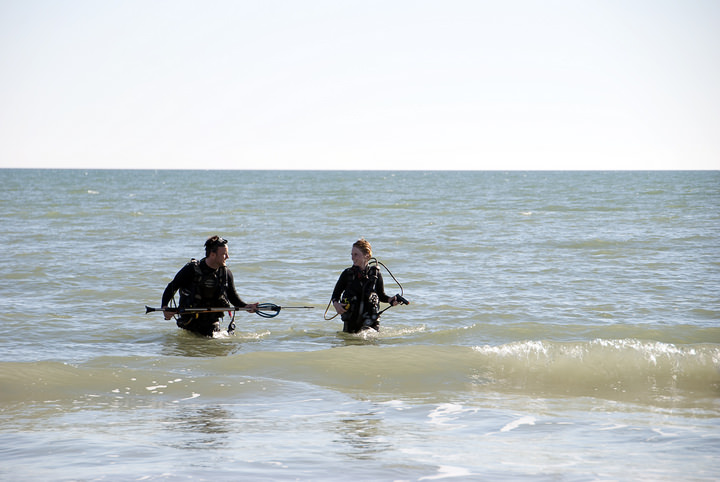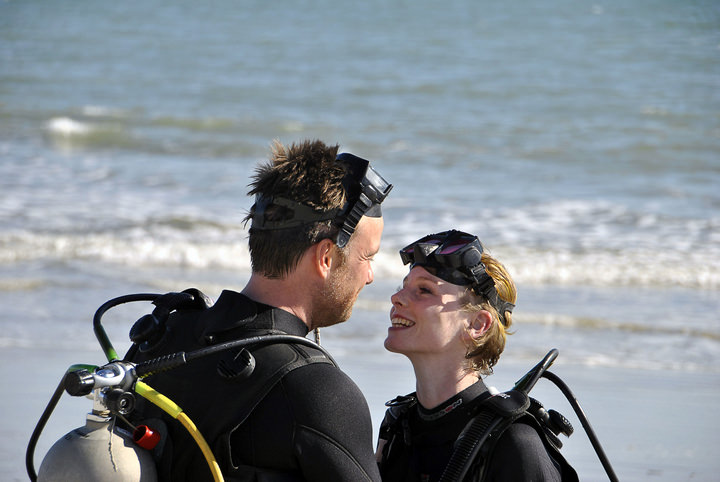 We waded in and instantly felt like total wallies! We had to pretend to surface from the water and sneak (!!!!!!!!!!!!!) all secret-agent-like to the shore. We couldn't keep straight faces and when we were asked to don the harpoon, gun and knife and look like we were armed to the teeth it was even worse, we ended up running up and down the beach laughing our heads off chasing each other with our varying weapons and Alex falling head first into a wave!  Once we were worn out we had more hot water poured into our suits and then the real comedy began…trying to get the suits off! We struggled out of our now impossible to manoeuvre rubber suits with our frozen fingers and absolutely covered in sand! With a little help from our 'friends' we managed it and got dressed again and ready to find out what our next stunt would be! We followed August to a boat launch where Wing Wong was waiting with his mobile hair and make up kit…and….a jet ski!
I was whisked off for make up and then Wing Wong started on my hair while Alex got to grips with the jet ski. Once I was beautified Alex came and picked me up to go out on the water once more on the back of a real boy toy! I had never been on a jet ski before and asked Alex to take it slow until I got my balance…to which he responded with going full throttle across the water while I clung on for grim death! We zipped around and up and down and shot about like mad things while the film crew remained warm and dry on the jetty! It was exhausting clinging onto Alex's back like a baby monkey and I was relieved to get off the thing…little did I know what was coming next! We parked up the jet ski, I had my hair titivated again and then put onto a boat with April, Caden, Matt and Jo who were going to be taking me to the beach for the wedding…as my bodyguards!
Alex was being driven to the beach to get ready, but I was arriving by boat. I tried to register this in my mind. I would go on the speed boat 45 minutes cross the rough ocean, get changed into yet another wetsuit, jump out of the speeding boat and swim to shore where I would then get changed into a wedding dress and promptly be married to my James Bond! How had I agreed to this?! Anyway, it was too late, we were there. I could see a crowd of people on the beach all with cameras, lighting and all kinds of jiggery and all of a sudden it was time to get OUT of the boat and into the icy water! No human hot water bottle this time! Jo slowed the boat and Matt raised his shot gun into the air, I wobbled by the edge of the boat and turned and asked how deep it was Jo and Matt said 'no time, you have to jump, we can't slow down any more!!' and that was it!………..I was in!
I was under the water and wondering if I would be chopped up by the boat as I heard it speed off! There was no more time for thinking and I pushed up out of the water and began to swim for what I hoped was the shore! Out of the corner of my eye I could see dozens of cameras, I stared straight ahead and thought I could hear the James Bond theme playing! I COULD indeed HEAR the James Bond theme being played! A lady from Strand Strings sat on the beach, playing James Bond on a cello! I was bundled into a wooden picnic area and wrapped in whatever people could get hold of. Blankets, towels, jumpers and Wing Wong set the hair dryer on me to try to warm me up. Debbie was beside herself bless her worrying to death that I would die on the spot of hypothermia and made sure I was bundled up tight to get warm.
I was so pleased to see Alex I got dried and told everyone that we needed to get into action before we lost the light for the wedding ceremony. I was dried, my hair was whisked into shape, my make up applied at the same time and water poured into my mouth as I was pinned into yet another AMAZING gown from Amandas. I was soon ready to rock and the sky had just started to turn a dusty pink. Alex ran on to the beach to meet me at the alter that Gigi Noelle Events had built beautifully. It was covered in flowers, flowing materials and surrounded by candles in hurricane lanterns. It was perfect. I walked across the cold sand and met Alex and Reverend Benji Simmons began the ceremony.
The ceremony was short but sweet and a traditional Christian wedding sermon. We kissed through my chattering teeth and the cameras stopped rolling as the light completely disappeared. We had one more shot to get for August and I was stripped again and pulled on another dress to walk along the sand holding hands with my very own James Bond. The dress was gorgeous and a perfect beach wedding dress. We wandered in the sand and dipped our toes once again into the freezing Atlantic. I think you'd have to agree that the picture is perfect!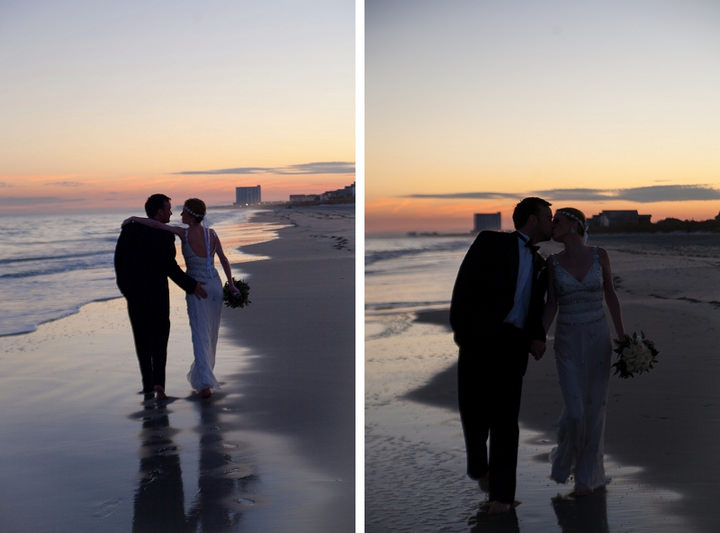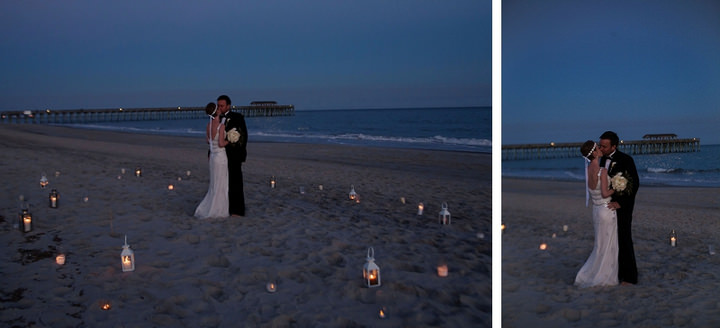 We were soon back in Peggy and with the heating on full blast on our way to our third Divine Dining experience. We were all eating at Bubba's fish shack and were going to finally meet the owners who had kindly offered to feed us every night! We arrived at the restaurant, got seated and immediately I was handed a glass of wine and a paper cup. I was still shaking with adrenaline and poor Spike was sat next to me expecting me to keel over any minute and die where I sat, I was gibbering on, probably making little sense but I couldn't believe the day we had had! After 2 or 3 glasses of wine I began to calm down a little. There were so many of us, Pete and Zach,Spike,  August, Mercedes, Benji and his wife and son who  had lent us my second wetsuit of the day, we were all seated. We were all introduced and I knew immediately that we were going to get on like a house on fire. So much so that I said to Paige 'me and you are going to have some fun, I can tell'. And that's how the night went on.
We had a great laugh, ate amazing food and drank mind erasers  and after everyone else had gone off to bed, Paige, Nate, August and Alex and I went on to another bar where we drank until I passed out and threw up my squid! I think I had earned my blow out after the day we'd had. I had a great time and did things I never even dreamed of doing AND I survived to tell the tale! We also had some new amazing friends that I knew we would not be separated from until we left Myrtle beach! We still had another 2 weddings to go and I couldn't WAIT to see what on EARTH would possibly happen next!
Wedding 32 – Yachts' of fun
We were due to have Pete and Zach from Joe Digital around to do some interviews before wedding number 4 of thte week, so we tidied ourselves up as best we could and had a whip around in our amazing new apartment kindly lent to us by Retreat Myrtle Beach. Pete took one look at me and knew how rough I was and of course mocked me accordingly. We got down to business and while Alex was sorting out a few last minute repairs on Peggy with an idiot mechanic I answered a few questions about our adventure, our relationship and our marriage. Alex did the same in Peggy while I tried to pull myself together for the next wedding which was going to be on a yacht
Wing Wong and Alyssa came around to do my hair and make up so I at least looked human even if I didn't feel it. We all jumped into Peggy and hit McDonalds for a hangover hit on the way to the Freedom Boat club. We had 3 boats coming out, the wedding Yacht and another 2, one for guests and one for film crew and photographers. We had quite a crowd. August, Mercedes and Myztic photo's were taking pictures and Joe Digital were filming, it was NOT the day to have a hangover! We all set off to Bird Island, one of the many coastal reserves in the area and I went underneath the deck and sat in the kitchen to get ready as we were nearing our location.
I had yet another amazing dress to wear kindly lent to me by Coastal Bridal and Alex had a very dapper suit fromAmandas Collection, and my flowers as always were stunning. We were all set for a fabulous day barring the weather! It was miserable and a light drizzle surrounded us and turned the water as grey as the sky. We were discussing that this would be our first rainy wedding as we got ready and yet we were quite looking forward to it. As it happened when it came to holding the ceremony on the yacht front, the rain and drizzle stopped.
The sky remained miserable but the ceremony brightened our day. Rev. Peyton read a lovelyceremony and we were quite touched by his words. The similarities between our journey together and a marriage just grow and grow and this ceremony reminded us of that all over again. We didn't stay out on the deck long as it was very slippery and quite dangerous to be stood out there and if we DID slip we would have been straight into the water. We all went back under cover and popped a cork and had some pictures taken with the cake. Some boat switching took place and we all sat and nattered all the way back to the marina.
I changed into my beach wedding dress for dinner as we drove back to town, we were eating at Divine Prime with the team and Paige and Nate. Divine Prime is their fayncy pants (y'all have to say it how its spelled…FAYNCY) restaurant with an AMAZING wine cellar and we had been looking forward to it all week.
The wine began to flow again and the food was wonderful. We had yet another great night with everyone and were almost sad that tomorrow was going to be our last wedding day. We were definitely going to be going out with a bang though!
Photography Credits
www.augusttmichelphotography.com
http://mercedessnowblog.com/
To follow Lisa and Alex's journey go to
http://2people1life.com/blog/
http://2people1life.com/blog/the-whole-journey
FACEBOOK
@2people1life
If you have missed any of the previous weddings you can catch up HERE,HERE , HERE, HERE, HERE, HERE , HERE  HERE , HERE ,  HERE , HERE , HERE ,  HERE , HERE, HERE and HERE