Spring at last seems to be in the air, so today's DIY wedding is echoing that feeling and is full of spring cheer! This West Sussex wedding  took place on Easter Sunday and is filled with the most gorgeous daisies and daffodils. The wedding is also full of DIY details and in fact the majority of the wedding was pulled together by the bride and her family and friends, including most of the food! The whole day has a wonderfully relaxed feeling to it with everyone really pitching in to help out. Thanks to Camilla Arnhold for the submission.
'In the words of a good friends of ours, Matthew Knight in his thank you card, "It was an incredibly happy occasion and one that captured all that we love about you both.."
Amanda and Dominic were married on 31st March. 'The ceremony was at Edes House, West Street in Chichester, West Sussex.  A vintage bus then took the guests to the water's edge, at Furze Lodge in Bosham, while we were driven in an original 'Ford' by one of the ushers. The reception was in a vintage style, traditional pole Marquee in a family friend's garden. At the reception, the guests then waited as we stepped of the boat (the same boat we got engaged on) and formed a human arch along the pier and water edge. They then followed us into the marquee to start the evening's celebrations.
Dominic grew up in Chichester and I grew up in Bosham, so the location meant something to us both and our friends and family.
We had 120 guests at the dinner, then another 30/40 arrived to add some extra energy to the evenings celebrations. We got engaged on the last day of June 2012 and started to plan it in about September.'
How they met
We met when I was 17 (13 years ago). We have had our ups and downs but we are miserable apart and could not be happier now.
The proposal
I was totally unsuspecting as we set off from Bosham Quay, on a Saturday evening to East Head beach, West Wittering. As we anchored of the beach, we opened some champagne and were having some nibbles. I went down to start cooking supper and Dominic called me out saying the sun was setting – it looked beautiful, so I grabbed my camera and took a couple of pictures and when I turned around Dominic was on bended knee. I thought for a second that he had a nose bleed but then he asked if I would marry him and instead of breaking down in tears I started to laugh and obviously said YES! It was perfect.
Why did you choose your photographer?
I chose Camilla because she is so easy to get on with, she has a bubbly and enthusiastic personality and I knew through a friend how professional and talented she was. I am so pleased that she was there with us, I barely noticed her but whenever I did she had a huge smile on her face and she made me feel so much calmer as she had everything under complete control, which is no easy thing to do with both our family and friends.
The Dress
My dress was by Benjamin Roberts and I can't tell you the cost as Dominic may be cross! The dress and the wellies were both from Debenhams (trying to claw back some money from the dress). I wore a sapphire necklace borrowed from my mother – it was my something old, borrowed and blue and the dress was my something new.
The suit and bridesmaids
Dominic's jacket and trousers were from Zara, necktie and shirt were from Reiss and his shoes were Hudsons.
Food
My Mum made the starters, my Dad made wooden boards for each table and we had olives, feta cheese, cold meats and sundried tomatoes with bread rolls. The main was a hog roast and/or roasted salmon, with various salads and potatoes, and for desert my bridesmaid Polly made 130 chocolate brownies that were served with a fruit coulis. We didn't have a traditional wedding cake but one of the ushers, Daniel, and his wife Suzannah provided us with a beautiful cheese tower.
Entertainment
Dominic and his family are all musical as are so many of his close friends and ushers. We had Oliver, Dominic's brother (and one of the best men), and usher Alex Koronka playing a beautiful grand piano and singing during the service. When we arrived at the marquee, Alex and Tom played and wandered around the marquee, getting everyone in the mood. We then had an incredible 8 piece band, with brass section called Staxx who allowed Dominic, his 2 brothers and his Dad (the 3 best men) to play some Beatles and Rolling Stones songs and Dominic's dad Kevin Bailey did his famous Mick Jagger routine – the guests all absolutely loved it! Whilst the band rested we had a DJ.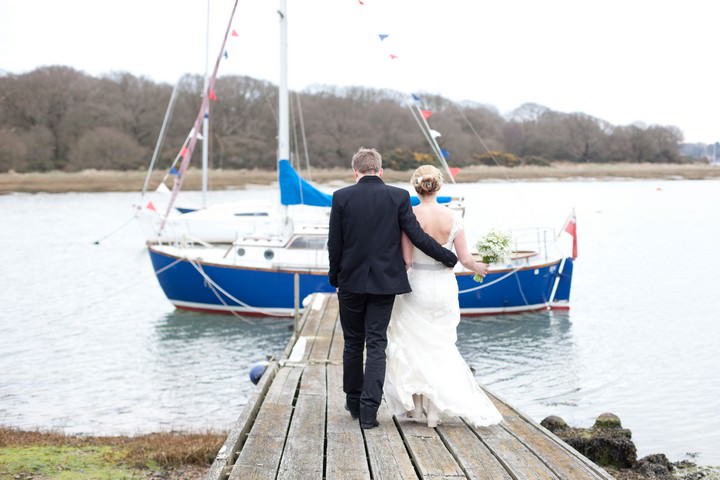 Theme or colour scheme
The theme was loosely vintage and spring.
Flowers
We had daffodils and gypsophelia on the tables (all done by the bridesmaid Sophie), my bouquet was daisies and gypsophelia made by Chidham Nursery who also provided the bright yellow gerberas for the button holes. The bridesmaid's bouquets were made by myself and Sophie using lavender, roses and again gypsophelia.
Decoration
We had lots of bunting, some children's decorations from both our classes, spring flowers, Easter eggs and Easter bunnies as gifts for the children and new babies that attended. We had loads of different sized candles, lanterns and flares.
Personal /DIY touches
• We put the messages that the children had written to me (to help Dominic convince me to marry him) on the table and displayed the cards that they had made.
• Some children at my school had also made some bunting for Easter and because we were married on Easter Sunday we used this as well as all of the gorgeous bunting that we managed to beg, borrow and steal from friends.
• The table placings and table layout were named after 10 of our favourite albums, (Abbey Road, Rumours and The Bends etc). We got LPs from charity shops and then added new art to them with our guests names instead of track-listings. We used 9 45 records, and one 12inch record to create the seating plan. Dominic's band's album 'Bailey', was the head table!"
• Sophie (one of the bridesmaids) was the real star of the show though, she made gingham table runners for each table and she made beautiful vintage napkins and the place names, which were a wooden keyring with individual names and lace.
• My mother had been buying jugs from charity shops and Sophie had been collecting glass jars, Sophie then did all of the flowers for the tables.
• My mother made the starters and a whole salmon and bridesmaid Polly who was 9 months pregnant made the chocolate brownies for the dessert.
• The ushers all helped to tidy the garden and set up and my sister and her husband did a lot of the setting up and climbed ladders to hang bunting and wind wild ivy up the marquee poles.
• Another usher, Rodrick Hague provided the vintage Ford car and he and his wife made it even more special by putting ivy all around the inside, putting a hot water bottle inside, with lots of cushions and making sure we had blankets to keep us warm, they also had a little goodie bag in the car for Dominic and me, with champagne and glasses and some Easter eggs.
Special moments
It's really hard to pick, the whole day was amazing but I really enjoyed all of the music (especially when Dominic, his brothers and his Daddy did their bit) and the vintage car both on the way to the ceremony and on the way back was really special. The speeches were also the funniest I have ever heard.
Advice
If you can, marry someone like Dominic, who did almost all of the planning and more than his fair share of the work. Enjoy every minute and don't get upset about anything that you think is going wrong – these things don't matter. Having your best friends and family all together for the only time in your life is all that matters; you can't go wrong!
Biggest surprise of the day
That, despite having 3 best men, no one checked if anyone had the rings, until 2 minutes before the ceremony. The registrar asked who had the rings and there was a lot of "hmm you do don't you" and then the discovery that in fact they had been left behind! Luckily the house is only about 5 minutes away, so Kevin ran back as quick as possible. You can see him running up the aisle in one of the pictures!
Supplier Shout Outs 
For more information on Camilla's work go to
www.camillaarnholdphotography.com
http://camillaarnholdphotography.com/wp/
[email protected]
FACEBOOK 
@CamillaArnhold1
07540060093
"I am a Dorset based wedding photographer. I would describe my style as fresh, natural and romantic, I love creating beautiful, artistic images which tell a meaningful story and capture the emotion and love of the day."