Today I am delighted to invite Elise back to the blog. Elise Lévêque is an eco-conscious bride-to-be who writes for Wedding & Party Store in her spare time. last time Elise showed us how to make the ever so popular Paper Tissue Flowers which went down incredibly well. Today Elsie is showing us how to make this cute Felt Flower bouquet out of felt fabric as she's contemplating having a crafty bridal bouquet instead of using cut flowers.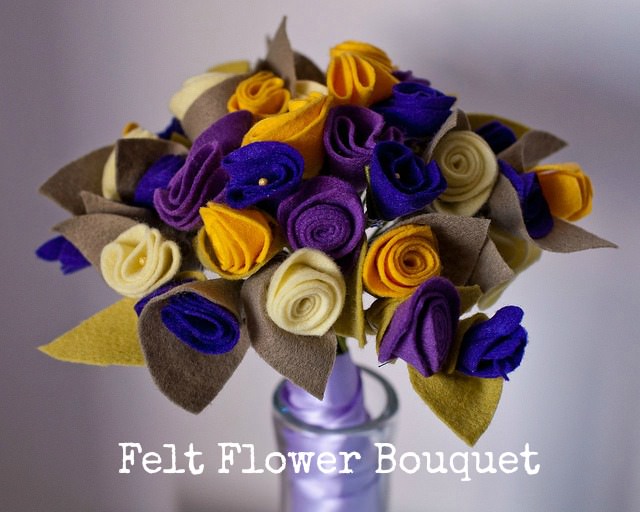 I'll pass the Blog over to Elise…………
Fresh flowers are beautiful but they can be an expensive addition to your big day. These days many brides are opting for a crafty alternative, such as bouquets made of buttons, keepsakes and even costume jewellery and brooches. If you want a floral bouquet that will last for years, try your hand at this felt flower tutorial.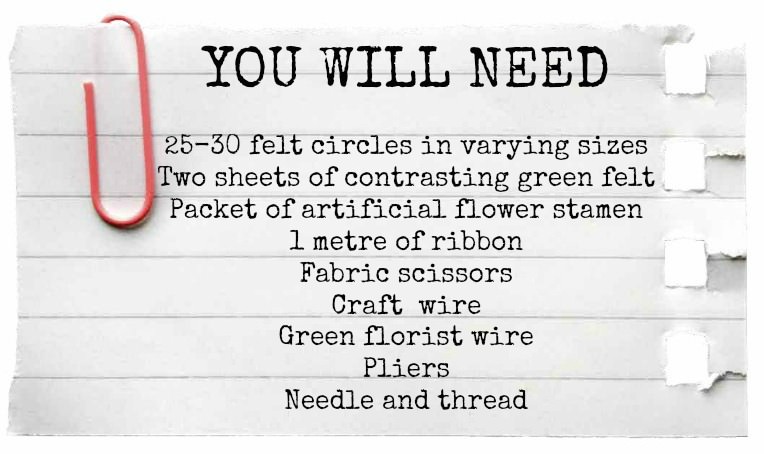 Step 1) Start by cutting out your felt circles. Using three or four different colours will help your bouquet look more lifelike, but you could also stick to one colour if it matches in with the rest of your wedding colours. Cut a variety of sizes, ranging from 6-10cm (2.5 – 4 inches) in diameter. Use your fabric scissors to carefully cut half of your circles into spirals, see below, and put aside for later – these will become your 'roses'.
Step 2) To make your flowers, take felt circle and pinch it between your thumb and forefinger, to give the appearance of petals. Place a stamen on top of the folded felt and fold again, so the stamen is now in the centre of the flower.
Step 3) To secure the stamen and hold the 'petals' together, hand-stitch around the base of the flower, using a similar colour of thread to your felt. There will be an excess of stamen wire but don't cut this as it can be used later to help secure the flower to its stem.
Step 4) To make your roses, take the spiral circles and wrap the outside end on itself until you have a rose shape. Use the round, flat piece of felt that was the centre of the spiral, as the base of the flower, and use your needle and thread to secure. If you don't want to use stitches you could use a small amount of craft glue to hold the base and petals together.

Step 5) Now you need to make a stem for your flower! Take your florists' craft wire and cut off approximately 20cm (8 inches). Using your pliers, bend one end of the wire into a small ring – this is where your flower will 'sit'. Place the flower in wire ring and use your thinner craft wire to tightly wrap the base of the flower to the stem.
Step 6) Repeat steps 2-5 until you have a bunch of felt flowers that look a little something like this
Step 7)To make the leaves for your bouquet, take your two sheets of green felt and cut out one leaf for each of your felt flowers. Wrap the base of the leaf around the stem, covering the craft wire as much as possible, and use your need and thread to sew around the base, securing the leaf to the base of the flower.
Step 8) One you've arranged all the flowers into a bouquet, take your ribbon and wrap it tightly around the stems. This will securew your flowers and be nicer to hold during the day. If you don't want to use coloured ribbon, you could use raffiea, thin rope or a strip of fabric. Secure with decorative pins or a brooch to finish the look.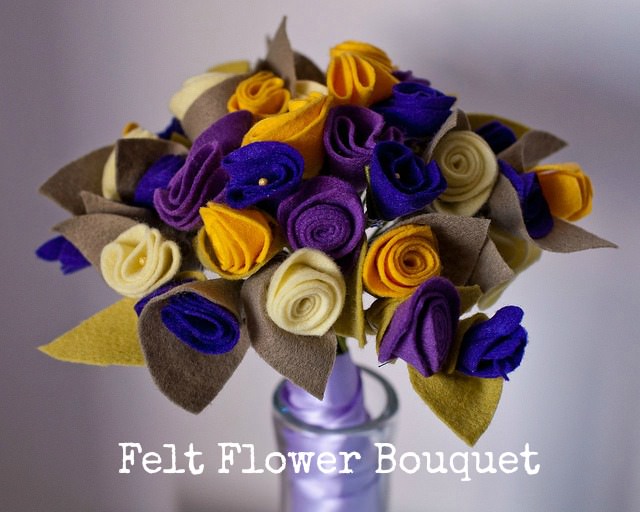 You could also use individual felt flowers as pinholes for the groomsmen and as smaller poseys for your bridesmaids. If you want to use felt flowers throughout, you could try wrapping a stem around table number holders, or using a longer length of craft wire and wrapping individual flowers around chairs or dotted around your reception venue.