Today I've invited Laura back to the Blog to share with us her ideas on Choosing your bridal bouquet. There is so much choice these days when it comes to flowers. Whether you decried to go for real flowers,  paper, fabric, crystal, or something more alternative, your options are limitless. Gone are the days when a handful of roses were your only choice, today you can have any colour and any style to fit in with your wedding theme or style.
You can also read Laura's past posts on Choosing your wedding cake , venues ,  transport and entertainment
I'll pass the blog over to Laura………
Hello again! Today we're talking bouquets on the blog, and thinking about the growing trend of quirky and different bouquets that brides are holding as they walk down the aisle. Historically it's said that the bride carries a bouquet to smell nice, to ward off evil spirits and then tosses it to the crowd as a good luck talisman in lieu of them taking a piece of her dress. In this modern age, we all know it's because they look pretty and it disguises the nervous shaking of your hands.
It's quite traditional, I suppose, that the bride holds a lovely bunch of blooms for the big day, but due to cost, longevity and personality we have a few different options for you to think about today. Who says that the bouquet needs to be floral? You could have flowers but make them from paper or fabric, hold a large single bloom or even scrap the flowers altogether!
Beautiful Blooms



Ah, the traditional bunch of gorgeous flowers. Usually hand tied into a round posy, these can also be draped over your arm or trailing by your side. Either way, a lovely mix of your favourites can really set the tone. Handpicked, meadow flowers or more structured and colour co-ordinating – the options (season and budget permitting) are usually endless!
Peach and White: Style me Pretty by Shannen Norman | Yellow and Mint: Green Wedding Shoes by J. Shipley Photography | Vintage colours: Boho Weddings by Helen Lisk | Brights: Style Me Pretty by Astrid Photography | Sunflowers mix: Boho Weddings by Nikki Sheffield | Pale Purples: Boho Weddings by Louise Holgate
Uniform Arrangements



If you'd like something a bit different, a selection of flowers in either matching colours or one type of bloom can either be a subtle accessory or big statement depending on the size and style you go for!
Pink peonies: Style Me Pretty by Angelsmith Photography | White and Lavender: Boho Weddings by Ardent Photography | Daisies: Boho Weddings by Camilla Arnhold | Lavender Bouquets: Boho Weddings by Wildflower Studio | Astilbe : Bows and Arrows by N Barret Photography | Gypsophilia: Polka Dot Bride by Mihaja Photography |
Singular Stems



This is one for the more laid-back bride I think – a singular large flower is less fuss, budget friendly and still gives you something to hold in your hands when you're a bit nervous! Again, the impact these have is up to you depending on flower and size.
Singular bulb stem : The every last detail by Lisa Hessel | White flower: The Lane by Lene Photography | Paper Rose: Studio DIY | Yellow: Project Wedding by Jose Villa | Magenta Flower: Ruffled by Michelle Boyd Photography | Flower Girl: Style Me Pretty by KT Merry |
Plants and Succulents



Succulents were big news this season and I think it will carry on into 2014! Easy to care for, they aren't going to droop in your bouquet in the heat and you could transplant them after the big day to keep at home. Other plants such as air plants create a relaxed, boho vibe to your bouquet creating lots of texture.
Single Air Plant: Style Me Pretty by Aaron Hoskins Photography |  Plants with peacock feathers: Sweet and Saucy by Jesi Haack Weddings | Red and orange: Boho Weddings by Christina Heaston | Green : Wedding Chicks by Pat Furey | Air plants: Green Wedding Shoes by Fondly Forever |  Succulents & Billy Balls: Flora Organica Designs
Paper Pretties



Cheap, can be made months in advance, light to carry and can be kept after the big day. If you've got a crafty bone in your body why not make some paper pretties to hold?
Giant Paper Roses: Studio DIY | Black and Grey: Cutture | Pastels: via Folksy | Bright paper flowers and lined up bouquets: Boho Weddings by Lisa Meeter | Pale paper: Boho Weddings via Sunny and Stumpy |
Geekery and Hobbies



If you're not fussed about florals and still want to hold something on your trip up the aisle, why not hold something else you love?
Lollipops, Shells and Cookies all via Boho Weddings | Scrabble via Etsy | Rubix cube: Rock n Roll Bride by McGreevy-Squier |
Jewels and Gems



You can work your family heirloon jewellery into your bouquet if you wish, either by adding to the ribbon binding or making a bouquet entirely out of jewels! Don't throw this one though, it'll probably knock someone out!
Buttons, brooches and vintage gems: All via DC Bouquets | Beige Buttons: Boho Weddings via I heart Buttons  | Brittania: Boho Weddings via Love bouquets | Beads and brooches: Green Wedding Shoes by Brett & Jessica
Fabric and Felt



Another crafty option similar to your paper pretties, fabric and felt flowers are easy to make and again, will keep forever. Cute, quirky and fully customisable, I'd like to see some wool pom-poms in there!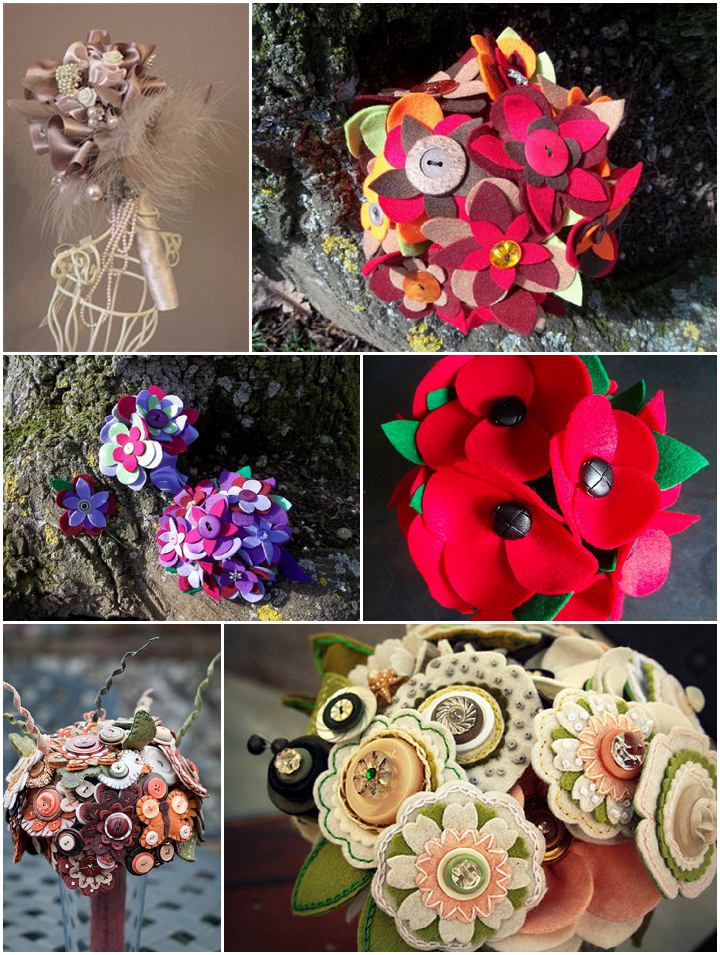 Satin and Feathers: Boho Weddings via Jo Barnes Vintage | Felt flowers and poppies: All Boho Weddings via Lavender Blue Flowers | Reds and Oranges : Boho Weddings via U and Mii | Peach and Green: Boho Weddings via Princess Lasertron |
So what are your planning to hold as you walk down the aisle? Did you throw your bouquet or were you so attached to it you kept it in your sight at all times? Did you keep or press it afterwards? I'd love to know your thoughts on the bouquet! 
Laura xx
Due to an email issue if you have emailed me between the 2nd & 9th of December, please resend it.
X