Today we welcome back Rachel for her last Diary Entry before her wedding in two weeks time. Last time Rachel talked us though the ceremony, her readings and the music choice. Since then she has been busy with all the last-minute preparations as well as getting that all important afternoon tea ready for her 150 guests! Today Rachel tells us what it feels like being so close to her wedding day and how she is coping with the pressure.
I'll pass the Blog over to Rachel…………..
I have a theory. The theory is that about two months before you get married, you slip into some sort of time vortex. Not only is everything suddenly on fast forward, but time starts behaving in new and extraordinary ways. You lose the ability to count and find yourself double checking how many weeks and days to go in your diary, as if it might have changed since an hour ago. You forget that a week has passed. You are in a constant state of surprise that the wedding is so close, and keeps getting closer.
Despite all this oddness, I've been enjoying the run up to our wedding day enormously. My hen party was an enormous amount of fun – I had absolutely no idea what to expect as, despite my slight tendency towards being a control freak, I'd let my girls do their thing. And they did it in brilliant style. A burlesque class, a risqué buffet, some great party games and dancing to the cheesiest of music – all undertaken in a very fabulous pale blue corset and tutu! I also had very exciting hen do hair!
Phil's stag do is this weekend. He's off to Birmingham with a troop of boys, where they'll eat curry and attend a zombie apocalypse training camp. I think killing zombies might be the opposite to burlesque, but I don't think Phil could have pulled off either the tutu or the hot pink hair extensions.
I've spent quite a lot of time finalising our table plan, which has been and remains my least favourite job of the whole wedding planning experience – but it's as done as it can be for now. I've also had the much nicer experience of having final consultations with suppliers – speaking to Jaye from Tux and Tales was both deeply reassuring and very helpful. It's fantastic to have a photographer who is happy to share all their experience, and not just about the photos. I've also been seriously impressed with Karen from Classy Cupcakes who has taken my lengthy emails asking for all manner of last-minute bits and pieces absolutely in her stride. I'm also now in possession of my dress – but I'll save my praises for that supplier until after the wedding so as not to give anything away.
So, what's left? A few bits and pieces on the DIY front, but nothing that would get in the way of the wedding taking place and being fun. The main thing for me is that I haven't got my hair and makeup trial until the week before the wedding. As I've been growing my hair out, we (my hairdresser and I) wanted to see how long it is before committing to a style, so we've held out to the last-minute! We've got a whole morning booked out to try out a few things, which is good news because it's one thing I'm still quite unsure of. I'm not worried though – my hairdresser is brilliant and always comes up with something perfect.
And of course – I've got an awful lot of baking to get through! Our chest freezer is starting to fill up already after 7.5 hours of baking on Saturday and I'm looking forward to spending most of my waking hours for the next fortnight making afternoon tea for 150 people.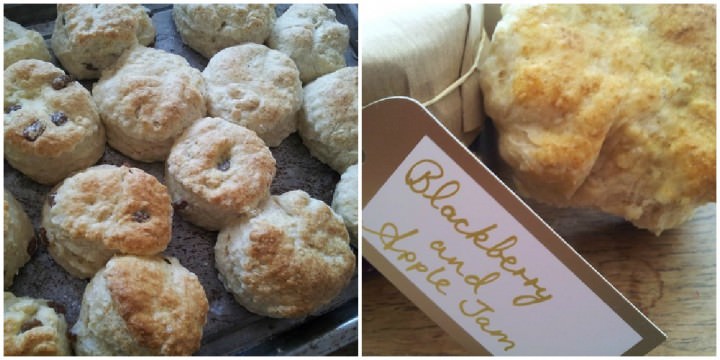 I'm so sad that this is my last Diary of a Boho Bride – thanks so much to Kelly for having me on the blog, it's been an absolute pleasure. And thanks to anyone who has been following my colourful little journey from bride-to-be to wife. See you on the other side!
Rachel
xxx
I have to say I am very sad to see Rachel leave the Blog BUT I am so excited to see the photos from the wedding! I'm sure she will do us the honour of popping back after the wedding to give us her wedding report! Till then I wish Rachel and Philip all the luck in the world, I'm sure their rainbow, DIY wedding is going to totally fabulous!
Photo source: Rachel and Philip
Hair: Hair up,  20s bob,  long wavy bob,  hair up with hair clips,  Taylor Swift,   ginger bob with veil.