Today on Diary of a Boho Bride we catch up with Rachel who only has 3 months to go before her big day. She is now  getting down to the nitty gritty of her planning, making sure that every job left to do has been allocated a time frame. At this stage of the planning process it is important to make sure that everything has been covered, it's time for those little jobs that pull the whole wedding together.
I'll pass the Blog Over to Rachel………………. 
I can't quite believe I'm getting married in three months! It doesn't seem like it can really be almost a year since the ring which feels like such a part of me now was slipped onto my finger in snowy Bruges.
The three months to go mark is the herald of lots of frenzied activity. While I got the big things – venue, dress etc – sorted very early on, there is so much which just has to be left until closer to the big day. And of course, there are things which you've left because they're not as exciting or interesting as some of the other jobs, too, which suddenly can't be put off any longer.
I'm a big list maker, and for me, the only way to deal with the slightly overwhelming number of tasks which need to be conquered was to make a mega list. It was a pretty daunting sight, seeing everything that still needs to be done all lined up. To make it more manageable, I sorted the tasks into urgency order and have assigned three or four per week for every week up until the wedding. I'm hoping this is going to mean things won't get on top of us, and while I'm prepared for some things going wrong, I think having achievable tasks every week will really work for us – in fact, we're already ploughing ahead of target.
It's especially important for me to be extra organised at the moment, because I'm just about to change job. In one way, it's a real help to the wedding planning because up until now, I've been spending at least 4.5 hours a day commuting to and from work. While it gives lots of time for wedding daydreaming, it does get in the way of having the free time and energy to get as much done as you might like. My new job is much closer to home, so the extra time will come in handy! Of course, a new job is a big change, though, and there'll be lots to learn and some adjustments to make. With Phil only changing job a couple of months ago, too, it's been a busy few months for us both. I think we'll have earned our honeymoon! (We're going to Italy – two nights in Venice followed by a week in Rome.)
Flower Alternatives
One of the decisions I did make early on in the planning process was that we weren't going to have any flowers at our wedding. I love flowers, and I think they're beautiful, but I was really excited about the idea of trying something different, having seen so many amazing alternatives on wedding blogs. I thought I'd share some of my favourite ideas here! As you'll see, it took a lot of ideas and a lot of chopping and changing before I settled on my final choice.
The first plan was felt flowers. I'd seen some brilliant designs and I thought it would work really well with my rainbow theme. I even got as far as making some felt flowers myself, which turned out pretty well.
My next fixation was giant balloons. I saw so many fabulous photos with giant balloons and I thought maybe my colourful wedding would be the perfect place for enormous colourful globes.
Then, all of a sudden, I was in love with paper flowers – initially enormous ones. I got as far as buying all the paper and equipment I'd need to make them.
Next up, it was all about feathers. I wanted a big white fan instead of a bouquet, with feather bouquets for the bridesmaids too, and feather buttonholes for the boys. I found some incredible fans, and even considered those enormous ones you see in cabaret shows!
After all these ideas, suddenly I came across something on Etsy which I knew with certainty was the right thing for our wedding. I fell in love with some paper pinwheels and all thought of making my own bouquet and buttonholes flew out of the window when I saw Top This Wedding's paper pinwheel bouquets. A few conversations later and my ten-colour custom bouquet was being created across the ocean in America, and is now sitting patiently in my spare room waiting for its big day. I love it! I decided that the perfect choice for my bridesmaids to complement the bouquet would be paper parasols, and it was done – not a flower in sight!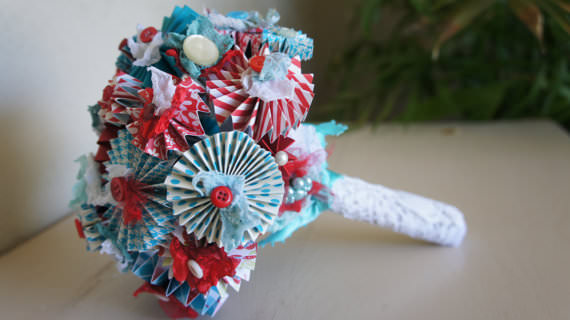 I'd love to hear what you think about all the different ideas for non-floral bouquets – are you considering any of them, or are you a floral fan?
Love,




Rachel xxx
(photo credits: Rachel and Philip,  To do list,  Felt Flowers,  Balloons,  Giant Flowers,  Feathers, Pinwheel Bouquet)