Today I'm delighted to be able to share with you a spring wedding from this year. As mad as this may have sounded a year ago, it is a spring wedding with no snow, which is a pretty rare thing considering the weather we have had over the last couple of months. With the wedding set in March the couple opted for spring colors hoping that the weather would mirror their colour choice,  it didn't, BUT this didn't stop the having an amazing fun filled day. Complete with some amazing DIY touches and some lovely colourful details, this wedding is full of joy and laughter and captured perfectly by the wonderful Jay Mountford
'A dream come true which will stay in my heart forever and celebrated with all our favourite people.'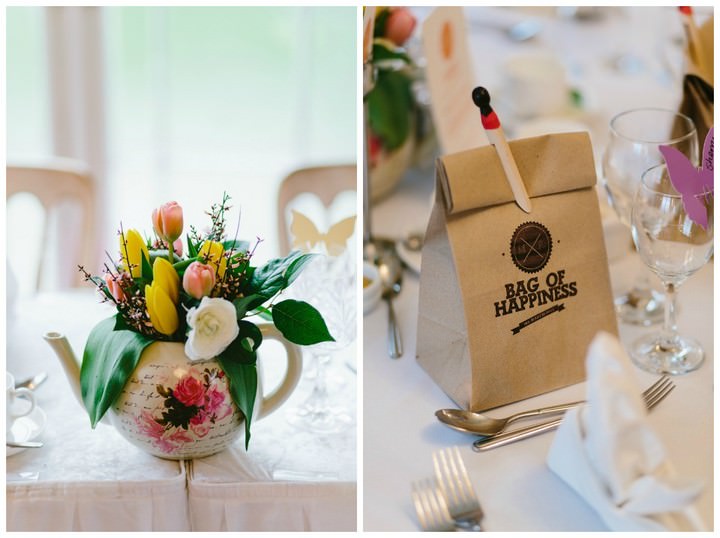 Marianne and Paul were married on 9th March at Little Hermitage, Higham, Kent. We were on holiday in France last year, we had some money coming in and had to decide whether it was a brand new kitchen – which I really wanted involving builders and concertina patio doors or get married. I put my kitchen aside and went with the wedding to seal our love and unite our family. We had 68 guests for the day and 40 in the evening, I started collecting thoughts and idea together from last summer. I started a Pinterest board to keep them in one place and would go back to them as and when I needed inspiration.
How they met
On returning from Italy I moved in next door to him, he pretended to fix my car (which he knew nothing about) I made him dinner to thank him for his efforts and slowly
things kicked off, that was in 2004. we haven't looked back since.
The proposal.
We got engaged in 2006. we'd been trying to conceive for over a year, fallen pregnant and lost our little girl at 5 months. It was a heart wrenching moment. I was lying on the bed after a long day at work I was down, lost in my thoughts when Paul came in. He knelt beside the bed and said 'I'm not sure how to do this, I've never done it before but I want you to know that I love you with all my heart and I'll never leave you.' That picked me up and I hugged him to thank him but he interrupted me, 'I'm not finished yet,' I sat on the bed wondering what else he had to say. I wasn't expecting him asking me to marry him one day. He had a beautiful bouquet of flowers and told me we'd shop for a ring that Saturday as he hadn't wanted to choose one which I might not like.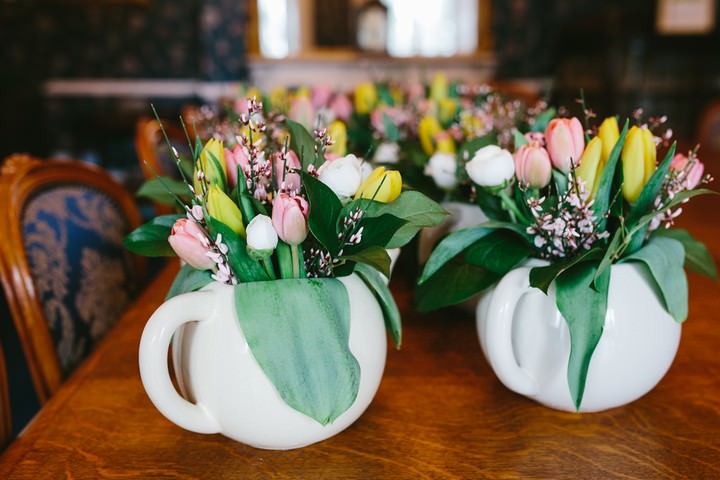 Why did you choose your photographer?
Paul and I had decided to save on the investment of photography of our special day, we thought we'd rely on relations and friends after all most of them have excellent cameras these days. Then I thought about it a little more in depth, would my brother capture everything if he was chatting to friends or family? Could I honestly expect them to take great portrait photos of us? The answer was no so I had to convince Paul to change his mind.
I had met Jay on a few occasions, she's louder than life, bubbly and a whole lot of fun, I liked her immediately. I have been following her personal blog for years and taking part in her Silent Sunday with my own blog  Mari's World. She blows me away every week with her captures. I've watched her photograph weddings and I have fallen in love with the way she captures memories, moments and small gestures and then makes them so special, a whole conversation comes out of each single shot, there was never going to be anyone else. If I was to have a photographer it had to be Jay Mountford.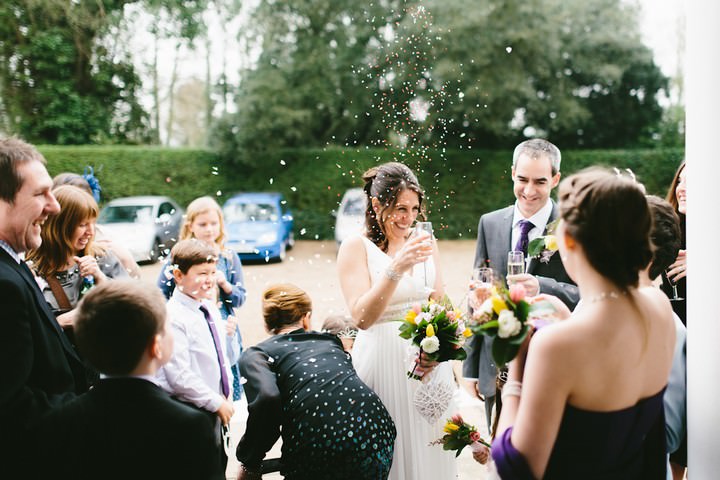 The dress
I found my dress on an off-chance in Oriental Pearl on the sale rack. I didn't have anyone with me to advise me. I saw it, fell in love with it, tried it on and bought it. Then I worried for months in case I'd made a bad mistake but judging from comments I got it right. I also had to lose a few pounds to get in it comfortably.
The suit and bridesmaids
Suits from Next, Bridesmaid dress from Oriental Pearl and Flower girl dresses Monsoon.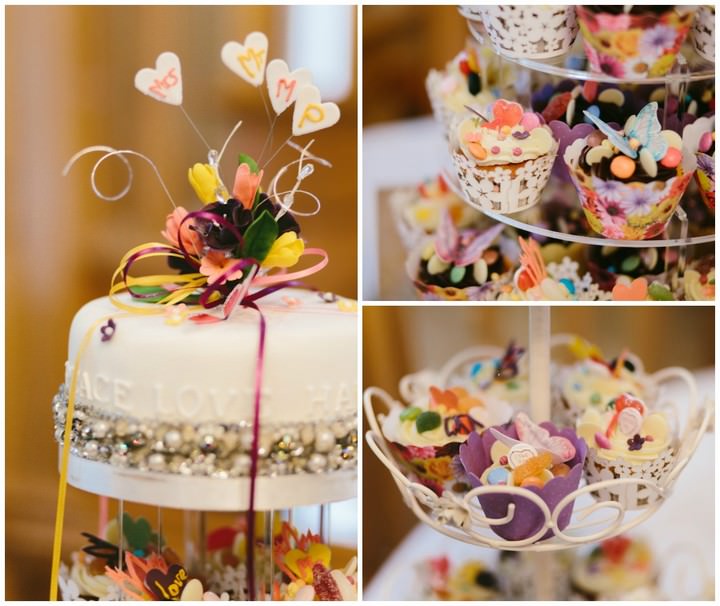 Theme or colour scheme
No, I just wanted the wedding to be full of colour and chose Spring as it was supposed to be spring, Yellow, pink and purple
Food
Prawn and smoked salmon roulade with a horseradish cream, Great British Roast Beef with Yorkshire puddings and trimmings, Mini trio of desserts
Flowers and decoration
Tulips and roses, coloured butterflies on the table as name cards
Personal / DIY Touches
• The menus were hand printed by my brother's girlfriend using all different kinds of typography
• The table plan she also made and pegged on the table lists
• Favours were Bags of Happiness, a simple idea that went down really well with the guests
• Chapel of Love made out of a Lakeland house mould in chocolate and decorated with sweets plus filled with jelly beans and mini Easter eggs
• Instead of a guest book my brother did a cut out stencil of a caravan (we bought one last year) placed it on a large canvas and supplied inks for guests to make their thumb prints with.
Advice
Keep it simple, keep it fun, make the decisions for YOU and not for your guests after all, this special day will be your memory forever, they'll move on to the next wedding.
Biggest surprise
One of my best friends from Italy had travelled to join us, she left her gift upstairs in the bedroom. Before I went to sleep I was curious to see what it was so I opened it. It was the most beautiful string of pearls. I was shocked she had spent so much money on me, I'd told her not get anything as they had flights and hotels to pay for. They are stunning
Special moments
Descending the stairs from the bedroom above to the ceremony below on my brother's arm.
Paul slipping the ring on my finger.
Being surrounded by the love of our favourite people
Being upstaged by our 2 year old nephew during our first dance as he decided to overtake the video – BRILLIANT!
Supplier Shout Outs
For more information on Jay's work go to
http://jaymountfordphotography.co.uk
http://blog.jaymountfordphotography.co.uk
[email protected]
FACEBOOK
@JayMountford
07904 031953
"I travel throughout all of the UK, and will travel internationally. I have a natural, fun and relaxed approach to the day. I don't work to a particular style, I just make sure that the images reflect the day as it was: amazing, loved-up, fun!"