This afternoon sees the conclusion to our Seasonal Flower series as resident florist to the Blog, Tracey Campbell talks us though Season Spring Flowers. You can see the full series HERE: Summer Flowers,  Autumn Flowers,   Winter Flowers .
It may have snowed a couple of days ago, but it is March, and that means that it is technically Spring. Spring is arguably the most amazing time for flowers  so many beautiful blooms in season, so loads to choose from if you are a spring Bride. Does this choice leave you a bit confused though? You may know your colour schemes but are you still puzzled over flowers  Today Tracey is here to talk you though the spring flower options.
Remember if you have any questions for Tracey do feel free to leave  a comment below and she will be sure to get back to you.
I'll pass the Blog over to Tracey………….
My thanks to Kelly for inviting me to write another in this series of seasonal posts, today,  it's Spring!  All I can say is thank goodness for Spring … in the words of McCartney et all "it's been a long, cold, stormy winter"!!!
I love this time of year.  Early springtime is so wonderful, and just feels hugely exciting with all the new growth beginning to appear and the fantastic feeling of warmer and longer days just hinting at what's to come.  With the soil starting to warm, planting is happening and the anticipation is palpable!
So, in an optimistic frame of mind, I bring you a combination of bright and cheery flowers, which epitomise this new season and then counterbalance these with some soft, muted, pretty neutrals and finally offset everything with some gorgeous, sumptuous rich colours – I'm thinking this should appeal to a range of tastes!
Here are just a few of my top flowers for Spring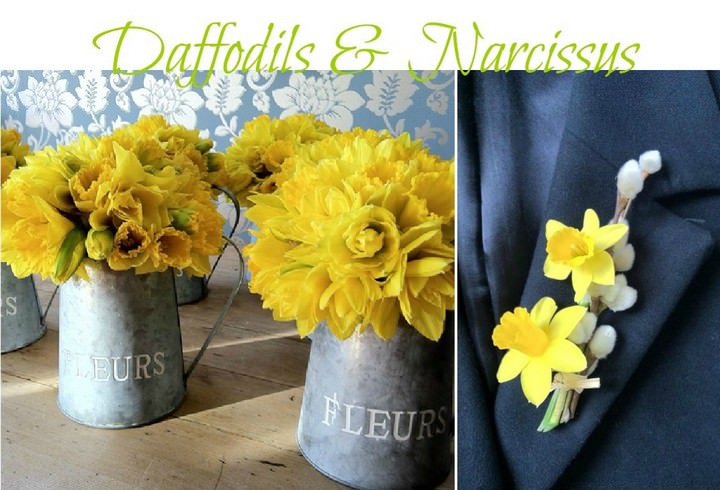 For last weekend's wedding, my Bride, Rachael, had a yellow theme and knew that whatever I designed, had to include daffodils.  I'm really passionate about British grown flowers and these single and double daffodils were hand tied to create a big, bright yellow 'ball' and looked stunning in their simple grey jugs.  Daffs are quite resilient too, and last well out of water, and can make a really cute, slightly quirky buttonhole.  Narcissi are their smaller, highly scented cousins and come in a marvellous combination of yellows, lemons and soft creams.
One of my absolute favourite blooms at this time of the year with a just astonishingly gorgeous, heady scent, they come in lots of colours but are most commonly found in white, pink and a gorgeous Delft blue – the colour of willow pattern porcelain.  Look out too for the rarer, but equally fabulous cream, salmon, peach, magenta and dark purple varieties.  The blooms can get a little heavy for their stems, so make sure your florist is careful where he/she places them in a bouquet.  The individual florets, however, are incredibly long lasting and make the cutest hair flowers – or prettiest circlets.  Did you spot the tiny beads I couldn't resist popping into the centres of the florets?!
The happiest of flowers, tulips seem to me to just say Spring.  They're incredibly versatile and come in a myriad of wonderful colours.  Not only that, but there are some truly astonishing varieties available which include amazing parrot tulips; strident, huge French tulips and simply beautiful peony tulips – perfect for those of you who adore the quintessential Summer bloom, but have chosen early Spring for your wedding day. 
Available a little later in Spring, this is another favourite which adds fabulous texture to whole host of designs, has a pretty, light scent and a lovely loose, softness for a 'just picked' feel.  Perfect for that vintage look! Available in white, pinks, soft lilacs and deep, deep purples, lilac can be pricey but its short season makes it a joy to work with and can add something really extra special and quite memorable to your floral arrangements.
Of course, there are so many more seasonal Spring blooms available, with a huge variation between early and late Spring too, but these are just a few ideas of what's out there! When you're ordering your flowers, remember scent is one of the most evocative of senses so, if you can, talk to your florist about incorporating a sweet smelling flower into your design – the scent will always remind you of your special day.
I hope our designs have given you an idea of what's available at this time of the year.  We keep adding to our wedding portfolio all the time which might help you with inspiration for bridesmaids, buttonholes and venue decoration, or pop across to have a look at our latest 'real weddings'.  We  also love sharing, so feel free to get in touch if you need any help or advice in choosing seasonal flowers for your special day.
Tracey x
Thanks so much Tracey. That is the seasonal wedding flower series over now. You can see the full series HERE: Summer Flowers,  Autumn Flowers,   Winter Flowers 
For more information on Tracey's work go to
www.campbellsflowers.co.uk
http://blog.campbellsflowers.co.uk/
FACEBOOK 
TWITTER
Pinterest

[jprel]