Today I would like to introduce you The Velvet Wedding Store, a great company who I met at the NEC National Wedding Show a few weeks ago. It's an amazing company who own 2 shops in Brighton and Hove who also have a wonderful website full off loads and loads of wonderful wedding wonderment!
Velvet Wedding offers couples an array of wedding loveliness to suit every theme and budget!
I spoke to Emma Jane the Marketing and PR lady and she gave me a bit fo background into the store:
'We have traded for 10 years as Velvet, two quirky, shabby chic lifestyle stores in Brighton & Hove selling a selection of furniture, lighting, mirrors, gifts, home accessories, clothing, shoes and accessories, and as velvetstore.co.uk for the past 2 years (selling furniture & home accessories). This year we realised that we have been providing wedding decorations and favours to local brides for a decade and so in May velvetwedding.co.uk was born, to showcase and sell our huge range of wedding lovelies to a wider audience. We are a small family owned business and pride ourselves on our high level of customer services.'
Emma was alos kind enough to send me these, so you can get a better idea of the sort fo thing the shop sells:
'Our first store started out selling gifts and accessories and over the years we have expanded, selling everything from furniture, lighting and mirrors to clothes, accessories and lovely wedding things. Velvet was launched in 2000 by husband and wife Nick and Emma Harrop and Emma's Mum, Iris Draper, we are very much a family business with Emma's Dad George (aged 75) still a very active member of the team, we have a fantastic team of 20 many of whom have been at Velvet for years and years!
The buying team spends a great deal of time sourcing new and original products from all over the world, from hundreds of different suppliers. Our website is updated with new stock on a regular basis. If you can't find what you are looking for do call or email… we may well be able to find it from our hundreds of suppliers!
We constantly push the boundaries of retail excellence with new stock arriving daily, beautiful displays and shop layouts and a huge mix of gorgeous products appealing to all ages and tastes. This, along with our passion for customer service helped us win 'Best Independent Retailer in Brighton and Hove 2007 and 2008' and 'Independent Retailer of the Year South and South East 2008′.
Even as our business grows, we remain a family business at heart that really cares about our staff and customers. Our team enjoys working here and that transpires to give the shops a lovely atmosphere.'
The website concentrates on so many areas including, table decoration, favors and stationary, garden decoration, gifts and venue decoration. They also section the website out in themes: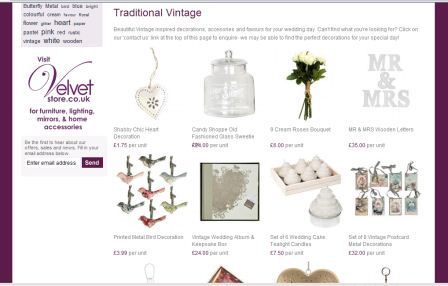 There are so many things to choose from, the store and website are a complete Aladdin's cave for everything wedding related! I have told so many of my brides about this website! I may have to purchase a few bits and bobs myself!!
For more information and to have a propper shop go to:
www.velvetwedding.co.uk
www.velvetstore.co.uk
[email protected]
Velvet Stores Ltd
27 Bond Street
Brighton
BN1 1RD
Telephone: 0845 5195 813
Fax: 01273 749877
Due to an email issue if you have emailed me between the 2nd & 9th of December, please resend it.
X