It's mid week which means that the weekend is just around the corner…….well that's what I'm telling myself anyway! It may be gray outside but I have a wonderful Music festival Wedding to cheer you right up! Sent into me by the amazing Paul and Kelly from Paul Joseph Photography this wedding is full of fun and personality. I love how the couple have incorporated their love of music into their wedding and really made it their own. Paul and Kelly have done a wonderful job of capturing the day as well, some beautiful shots with great composition.
'A whirlwind music festival where love was the headline act. Jam packed with fun from start to finish.'
Natalie and Adam who were married on 4th August. 'Baildon Methodist Church for the ceremony and afternoon tea. The Old Barn at Esholt for the Reception and evening party. Both in Bradford, West Yorkshire. Every other venue we had visited seemed to concentrate more on what you couldn't do rather than what you could. It really put us off as we had a lot of ideas and didn't want to compromise on them. Tina at The Old Barn was brilliant from start to finish and all the staff really helped to make our plans work. It's great when others share your enthusiasm! We had 90 guests to the church and reception and 150 to the evening party. We planned the wedding over about 18 months. This gave us (or my mum!) enough time to make a lot of the decorations and for my dad to get his classic car up and running to take me to the church.'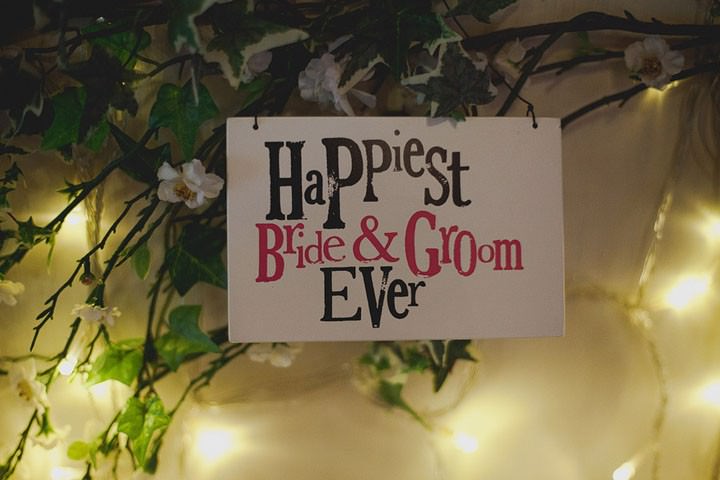 How they met
We met in October 2006 on Halloween at a bar called the Love Apple in Bradford. Adam's band were playing and I went out with some friends to go watch. I was dressed head to toe as a skeleton, so I'm really surprised Adam even came to say hi!!
The proposal
Adam took the day off work and hadn't said anything to me. I went off to work and when I came home he had cut out the words 'Will you marry me?' and put them up in the bedroom. Of course I said yes! It should have turned in to a romantic evening celebrating however my dad had decided to come to work on the outside of the house and one of my friends was coming round to go on a run with me. We kept it a secret for a couple of months which was very difficult but fun!
How did you choose your photographer?
We saw Paul and Kelly photograph our friends wedding, they were having fun with the guests and getting some great shots. After seeing the finished photos we knew instantly that we wanted them to photograph ours. What we couldn't have anticipated at the time was the ongoing support and suggestions they both had. They are an amazing team.
The dress
My dress was by Dizzie Lizzie Couture. Accessories from Northallerton Bridal Outlet, Next and Vivienne Westwood. Shoes were irregular choice.
The suit and bridesmaids
The suit was from Topman and Adam wore some blue converse as smart shoes remind him of going to work. The bridesmaids wore dresses from Pretty Maids and had accessories from Debenhams and Goldsmiths.
Theme or colour scheme
The colour scheme we used was orange, its my favourite colour and really suited a British summer wedding. The theme we had was music festival. Little wellies with flowers in, bunting, teepees, old records, big orange light up lanterns and music galore.
Food
Afternoon tea with cakes and scones at the church, then a 3 course meal
Starters: Fan of seasonal melon & wild berries with a raspberry coulis, Chicken liver pate with cranberry compote & toast, Nut crusted brie served with sweet red onion marmalade
Main: Mini lamb pie & lamb chop with minted gravy, Fillet of salmon with a cream & dill sauce,
Breast of chicken wrapped in bacon with a white wine & sage sauce
Dessert: Eton mess, Hot chocolate brownie with vanilla pod ice cream, Deep baked vanilla chessecake with cream & raspberry coulis
For the evening party there was cupcakes made by a friend of mine as a wedding present, they were chocolate orange! My mum made the wedding cake, this was two tiers of fruit cake, one layer of chocolate cake and the top was carrot cake. The Old Barn served hot beef, pork and bacon sandwiches. We also had a sweet bar with loads of British favourites!
Entertainment
As we're both in a band and our lives revolve around music, we really wanted this to be a big part of the evening. Adam's youngest sister Beth started off by singing some great classics including Etta James 'At Last'. We then created mini playlists themed on different music styles and asked our friends to do DJ slots. My brother did an Après Ski themed set since we go skiing and snowboarding every year together. We kept the last DJ set for ourselves and made sure the dance floor was packed!
Flowers
My flowers were designed by Maureen at Flowers by Keelham Hall Farm Shop, Thornton, Bradford. I'm not very good with flowers so I gave Maureen free range to design what she thought complemented my other decorations. She created bouquets in orange, peach and cream for me and the bridesmaids. These were decorated with little silver butterflies. Maureen called my style 'picked from the meadow', as I wanted a not too perfect bouquet. The tables were decorated with white orchids and moss in little silver buckets with big orange bows on them.
Decoration
Little wellies with flowers in, bunting, teepees, croquet, big orange lanterns which lit up, old records, each table was the name of a music festival, cassette tapes with guests names on, fancy dress box for the evening, blackboard seating plan, blackboard set list for the music.
Personal / DIY touches
• My mum made about 50 meters of bunting, two teepees and cushions with fabric from The Design Mill, Crossflatts.
• My mum also made the wedding cake
• And she planted all the flowers in wellies.
• We designed and printed all the invites which followed a music festival ticket and gig poster theme.
• Adam made the cassette tapes for guests place cards.
• We printed wrist bands for the guests as favours, these were in orange.
• I made the confetti cones out of frank Sinatra sheet music.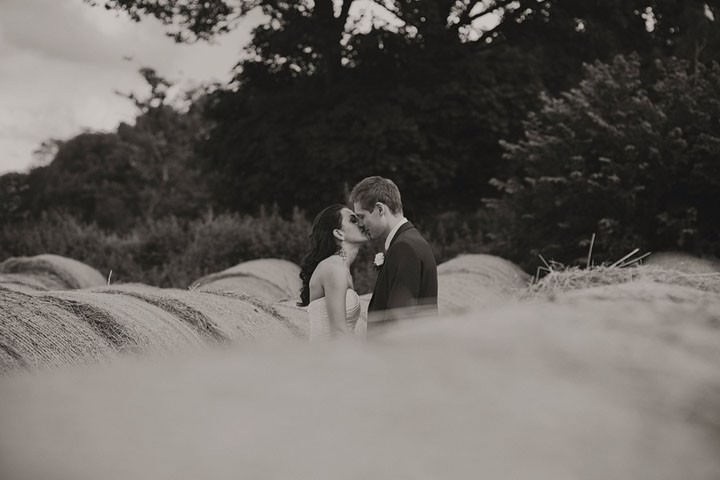 Special moments
Coming out of the church everyone had gathered to throw confetti, the sun was shining, the
photo looks like it was planned but it really wasn't! My dad racing to the reception in his classic car along little country roads, it felt like a scene in a film! Beth singing at the evening party was amazing, she had chosen all the songs and kept them a secret from us. The choices were perfect and this moment couldn't have been more special. Mine and Adam's first dance, where we began slow dancing for about 10 seconds and then insisted everyone get on the dance floor and explode to 'True Love' by Friendly Fires.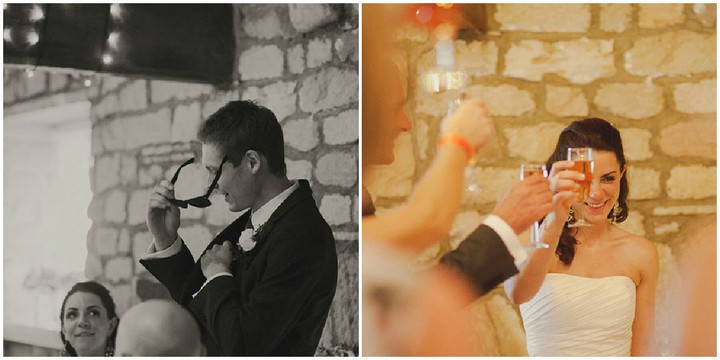 Advice
If you're the sort of couple where the 'normal wedding' doesn't quite do it for you, be different!! Stick to your guns and plan the crazy day you want, break every rule in the book if that's what will make you happy. People will always try and tell you how things should be done, but that isn't what weddings are about.
Biggest surprise of the day
How packed the dance floor was from start to finish, it was crazy. Adam has already told me we are having loads of parties this year!!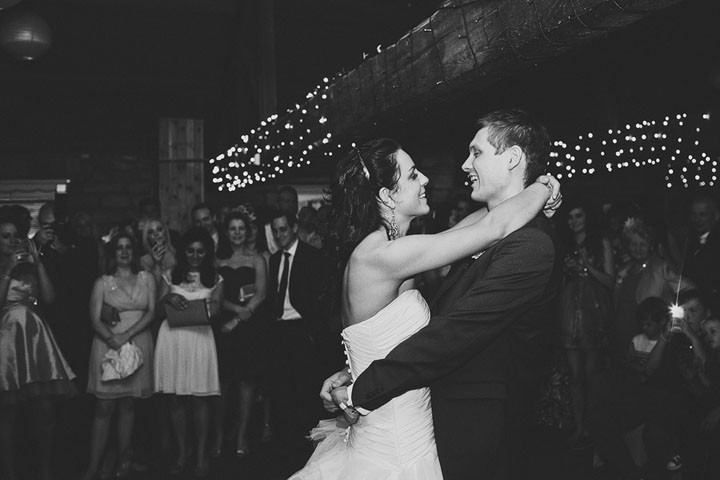 Supplier Shout Outs
Fore more information on Paul and Kelly's work go to
www.pauljosephphotography.co.uk
http://pauljosephphotography.co.uk/blog/
FACEBOOK
Paul on Twitter
Kelly on Twitter