A lot of the weddings I feature on the Blog are country wedding so it makes a pleasant change to share with you today's city wedding. We are in London, in the rather magnificent Westminster Central Hall. It's a beautiful wedding where the bride is English and the groom is from New Zealand. The wedding is not only a Massive celebration  (400 guests at the ceremony) but it is also a farewell party as the couple moved to New Zealand straight after the wedding. Thanks to Joseph Hall Photography for the pictures.
'I'm English and Brendon's from NZ; we were going to have a NZ laid-back wedding in NZ so this was a typically traditionally English wedding (with a few Kiwi bits thrown in too) and with me having 120 family members to invite, it was always going to be a big one. With us moving permanently to NZ it was also a chance to round everyone up and say a proper goodbye so it was quite an emotional day all around.'
The lovely couple are Mary and Brendon who were married on 29th September. 'Both the ceremony and reception were held at Westminster Central Hall with the couple photos in St James Park. My dad is the Minister in charge of the Church and so it's our family church, the fact that it also is right in the centre of Westminster and is an incredible building with amazing reception rooms and fantastic catering was a bonus. I think for the ceremony there were about 400 guests, it was a pretty open invitation. For the reception, 270 guests'
How they met
We met through friends about 4 years ago for about ten mins while Brendon was over for a visit, we definitely noticed each other but barely had a conversation, two years later he had a wedding to go to in the UK, he got in touch before he left, we met up while he was over and the rest is history! We spent 9 months in a long distance relationship between London to Auckland and then I moved to NZ in May 2011. We've been together for 2.5yrs.
The proposal
I kind of guessed it was coming and had suspicions he'd got the ring but was expecting him to propose on my birthday, that didn't happen, I was pretty disappointed and he knew it…the next day it was a blustery and rainy Monday, I came home from work and there was a rose on my pillow; he came over to my house and suggested we go for a walk up Mount Eden which was near my house, I suggested a walk by the sea instead but he was very insistent.
We drove to the top and he told me to open the glove box in the car, another rose…we got out for a walk, he was telling me that I had to stop expecting things to do with proposals and just let him be so I thought I'd blown it, it was pouring with rain and he was taking me off-track in high grass etc and as we walked I kept coming across roses, I asked him what he was up to and he said, "why do you always think everything has to mean something!"
Our clothes were getting soaked and we get to the point where there's an incredible view of the whole of Auckland, I then looked behind me and there were three roses together, he told me to pick them up and under the roses was a ring box with a placebo ring, as I turned around, he was down on his knee with the real ring and he asked me to marry him…I have no idea the details of what he said, I was bawling it and just said yes!
The Planning
We only had a 6 month engagement and were in NZ for the first three, so we booked all the essential stuff from there but really everything was organised the three months immediately before the wedding. I wasn't really working so was able to do it all without much stress, I used to work in events which helped, plus our Event Manager, Anne from the Church was fantastic.
Why did you choose your photographer?
I've know Joe for over ten years, he'd taken the photos at my sister's and my cousin's weddings and I just loved his documentary style, he captured moments that you had no idea were happening; a sequence of the bouquet throwing at my sister's wedding sold it to me and although we looked at various photographers, his photos were easily the best.
He's very easy going, so discreet and made everyone feel really comfortable which enabled him to totally capture the day as it happened.
The Dress
I always loved Jenny Packham dresses and really wanted a 1920's style but didn't think I could afford one; then, when helping a friend to look for a wedding dress on eBay, I came across my dream dress that happened to be by Jenny Packham listed for £150, it was called 'Fleur' from a collection about 8yrs ago. I wasn't even engaged but figured even if we didn't get married or if it didn't fit I could easily sell it, my gamble paid off! I had it lowered slightly at the front and back and it fit perfectly. I wore some antique art deco earrings that I'd bought at an auction and the shoes were just simple flat pumps from Debenhams.
My bridesmaids hair and my hair and make-up was done by a team from Deco Dolls who were really great and I would thoroughly recommend to anyone.
The suit and bridesmaids
Brendon wore a navy suit from French Connection at Moss Bros and the rest of the boys were charcoal suits from various stores with matching navy cravats from Swagger and Swoon
We had 9 bridesmaids and 3 flowers girls! The flower girls wore matching dresses from Monsoon and I found their rosebud headbands online. Their shoes were from John Lewis. Because there were so many of them.
I wanted the bridesmaids to all wear different dresses, the colour scheme was anything that could count as nude and it had to be knee-length, we didn't want them to look like traditional bridesmaids dresses and I wanted them to look super hot!
Apart from that we were really flexible. The dresses were all from high street stores.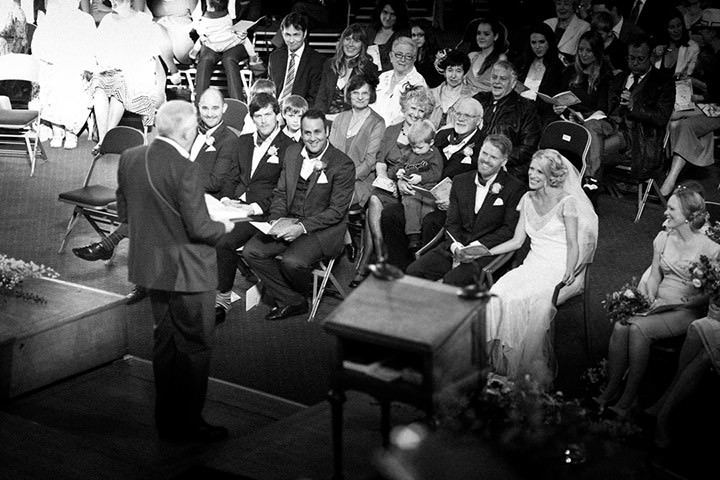 Theme or colour scheme
Not really, we kind of made it up as we went along, the bridesmaids in nude and the boys in navy and charcoal so it was really anything that matched with that.
Food
Starters: Smoked salmon with cucumber spaghetti, toasted soda bread and baby watercress
Main: to make the Kiwis feel at home, "Confit of lamb shoulder with herb crumb, rosemary infused potato galette, baby carrots, fine green beans and port wine reduction
Dessert: Vanilla panacotta, shortbread fingers with mixed berry coulis
Entertainment
We had a band called Pastiche play I'm friends with a few of the band members which made it even more special. They played an assortment of covers and some ceilidh songs which went down really well.
Flowers
I really wanted to the flowers to look like English wild flowers, late September wasn't the best month for that but our florist did an amazing job. The bridal party flowers were Euphorbia, Echinops, Antique Roses, Delphiniums, Phlox, Astrantia and Lisianthus.
For the Church flowers we kindly had a team from the church doing them so we went to Covent Garden Flower Market two days before and just went around picking what we liked which was great fun Astilbe, Roses, Delphinium -blue and white, Gypsophila, Eucalyptus, Grasses, Monkshood(aconitum), Pussy Willow (soft fluffy catkins), Variegated pittosporum ( little variegated greeny/ yellow leaves),Statice – white.
Decoration
Seeing as the reception rooms were pretty grand as they were and fairly large, we just kept it simple and had small metal buckets with Heather, Lavender and Gypsophila surrounded by ivy in that two of my aunts put together.
Personal/DIY touches
• The most important thing to us for the whole day was that people enjoyed themselves and it was all easy and laid back. We made sure each table had a list of the '7 Notes For The Reception' which listed all the things to do so they didn't miss out.
• Music is also a big thing in our lives so each table name was the name of a song that meant something to us.
• Whilst we were long distance I used to make Brendon loads of mix CDs so the place names were the person's name on an envelope and in that envelope was a mix CD with songs we love, including the songs I walked up and we walked down the aisle to.We were also able to write a personal thank you on the other side of the track-listing with our new address and we figured a cd would be preferably to sugared almonds. Each table place also had a packet of love hearts.
• We had over 50 children there so they needed to be entertained; the under 2's place names were on a rubber duck and the over 2's children's names were on a wedding activity book which I found online and then personalised along with a box of colouring pencils.
• For weeks before the day I'd scoured eBay for antique postcards, preferably of people; each table had a stack of these postcards to write a message on, for us to read on our 1st year anniversary
• We had a load of board games which were there for those who didn't want to dance and also a DIY photo booth which consisted of an SLR camera with a remote and a box loaded with fancy dress items. These were mainly used by the children during the speeches, they had a great time playing and getting dressed up and it meant the parents weren't having to look after the kids and could enjoy the speeches.
• I've always been a sucker for sweets so we had a tuck shop which people could help themselves to.
• Seeing as we were going to be living abroad we thought it would be good to keep track of Birthdays, so we had a London calendar which people could write their birthdays on.
• We made sure that the female toilets were stocked up with hairspray, mints, hairbands, painkillers, lip-gloss, hand cream and lots of other things girls need on a visit to the bathroom.
• And just because the Church itself is an historical and architecturally interesting building, we had official guide books for people to help themselves to, letting them know all about where they were.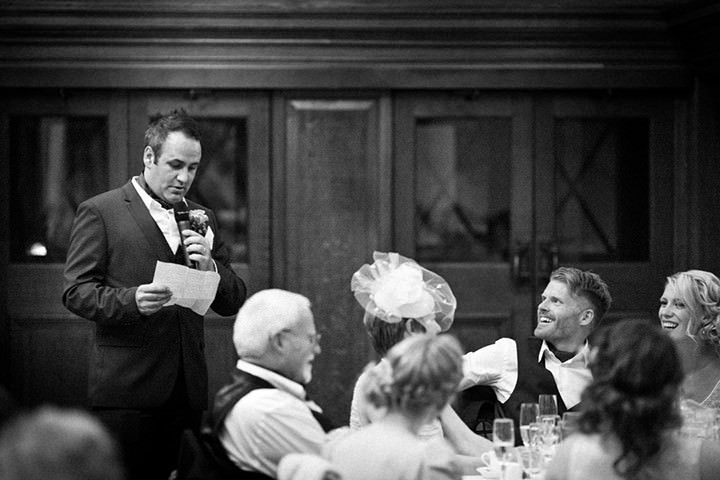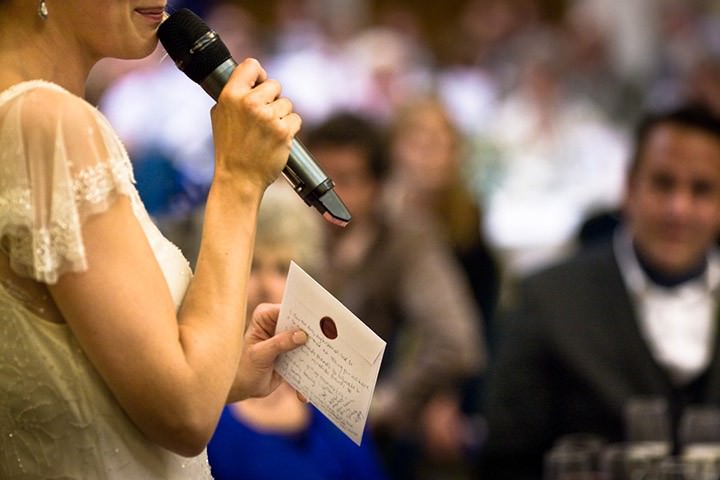 Special moments
• The ceremony was easily the best bit of the day. We'd put so much thought into it and it really was the time were we could totally focus on each other. My dad's best friend married us and my dad preached which was so special and my friends Lucy and Danica, who sang during the service totally blew everyone away with their beautiful singing.
• My sister's speech was so, so funny but also really emotional, we're very close as sisters and we were leaving a month after to permanently move to NZ so it was also a goodbye and so there were lots of tears in that one.
• When we arrived at the hotel, we spent an hour having a cocktail in the bar, in our wedding outfits, just the two of us talking about the day – that was really special.
Advice
Pinterest was such a brilliant discovery, I got so many ideas from the site and drawing pictures together really helped to form the ideas for the wedding. eBay was also great for buying all the little bits and pieces.
Make sure you have an organised itinerary of the day, it's a great help to everyone but more than anything, it means you know you've got everything covered.
Don't pay attention to the lists in wedding magazines telling you what to do by when, that will only stress you out. Write your own to-do list that's relevant to you and work at your own manageable pace.
We talked beforehand about engaging with the day, we were both worried about it all feeling a bit surreal…during the vows it was feeling slightly surreal, I remembered our chat, looked at Brendon, felt so happy and started crying my way through the rest of our vows (good tears)!
Biggest surprise
Although everyone had told us how quickly the day goes we really had no idea how true that was! That's why it was so great to have another, totally different type of wedding to look forward to in NZ!
Supplier Shout Outs
For more information on Josephs work go to
www.joseph-hall.com
http://joseph-hall.com/blog/
FACEBOOK
TWITTER
@Mrjoehall
Due to an email issue if you have emailed me between the 2nd & 9th of December, please resend it.
X