Happy New Year everyone and welcome back to the blog after a bit of a Christmas break. After a few days off and my two 2015 blog round-up posts, it is now back to the normal blogging schedule. Did you all have a wonderful Christmas and New Year? I do hope so. I had lovely relaxing time and I'm now ready for 2016 and a busy blogging year ahead. We are starting off with this amazing Music Hall Wedding from our very own Paul and Kelly from Paul Joseph Photography. The wedding takes in four different venues across London, 3 different caterers, some amazing entertainment, beautiful decor, gorgeous outfits, all mixed together with Armenian-Lebanese and English touches. A simply stunning wedding, beautifully photographed, the perfect way to kick off 2016.
'A unique 4 venue, triple-catered, gospel and ska tuned, vintage, gin-infused secret 16hr wedding experience that celebrated the magic of London through Armenian-Lebanese and English eyes. Beautifully exhausting'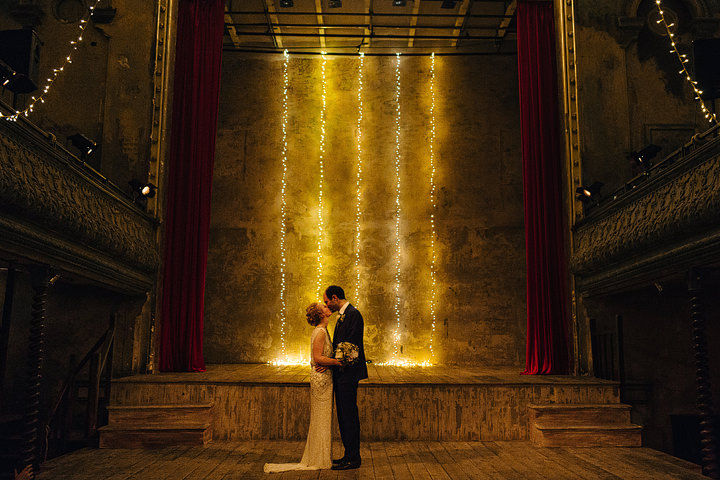 Abigail and Reef were married on Saturday 18th July 2015 at Wilton's Music Hall in London. The Wedding Breakfast was held at St Stephen's in Hampstead and the evening reception at Loft Studios in Acton. 'We wanted to do something magical and unexpected, so we decided not to let any of our guests have any of the details of the wedding, whether timings or venue details. All they knew was "be at the Princess of Prussia at 10am." Live music has been a massive part of our relationship and once we began to think of venues we loved, Wilton's immediately came to mind. As soon as we stepped into the building we knew that is was what we were looking for. We wanted somewhere that took you to a different place but which was also intrinsically part of London's fabric. Most of all, we wanted the memories of the wedding to focus on the ceremony, after all, that's what it was all about. It also meant no one could Google anything about the wedding in advance!
Reef insisted that he would get Abs to church for their wedding, so St Stephen's was a nice way of building in that twist, that and it's utterly stunning. As for the evening, we wanted somewhere cosy and cool to kick back with the music. It's hard to make anything intimate with 200 people but the studio space meant everyone had to get up close and personal. We had a total of 200 guests and once we'd managed to line up all 4 venues on the same date, it took about 4 months to plan.'
How they met
We met 19 years ago when we were 16 after Abs' friends ended up going to Reef's 6th form. We celebrated our 10th anniversary in December.
The Proposal
Much to Abs' dismay, Reef convinced her that he was taking her to an experimental cheese farm in an airport town near Amsterdam for her birthday. After a few days in Holland, Reef surprised Abs by taking her to Georgia, then to Armenia and after numerous failed attempts at proposing in front of Mount Ararat (which was obscured by clouds), Reef popped the question on the last day on bended knee in the middle of Republic Square in Yerevan (the place where Kanye had a splish-splash a few months later)
How did you allocate your budget
Venue fees were our priority, then the music and food – anything that we felt had to have a personal touch, like stationery, we did ourselves. We had over 50 individual suppliers and saved quite a bit taking on the management of all that ourselves. We also allocated some budget for a rehearsal dinner the night before that involved a cocktail and craft beer reception on the Craft London terrace overlooking the O2 dome, followed by a boat ride down the Thames to a private prosecco reception and dinner in the cellars of Copa De Cava for 60 guests.
Where did you splurge and where did you save
Splurged: We had 3 main venues plus the meeting venue so it was like arranging 3 mini weddings. That choice was the biggest splurge!
Saved: We went to France to get the morning/afternoon drinks, ebayed all the easels, posters, flutes, mason jars, tooled up at Hobbycraft, Paperchase and Etsy, used free glassware hire where we could, commissioned the invites from the manufacturer ourselves and hand-stamped, wax sealed and dymo'd them all along with all place and table names. We managed and negotiated with every single one of the suppliers (and boy were there a lot of them!), which saved quite a bit too. We also dispensed with things liked chair covers and traditional favours and served our cake for dessert. We used every money saving trick in the book – buying discounted gift vouchers from ebay, using cashback sites, voucher codes and negotiating our socks off (in fact I think we even negotiated the price of the socks). For our evening venue we decked out the outside space with parasols, mats, lanterns and tables from IKEA.
How did you choose your photographer
We really dislike set piece and formal photography and we knew that it wouldn't capture the spirit of the day. We looked around for someone that had a casual, reportage style. When we saw that one of Paul and Kel's top wedding tips was "forget traditional, you're cooler than that" we knew they were the ones for us.
The Dress
Jenny Packham (dress, headband and bracelet), Emmy London (shoes).
The Suit and Bridesmaids
Canali (suit and tie), Reiss (shoes), pocket square (Mrs Bow Tie) and bridesmaids dresses (Ghost)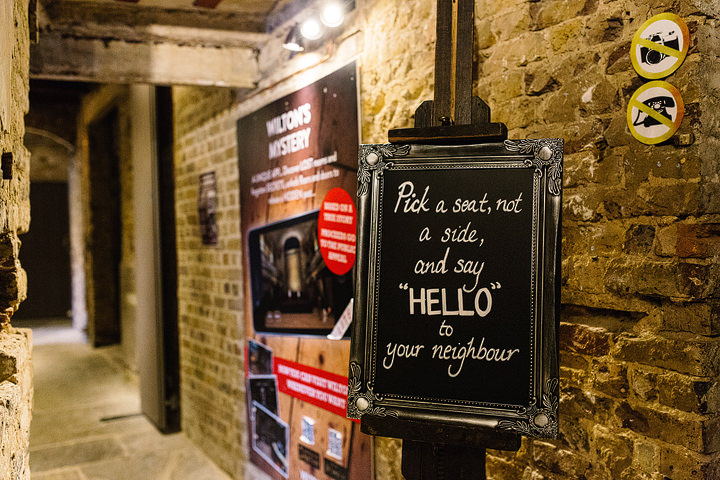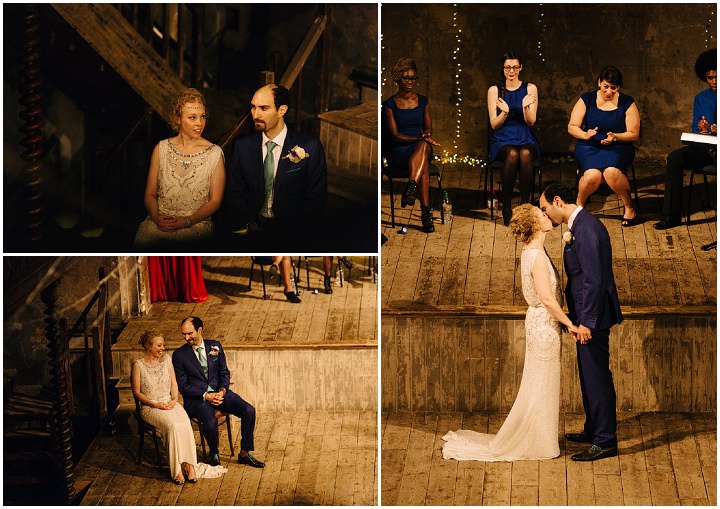 Theme or Colour Scheme
Abs loves green and Reef has learned to love green, so a lot of things were green. But not enough considering this. We were once ask to sum up what we wanted our wedding to feel like and we went with 'derelict chic' by which we really meant 'anything but a hotel wedding'. Guests were encouraged to vintage-style their outfits so that might explain some of the looks on the day.
Flowers
Hydrangeas, peonies, eucalyptus, succulents, dahlias and gypsophila
Decoration
We had a few London/secret-theme posters, easels with chalked boards, table and menu names (based on London concert venues we like), handwritten and wax sealed place names, green mason jars with flowers, a table plan made of plain and coloured macarons and name tags made out of cocktail sticks flags that we put together. Our table had a champagne sequin tablecloth which is surprisingly hard to find in a large size!
Food
After the ceremony we had the lovely guys at the Travelling Gin Company serve prosecco and Sipsmiths and Fever Tree gin cocktails from their bikes as well as a custom one based on our favourite cocktail from Foxlow. We then served about 20 different flavours of Joe & Seph's gourmet popcorn – everything from toffee apple and cinnamon to goat cheese and black pepper.
Rather than have favours, we had flavoured but plain colour macarons from the Lanka patisserie and colour macrons from Ladurée in Knightsbridge.
Scallops, mini beef wellingtons and cubed watermelon and feta with mint were served for canapés with yet more prosecco.
We visited Avec in Chicago earlier this year and ate their famous chorizo wrapped medjool dates in tomato sauce (which has to be one of the best dishes of all time). So we asked our caterers to make a summer version of that with tomato, lime and chive salsa for the wedding breakfast starter. It was a bit risky, but everyone loved it.
We had a choice of salmon, pork belly or pan roasted mushrooms for our main dishes.
For the evening buffet we had over a hundred kilos of Lebanese food from the spectacular family cooks at Awafi in Acton, fresh baklava from Sweetland and fresh Turkish breads from the Yasar Halim bakery in North London. Reef is very proud of his Lebanese culinary heritage so he took it upon himself to sample every Lebanese caterer in London over 6 consecutive days (which somewhat conflicted with the wedding diet…)
Wedding Cake
We had a naked cake, alternating chocolate buttercream and Victoria sponge tiers with a gluten free top tier for coeliac guests
Entertainment
We played the entire of Michael Jackson's Will You Be There? (complete with choral intro) whilst our guests were sitting in darkness and as Abs came down the aisle. We had the CK Gospel Choir sing (Bill Withers, Charles and Eddie, Chaka Khan and a few more classics) before, after and during the ceremony. Our vows were taken from our favourite spoken word artists (Reef's was an extract from Kate Tempest's Give). In the evening we had the Akhtamar Armenian dancers kick start the party, followed by classic 80s and 90s tunes chosen by our guests and finally, we had the 10 piece ska sensation that is Imperial Leisure who played a full set of their original songs. To mix things up the first dance was with Abs' dad (My Girl) followed by our first dance (Waterfront by Jamie Woon).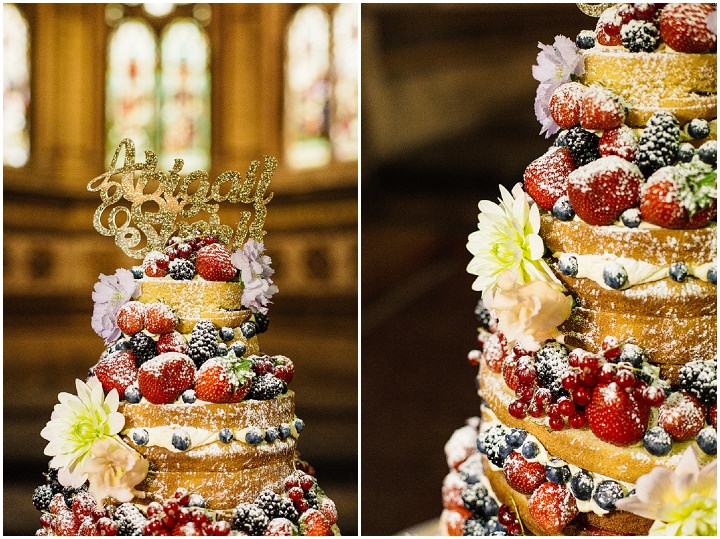 The Stationery
We designed and made it all ourselves except for the blank cards which were kirigami pop up cards of Big Ben, purple roses for the orders of service and peach trees for the thank you cards, all supplied directly from amazingly talented cardmakers in Hanoi, Vietnam.
Personal or Handmade Touches
Reef selected a pocket squares to match each of the 13 ushers, so the comics fan got a Green Lantern one, guitars for the guys that played in bands, space invaders for the hipster, bikes for the cyclist etc. – it was a departure from the usual approach which is to make ushers look uniform. We used colour laces from Big Laces to do that.
I think we can safely say, we did almost everything ourselves with help from our parents and a couple of friends!
Special Moments
Lots but ultimately it was that so many of our friends and family could make it to the wedding. It may sound trite but it really was a proper Michael Aspel affair. Reef had a cousin who travelled from Australia on a 4 day visit to make it. There were people from France, Sweden, Lebanon, Australia, Germany, Finland, Canada, US and Abu Dhabi and entire families had flown half way across the world to be there. It's something we'll never forget as it meant the world to us and each time we think of it, we'd like to do it all over again for no other reason than to see everyone once more.
Advice to other couples
Do it your way, ignore anyone who uses the words 'you can't' and don't lose sight of what it's about: the moment you marry the person you love and a celebration of that. Oh, and try not to stay up for almost 3 days straight before you get married.
Biggest surprise
If you asked us on the day, it would be that Reef managed to make it through the day despite staying up for over 60 consecutive hours before the wedding. But that was all part of the experience. If you ask us now, it's finding out that Abs is expecting.
Supplier Shout Outs
For more information on Paul and Kelly's work please go to:
www.pauljosephphotography.co.uk / www.pauljosephphotography.co.uk/blog / FACEBOOK /
PINTEREST / @Kelly_PJPhoto / @Paul_PJPhoto / I – pauljosephphotography / I – pauljosephphoto