Today I am starting a new feature called Older Wiser Married, where I share with you different wedding supplier's weddings and look into the decisions they made, what they would have changed, what they learnt from their wedding and where they are now.
As a wedding blogger I talk to you every day about planning your wedding, giving you ideas and inspiration for your big day and guiding you through the whole planning process. But what happens after the wedding when you come out of your wedding bubble? What happens when you step back and readdress the wedding day?
Older Wiser Married intends to delve deep into the decisions each featured supplier made, and find what valuable lessons they have learnt in the process, not only about the wedding day but amount the marriage itself!
So before I ask any other suppliers to open themselves up to the Blog I thought it only fair that I talk to you about my wedding! So here goes!
Date:

16th June 2009


Location:

Private Villa in San Augustin Ibiza


Number of Guests:

35


Time to plan:

nearly 2 years
Nik and I decided to get married in Ibiza after completely scrapping an already planned wedding for 100 guests in Cornwall. We had originally planned a church wedding in my local church (where I was brought up) with a marquee reception next to a lake, catering, photographer, flowers, transport, dress, all sorted but 6 months into the planning we suddenly took a step back and realised that the day we had planned just wasn't us. We had a guest list of people we had only invited because we felt we should, a church wedding when neither of us were religious and a budget that had spiralled out of control. So we stopped took a step back and re assed!
We have been big clubbers for years and had enjoyed going to Ibiza together on holiday, we had both planned to have our stag and hen do's in Ibiza, so we decided why not get married out there as well. So with the Cornwall wedding scrapped and deposits back from most of the suppliers we went ahead and booked our Ibiza wedding.
We went to Ibiza a few days before the wedding to sort out all the wedding stuff that we couldn't do in the UK, met with the planner and all the suppliers and then chilled out in our amazing Villa. We were there for 2 weeks, a week with our friends and a week on our own.
First Some Photos of the Day……….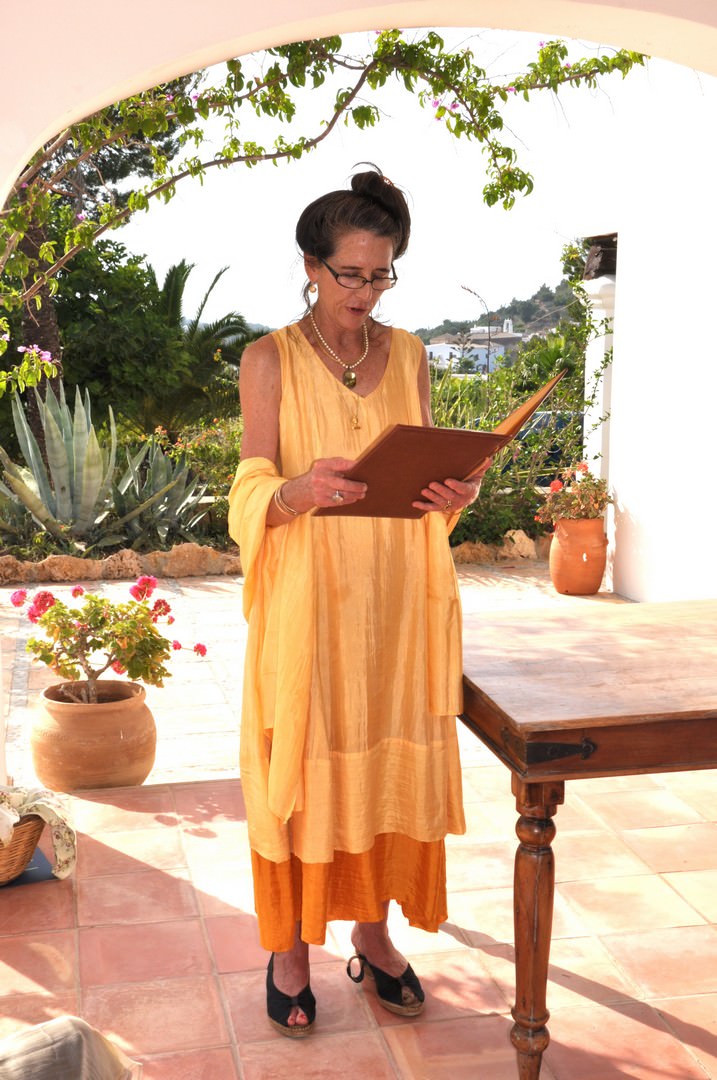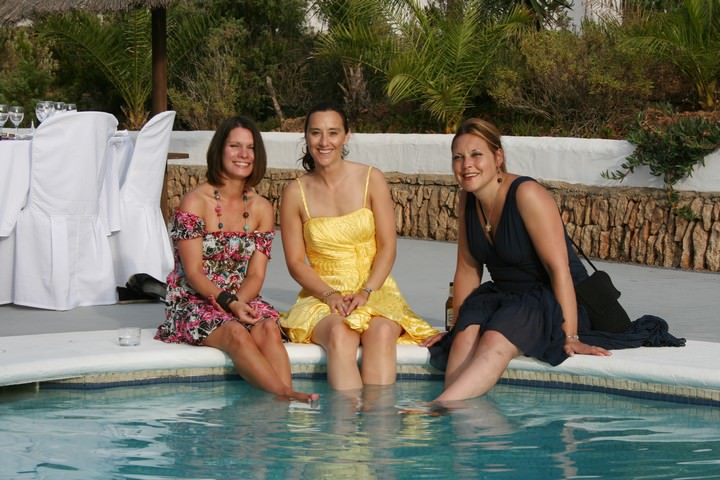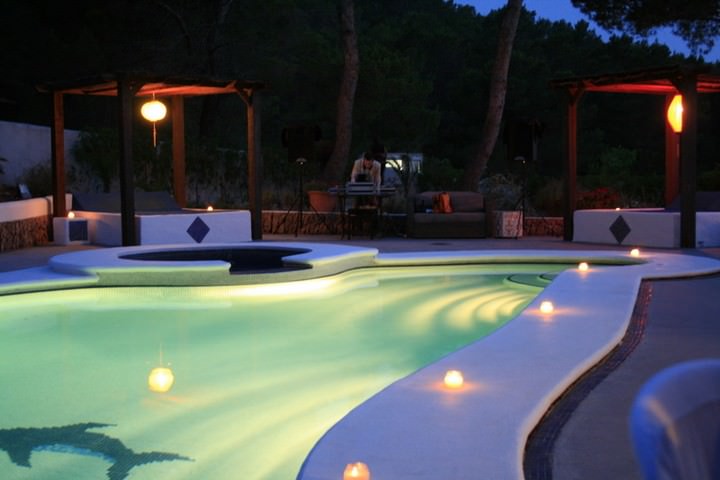 Best Decision
Changing our original wedding
Brian the DJ
Paper Fans
Personal Vows
Hiring a Wedding Planner
Changing our original wedding
Having the 2 weeks in Ibiza meant our wedding lasted so much longer, instead of just having one day we had a full week with our friends and a week on our own.
Brian the DJ
Brian was a very last minute decision, literally the night before. We had already hired our sound system from him and I had spent a month putting together the perfect playlist for the wedding breakfast and the evening reception. BUT Brian rang me the night before the wedding to say he was free if we wanted him to DJ. It was a no brainer, I had to pass it by Nik (via my bridesmaid) but he agreed. Brian was AMAZING!! Nik still tells people that we had a DJ from Space nightclub play at our wedding, he kept our guests dancing all night, even my mum was dancing! Awesome!
Fans
we had fans as wedding favours and thank God we did as we had a heat wave while we there. June should really be 25-30 degrees in Ibiza but instead we had around 35 degrees, so the fans really helped keep our guests cool. Our ceremony was going to be by the pool but we had to find a shaded area instead, even though we got married at 6pm
Vows
writing our own vows was a great decision and really added to the personal element of the ceremony. Something I advise everyone to do, even if you're not great at writing, saying something from the heart is so much better than reading something someone had already written for you.
Hiring a wedding planner
I couldn't have done it without my planner Sharon. She became my best friend while planning the wedding. She found me the venue and made sure that everything ran smoothly and was always at the other end of an email to calm my Bridzilla moments (and yes I had quite a few)
What would you change?
Photography
Flowers
Cake
Details
Hair
Photography
I'll be honest with you up until a month before the wedding my friend Sarah was our official photographer. Sarah isn't a professional, but she does take a good photo, I hadn't even considered getting anyone else to do it as she had photographed so many of my friend's weddings. But a month before the wedding I had a wobble and suddenly realised that she would be taking her 15 month old baby with her to the wedding and how was she going to lock after the a baby and take the photos. So I contacted my wedding planner and she gave me the names of a couple of photographers in Ibiza.
As lovely as our photographer was, and I really did love our wedding photos when we got home, I now know so much more about photography and know so many fantastic photographers I would be spoilt for choice!
I also now realise the importance of a good photographer and would have allocated more of the budget towards this.
I would also make sure I booked a photographer to stay for the whole day and night. I booked 6 hours which took us up to the speeches, so the whole of the evening reception was missed. There was so much dancing, and later on we all ended up in the pool, which was totally missed. Luckily our guests did take a few of the dancing shots but as you can see the quality isn't great!
I'd also make sure we got more couple shouts. Nik hates having his photo taken so we rushed through our portrait shots mainly because it was so hot, but I would go back and leave the Villa and make the most of the Ibiza scenery.
Flowers
Gerberas…really! What was I thinking?? (Sorry if you are having gerberas at your wedding) I knew I wanted Phalianopsis orchids as the main flower to go with the white and yellow theme but for some reason I decided that yellow gerberas would also go, which they didn't!
Our caterer was also in charge of the flowers and actually got it partly wrong. Giving us gerberas as button holes instead of the Phalianopsis orchids which I had originally asked for..
If I could go back I would have booked a florist myself and gone and had a consolation with them instead of leaving it up to the caterer.
Cake
We decided to have the wedding cake served as our dessert, so ordered a 2 tier cheesecake (Nik's favourite) Again we left this to the caterer to sort out. Unfortunately when the cake was brought out for us to cut it was covered in strawberries which Nik is allergic to (even though we had told the caterer this) so unfortunately Nik didn't get to eat any.
Details
Looking back all weddings tend to date, I guess I could have done more with the detailing of the wedding added more things, but back then details weren't massive, plus I believed then (and still do) the villa was so pretty the natural setting, the trees , the flowers were really all we needed! But yes maybe a few more pretty things, lanterns maybe, plus I would have loved a photo booth!
Hair
I also look back and think my hair looks dated. At the time it was fine but now I can think of a million other styles I could have had. Plus a headpiece instead of the slide things in my hair
What I learnt
Have the wedding you want, don't be led by tradition and do what feels right for you. If we had gone ahead and had our Cornwall wedding, yes it would have been perfectly lovely, but it just wouldn't have been us!
The wedding is just the beginning, the marriage is the most important thing and something that people often forget when planning the wedding.
Guests will be the route of your problems. No matter what you do you will never please everyone no matter how hard you try!
Hire a wedding planner. I was SO relaxed on my wedding day because I knew that someone else was in charge
Your wedding day really is the best day of your life!
Does marriage change things in your relationship?
Yes it does. Marriage is hard! As are relationships in general. I spent so much time before the wedding planning it all that I didn't give much thought to the actual marriage itself and what would happen with me and Nik once we were married. Our first year of marriage was pretty tough; part of this was down to our personal situation changing (I lost my job) but part of it was down to me just not giving the actual marriage much thought.
Nik kept reminding me while I was swallowed up with the planning 'don't forget we are actually getting married, there is life after the wedding you know!' well I completely ignored him!
Marriage is about compromise, it is no longer just you and your partner with you making decisions for you and you alone. Suddenly you have another person to take into consideration,
But I love being married, I love the security that it has brought me, It's me and Nik against the world now, I know what ever happens Nik will always have my back and I will always have his. As well as all that it has really brought us closer in our relationship, it has made 'us' that bit more special.
Now that is something I was not expecting! And has to be the best bit about getting married!
How you wedding business came about?
Well as you know I now write this blog as well as planning weddings. Before I was married I was in fashion recruitment and planning charity events I my spare time. 6 months before the wedding our office was getting smaller and smaller due to the recession most people were being made redundant. I started to think what would happen if I lost my job and decided that I would love to get into wedding planning.
On the last day of our honeymoon my boss called me and told me my job was no more and that was it!
It was bloody hard for a while; Nik took a lot of convincing that starting my own business was the way to go. Going from a full time job to nothing was pretty tough but it made me even more determined to make a real go of it! I literally had nothing so I HAD to make it work.
I used the same ethos from my wedding and pushed that forward into my wedding planning, making sure that couples have the wedding they want, not the wedding that is expected of them, and that has in turn translated to the blog.
So what do you think? are you married, does any of this ring true for you? Do you think about what you would do differently? I'd love to hear your thoughts!
If you are a wedding supplier who would like to get involved in this new feature then please get in contact I'd love to hear from you. xx
Supplier Shout Outs