For those of you who are regular readers of the blog you will know all about the Older Wiser Married feature. The idea of the feature is for couples who are married to share with you their wedding story and experiences and also the things they would do differently if they could go back and do it again. We also focus on the positives and the things they think really worked, what they have learnt and how their marriage has changed their relationships.
Last time we heard from Gavin Forster Photography  and his Halloween themed wedding, today it is the turn of Hannah from CottonWood weddings.
Name –

Hannah


Company –

CottonWood Weddings


Date of wedding –

7th May 2010


Location of wedding and venue –

Marquee reception in my parents garden Milford on Sea


Number of guests –

120


How long did it take to plan –

12 months
We always wanted a marquee wedding, a blank canvas for us to create exactly what we wanted. I know we were so lucky to have our parent's garden as a venue and in doing so it made it feel a real family occasion with everyone helping out in the lead up to the big day, it extended the excitement.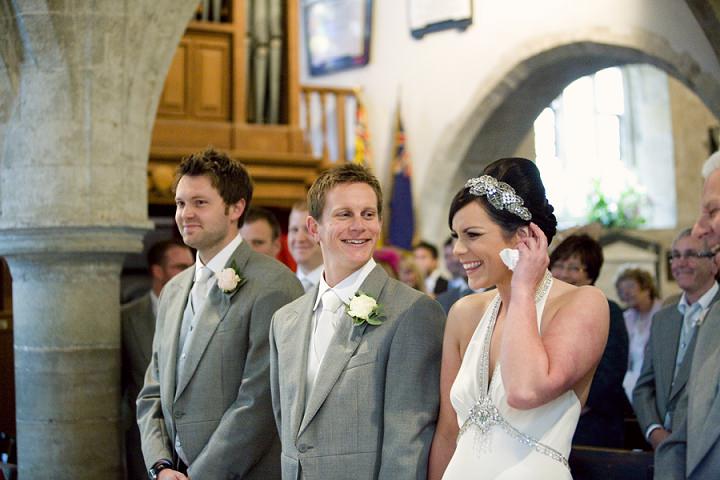 Best Decision
Saying I do to Paul
Getting married outdoors with-in the family home
My photographer
My hairdresser
A free Bar
Our Evening Band
Never Stressing
Pauls wedding car
My Dress
Saying I do to Paul
We both cried, I felt so incredibly happy walking down the aisle with my Dad and leaving on the arm of my husband.
Getting married outdoors with-in the family home
Being able to create a day full of personal touches and having everyone around the days leading up to it to help create our day.
My photographer
Who is now a very special and dear friend. I made it clear I did not like posing for photos and equally did not want to spend the day having my photo taken. I wanted to party and mingle with my friends and family. Carrie captured this perfectly, especially the speech reactions
My hairdresser
Who was also my lovely bridesmaid, I thought I wanted my hair down and Hayley knows me so well that i would spend the day "fiddling" with it, so i trusted her and she created a masterpiece.
A free Bar
Without the constraints of a venue we were able to have a free bar, something many of our guests are not going to forget!
Our Evening Band
Sometimes people forget about the evening and this is such a crucial thing to keep the evening alive, picking something for all ages that gets people wanting to dance is the key. A 12 piece swing band certainly did that.
Never Stressing
I can honestly say Paul and I never had a cross word about our wedding, we both listened and understood what one another wanted and liked. We were lucky that our families did not have strong opinions either!!
Pauls wedding car
Wedding cars are expensive for such a short amount of time. Paul hired a Corvette for 3 days for the same price as someone driving him to church etc… He collected it two days before the wedding and spent the whole day with his best man driving the length of the country, such a good time for male bonding.
My Dress
I wanted it to swish, and it so did
What would you change?
Rushing to book my marquee company
My Hen Do
String quartet
Never ending guest list
Choosing Bridesmaids
Rushing to book my marquee company
Full of empty promises. Made me feel like we had to book him asap due to his busy calendar, promised so much but delivered so little. I have since found wonderful marquee companies to work with.
My Hen Do
Having something smaller and more intimate rather than inviting and keeping everyone happy, Quality rather than quantity again
String quartet
I wanted one in the church but purely to play bitter sweet symphony by the verve as we walked out as Man and Wife, felt it was a lot to pay for one song, wish I did now.
Never ending guest list
People make your wedding and it became far easier to invite people rather than offending that we ended up with a lot and many we no longer see!. But having said that it did feel like a massive party.
Choosing Bridesmaids
It is a very sad thing to look back at your wedding photos and not be so close to some people in your wedding party anymore. It's not about how long you have known someone it should be about how that person will make you feel on the day.
In Hindsight what would you spend more on and what would you save on?
I think the money we had was well spent so I cannot see where we could have saved, Maybe more on bridesmaids dresses, or more time at least but it is hard when shopping for a variety of sizes, shapes and tastes! Such a shame Two Bird Dresses did not exist then.
What you learnt from your wedding day?
My husband can write amazing heartfelt speeches that made everyone cry.
Do you think marriage has change things in your relationship?
For sure!!!  It is like being a united force, being wrapped up in a big cosy secure blanket.
Any advice you have for other people getting married, about the wedding itself and about the marriage
Never fall out with anyone over the wedding, we were so lucky, everyone involved was so supportive and happy with the decisions we made, surround yourself with positive people and enjoy the planning and build up because one day goes so quickly. Make the memories about the planning too.
Just because you are married do not get lazy in putting effort in. Once a week or even once a month (we are parents now) date night. My Mum told me she always put her lippy on before my Dad got home from work, I now do the same. But also find time to just be you, Not someones wife or someones Mum find time to do things that are just for you.
How your wedding business came about?
I was an interior designer before our wedding and with a passion for events I felt I had a lot to offer. So Sweet Dream Events was born, specialising in dessert tables, which was quite rare 4 years ago and now Cottonwood Weddings has evolved from this. Years of building our portfolio of private unique estates to host outdoor weddings. We are building the family business we have so longed to run together.
WWW.COTTONWOODWEDDINGS.CO.UK
WWW.FACEBOOK.COM/COTTONWOODWEDDINGS
WWW.TWITTER.COM/COTTONWOODWEDS
WWW.INSTAGRAM.COM/COTTONWOODWEDDINGS
WWW.PINTEREST.COM/COTTONWOODWEDDINGS.
We are undertaking a fresh new approach to wedding planning which will ensure that our locations are tailored to become the beautiful, bespoke wedding venue that you've been hoping to find.
WWW.SWEETDREAMEVENTS.CO.UK
WWW.FACEBOOK.COM/SWEETDREAMEVENTS
WWW.TWITTER.COM/SWEETDREAMEVENT
WWW.PINTEREST.COM/SWEETDREAMEVENTS
WWW.INSTAGRAM.COM/SWEETDREAMEVENTS
If you do not know where to start, we can come up with ideas together to create a visually stunning and tasty event using colour schemes and designs tailored to you.
Thanks so much to Hannah for sharing his wedding story with us all. Are you married,  Do you think about what you would do differently? I'd love to hear your thoughts!
If you are a wedding supplier or bride who would like to get involved in this new feature then please get in contact I'd love to hear from you. 

[email protected]
[jprel]