It's Monday afternoon, so it's time for another DIY Tutorial! This week we welcome back the lovely Laura from The Mrs Makes. Laura has been busy getting all her DIY projects completed before her wedding in April. I can't wait for her big day it's gong to be an amazing, PLUS I get to go as Laura has hired me for my on the day co-ordination service!
Today Laura is showing us all how she put together her own Washi tape stationery, it's cute, personal and really quite easy to do! The Envelope liner tutorial can be found HERE from a previous tutorial!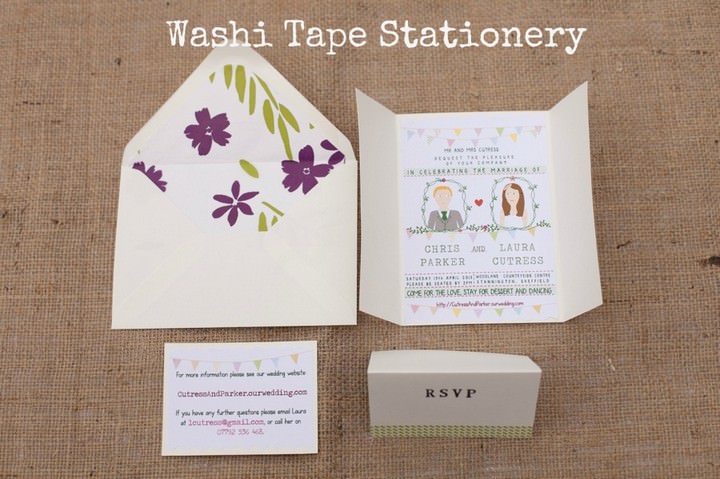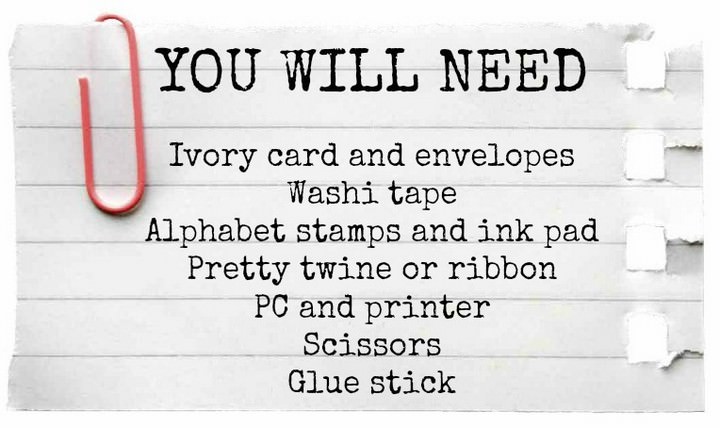 Ivory card and envelopes – mine are from wedding craft cabin via Amazon) you can buy A4 sheets of card and cut and fold yourself, but the price is comparable to buy them prepared.
Step 1) Pre-design your invite on your PC. I find MS Publisher good for layouts and pre-sized publications, though if Photoshop/MS Word is more your thing then use whatever you are comfortable with.
Step 2) Print these out and cut to size. I used scalloped scissors for extra pretty!
Step 3) Take your cards and stamp a little message on the back for your guests if you like.
Step 4) Decorate the front with washi tape. Mine go either side of the gatefold opening.
Step 5) Glue your printed invitation sheet to the inside.
Step 6) Now you can repeat this process with any inserts you have: RSVP cards, directions, registry details etc.
Step 7) Tuck all the inserts inside the card, close, and tie up with a pretty ribbon or twine.
Step 8) Put the bundle into your pretty envelopes and send!
If you want to read more about Laura's wedding journey and more about her DIY adventures then she has her own blog  www.themrsmakes.com
Photography By:
www.jesspetrie.com
[email protected]
TWITTER
LINKEDIN
FLICKR
07581209794