It's Friday! Yay! how have you found the first full week back at work? I have actually enjoyed this week, its been good getting some routine back in my week, and I think I have finally eaten all the Christmas food! I'm off at the Wedding Ideas Awards today and I can't wait! Lots of lovely wedding people to meet and chat with!
To finish of the working week I have this lovely wedding from Darren Williams. It's a country chic wedding set on the Grooms parents farm, with a mixture of elegance and a touch of rustic.
'Romantic / country / vintage! Exactly what I dreamed of!'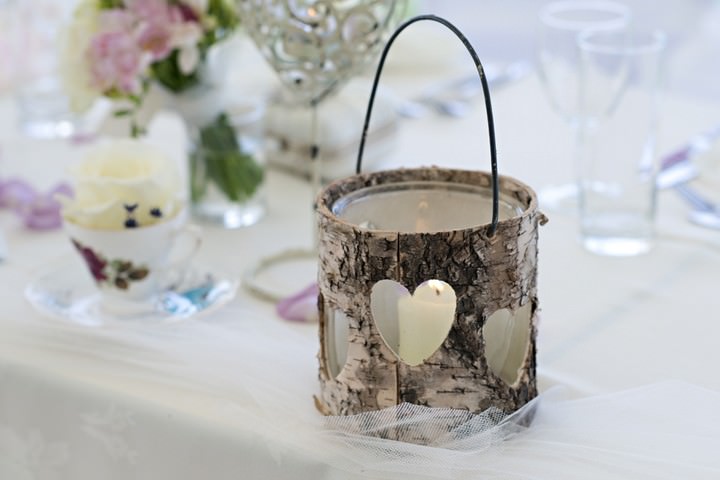 The gorgeous couple are Sara and Tom who were married on 25th August 2012. 'The ceremony was at my family Chapel, it's a small Chapel which holds up to 100 people max, very cosy and very personal! It was nice to feel that everyone was involved in the ceremony. For the reception we had a marquee on Tom's parents farm. Tom had always said that he wanted to have the reception in a marquee at home, he is such a home bird and loves his tractors and machines. It was also different and much more personal. We had 83 people for the ceremony and reception and around 130 for the evening! We got engaged in July 2011 and got married in August 2012. As soon as we got engaged I wanted to start planning!! So a year really of planning and doing nothing but wedding talk!'
How they met
Even though we both come from Anglesey and use to go out to the same pubs, we actually met in Edinburgh. When I was training to be a teacher I shared a house with Tom's cousin. We decided to go to Edinburgh to watch the Six Nations rugby, Wales vs Scotland. We stayed with Tom and his friends and the rest as they say is history! We were together for six years before we got engaged.
The proposal
The proposal was very romantic and well planned! I had no idea. Tom and I had booked a weekend in Aberystwyth, the place where I went to University and I had my first teaching job there. For the first three years of our relationship Tom was living at home after finishing university. He would come down to Aberystwyth every weekend to visit me, until finally I got a job back home and moved back to Anglesey. So for our sixth year anniversary we decided to go back to Aberystwyth to see our friends and celebrate. When we got there he said he wanted to go for a walk along the prom like we use to do when I was living there. So we walked along and then walked for a while on the beach. Suddenly Tom got down on one knee and produced a box and a mini bottle o champagne! He asked me to marry him and put my amazing ring that he had chosen himself on my finger!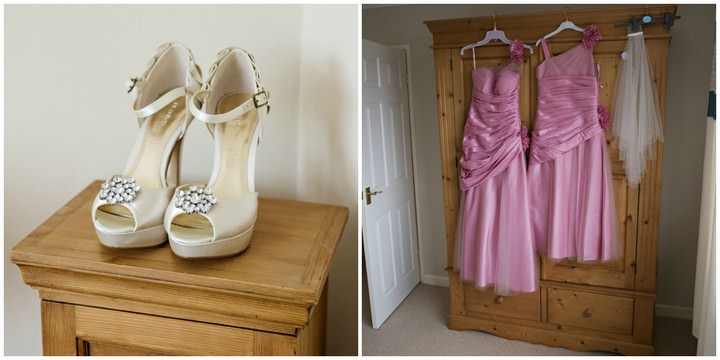 Why did you choose your photographer?
We were searching on the internet for wedding photographer and came across Darren's website, we LOVED his photos and that he used a lot of the soft lens. He was very easy to work with and was really interested in the ideas that we had.
The Dress
I knew when I tried on my dress it was the one!! It is a Maggie Sotterro dress with an amazing keyhole back and the most beautiful lace! I didn't want to change out of it I loved it so much! My head piece was a 'Liza' vintage style band! Shoes were high street ( I had to consider that I was going to be in a field and there was no point me spending loads). My best friends bought me a pair of pink Hunter willies to wear under my dress and I wore them when we were taking photos.
The suit and bridesmaids
We bought the suits for Tom and his best man from Reiss. Tom had always wanted a blue slim fit suit with brown brogues and the suits form Reiss were perfect. He looked very handsome! Bridesmaid were harder to find because I had a teenager and a 10 year old it was hard to find nice dresses that looked good on both of them. The dresses we found were lovely and they looked so pretty in pink!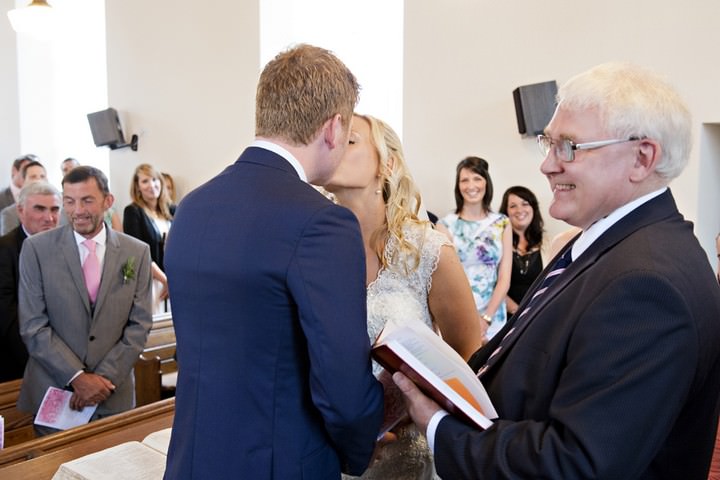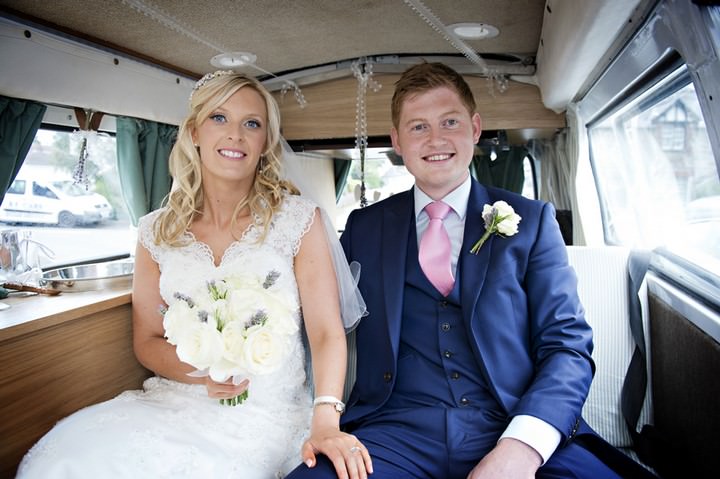 Theme or colour scheme
Tom is a furniture maker and makes furniture using oak, so wood was a very strong theme in our wedding, a lot of wooden hearts and vintage cream jugs with pretty cream and pink roses. As favours we gave our guests little oak trees to take home and plant in a place that is special to them. Colour scheme was soft pink to match the bridesmaids and the men's ties!
Food
Food was very important to us. We thought that it was one major thing our guest would remember about our day! We went for prosecco and canapés on arrival, then Thai fish cakes to start with, then lamb with red cabbage and potato dauphinoise . In the evening we had a hog roast form a local butcher! Everyone loved the hog roast and it was a barging with plenty of meat left over!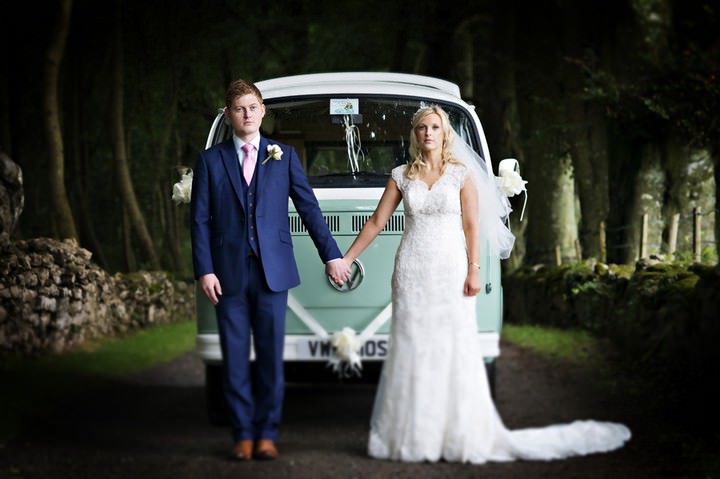 Entertainment
We had a brilliant local wedding band that played covers for us! Everyone was up dancing, even the oldies!
Flowers
Words cannot explain how beautiful the flowers were. Carol my floral designer was AMAZING! She did everything and more! I knew I wanted cream roses and I wanted to use my grandmother's vintage teacups to decorate, I had loads of ideas and Carol brought them all together for me! I had a cream rose bouquet with lavender, on each napkin on the table all the men has sprigs of rosemary and all the women had sprigs of lavender. The men also had rosemary on their button holes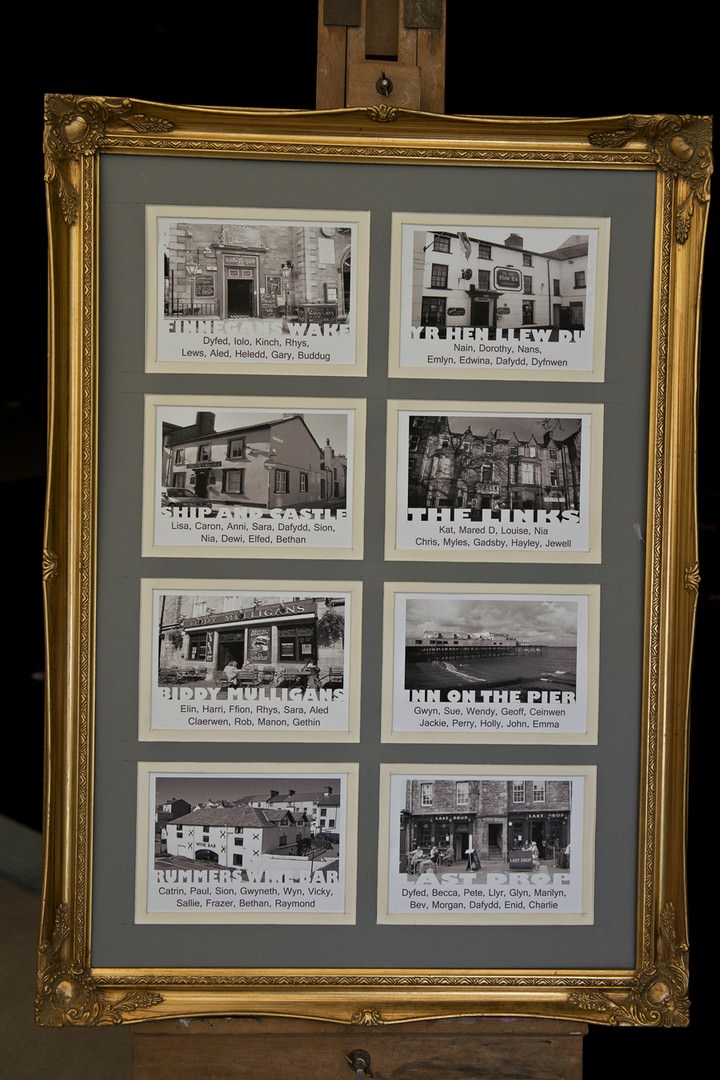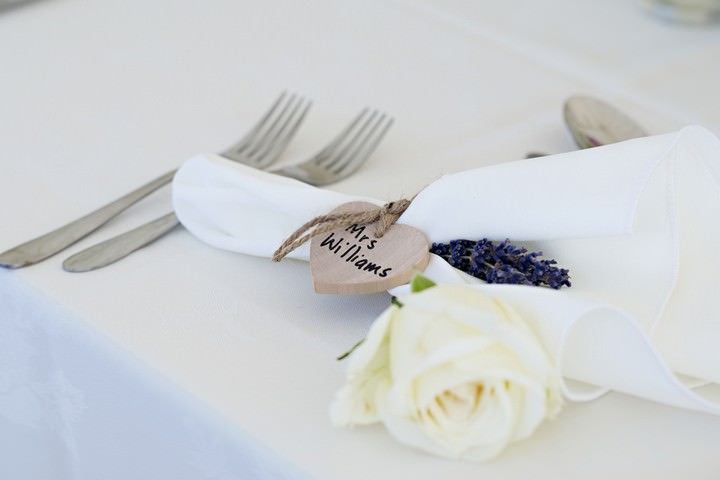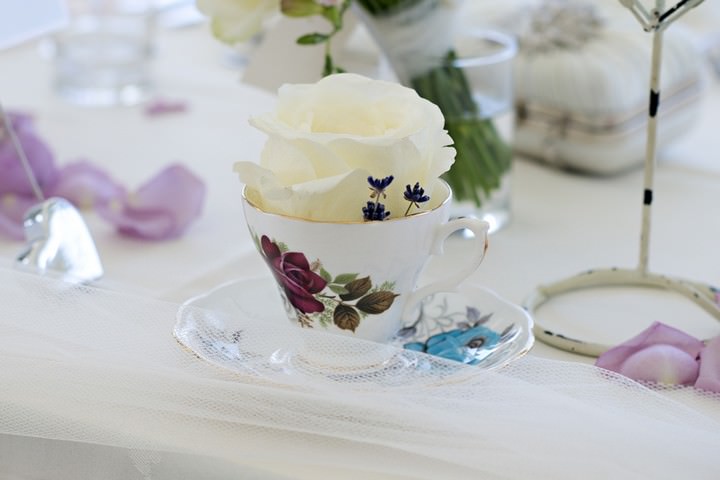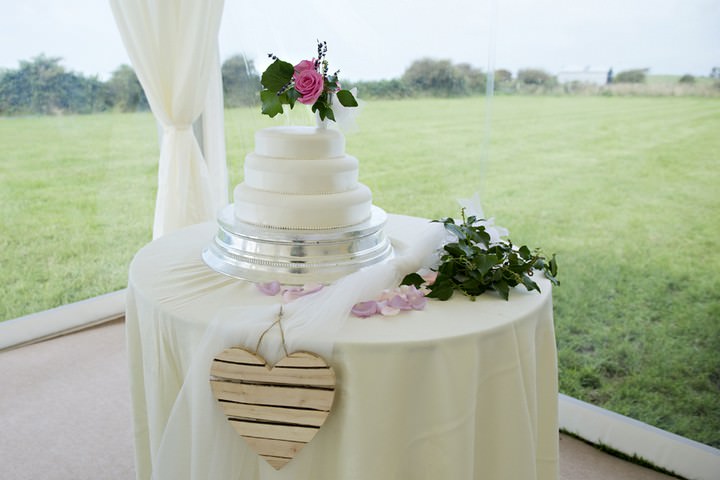 Decoration
A lot of wooden hearts, cream tin jugs with cream and pink roses, vintage teacups and bunting. The pictures show it all!!
Personal touches/DIY Details
• We made the table plan ourselves. We bought a vintage gold frame on ebay.
• Also we made the labels for the oak tree favours.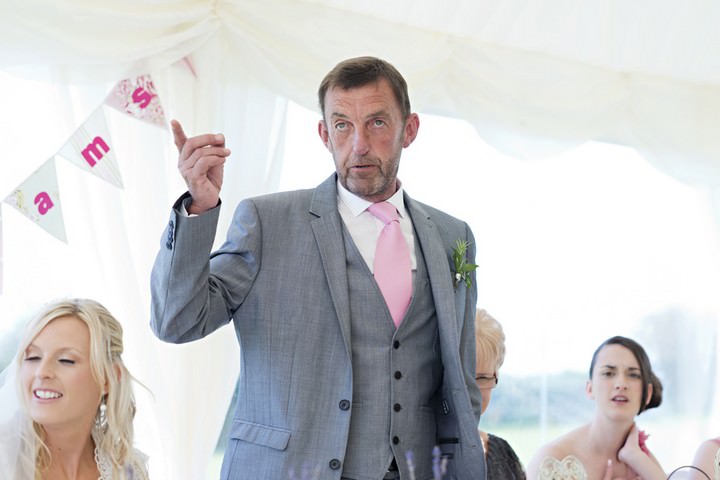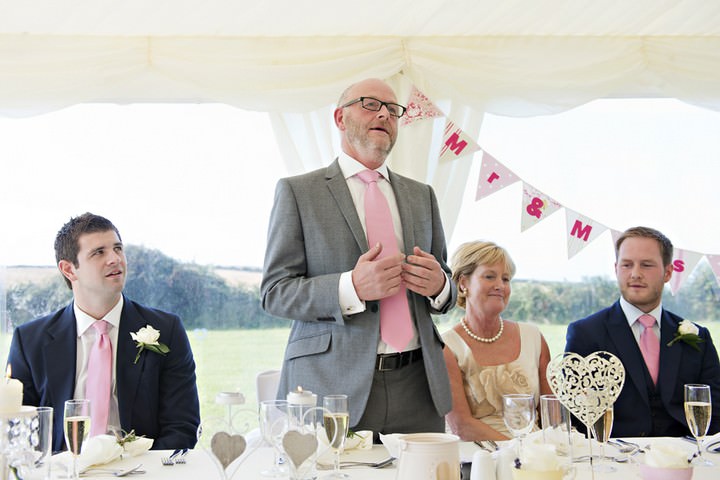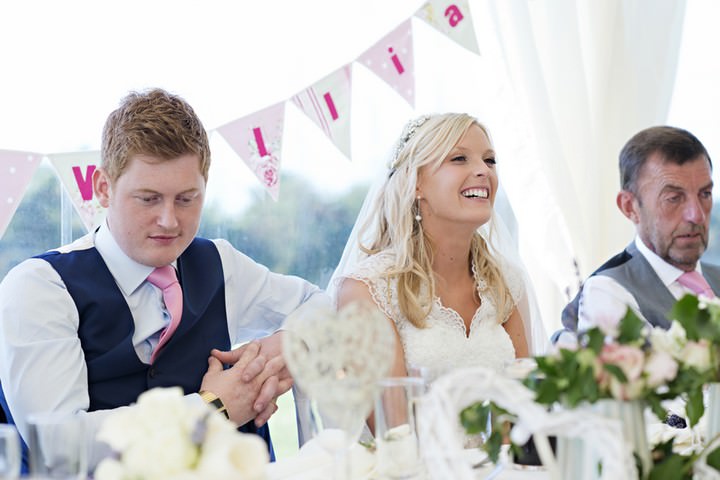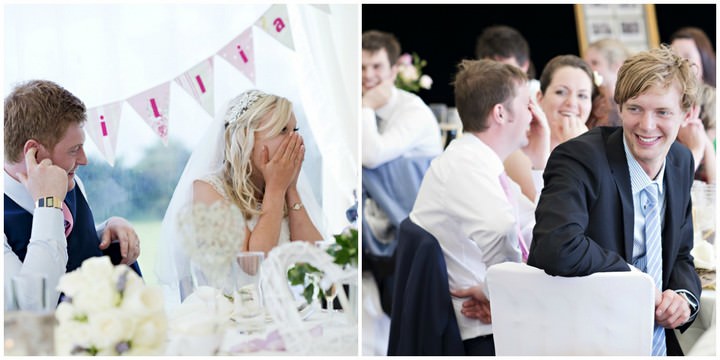 Special moments
Walking down the aisle with my Dad, but also seeing Tom walking over to greet me at the Chapel was an amazing feeling too! We also had Tom's camper van to travel from the Chapel to the marquee! Using the camper was the best idea we had!
Advice
Do everything in stages! Delegate the jobs! Enjoy every second, every guest that is there has come to celebrate with you!
Biggest surprise
How smooth everything was going!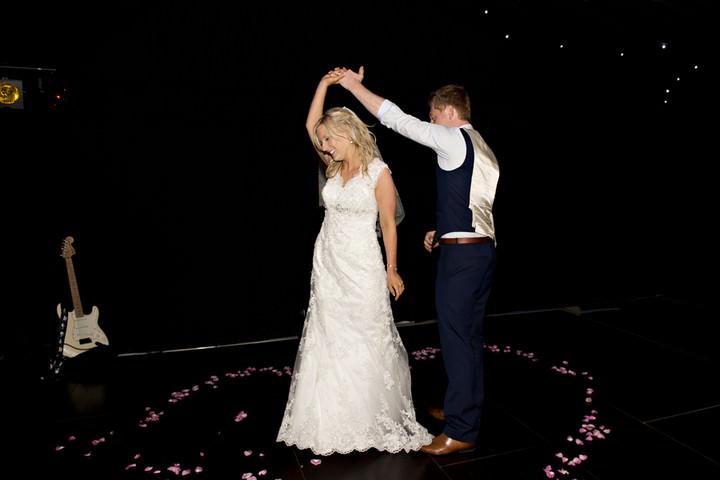 Supplier Shout Outs
For More information on Darren's work go to:
www.photographer-north-wales.com
www.photographer-north-wales.com/BLOG
FACEBOOK
[email protected]
07870 568 418
I'm a professional wedding photographer based in North Wales and typically cover North Wales and the North West, but I tend to also cover a small amount of weddings throughout the UK each year.
I would describe my style photography as a blend of contemporary/modern, classical, and reportage … it is constantly evolving, wedding by wedding, day by day. No wedding is the same and over the past 10 years I have approached each wedding as a blank canvas.