To kick off the new Blog in style the first real wedding I share with you had to come from Jon at S6 Photography. I have featured Jon's work a lot on the blog, we have worked together on weddings I have planned and he lives just up the road from me so I thought it only fitting that he was the first photographer on the new look blog. So today I am delighted to be able to share with yo this beautiful York wedding, which features an intimate wedding of 24 and the bride in the most stunning Jenny Packham dress!
'Our wedding day was a warm and intimate declaration and celebration of our commitment to each other, shared amongst our closest friends and family. The laid back nature of the day and the elegant atmosphere yielded the perfect environment for heartfelt and genuine celebration.'
The Lovely couple are Deanna and Jason who were married on 6th October, 2012 both the ceremony and reception were held at Grays Court inYork 'We initially picked it because of its garden! We loved the idea of getting married outside, surrounded by nature, reminding us of our connection not only to each other, but also to the world around us. And as for the rest of Grays Court, it's intimate, classic and laid-back; everything we wanted our wedding to be, we had 24 guest and it took five and a half months to plan.'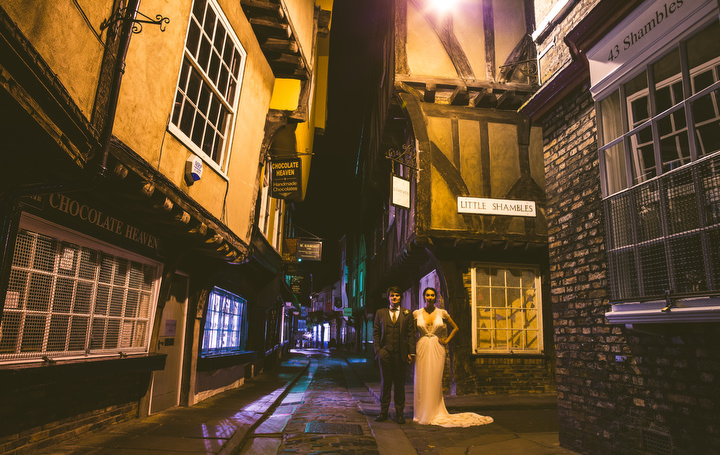 How they met
It was a classic friend-of-a-friend-of-a-friend situation with a not-so-classic trans-continental touch. Three years ago when I was studying in London, I met Jason in York one weekend through a mutual friend. We've been together ever since, sometimes long distance, sometimes on the road, sometimes face to face—but always side by side. It's been a real adventure.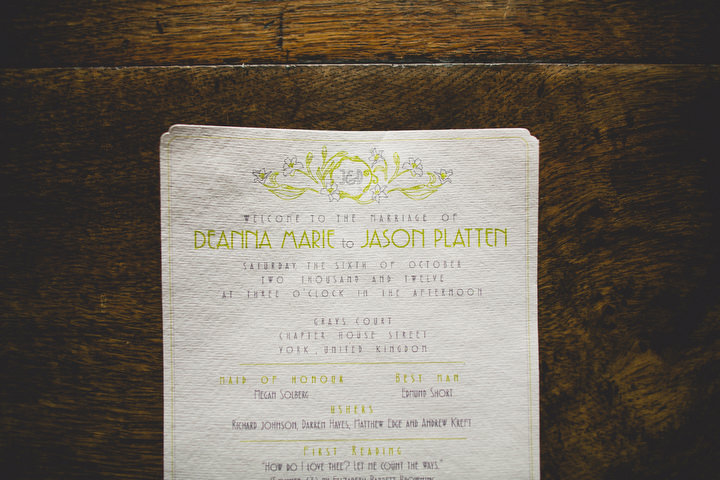 Why did you choose your photographer
Jon's pictures tell stories. Many of our friends and family are spread across the world, so it was really important to us that we have a way to share our day with our loved ones who couldn't be there. After seeing his work on the S6 Photography blog, we knew he could do that and so much more. His pictures have almost this Shakespearean oxy-moronic nature to them; Timeless and classic, yet modern. Natural and effortless, yet executed with so much thought and talent. He really is phenomenal.
The Dress
My dress was by Jenny Packham. I wanted the dress to be the feature, so I kept the accessories fairly simple, wearing only a small pair of earrings, a ring, a bracelet, and a small hair comb. My earrings were a pair of sapphire and diamond drop earrings, borrowed from my now mother-in-law. The ring was a vintage art deco ring with sapphires and diamonds, a wedding gift on the morning from Jason. The bracelet actually was a hair vine! It matched the detail on my dress perfectly, so the sales associate arranged for a local jeweller to attach a clasp. The hair comb had crystal and silver leaves, echoing the organic Art Nouveau vibe. My shoes were a pair of nude strappy heels from L.K. Bennet; but I was barefoot for the ceremony. I didn't trust myself to not trip and fall while walking down the aisle!
One random accessory I was really adamant about was my nail polish. I'm not really a French manicure wearing kind of girl. So why start now? I sported a dark navy shade instead. It was so much more me.
The suit and bridesmaids
Jason wore a classic, dark grey, three-piece suit.
My Maid of Honour and I found this really great maxi silk sundress from Anthropolgie that was truly stunning on her.
Theme
We drew the inspiration from the gorgeous wood panelled room in which we would be having our reception. It was glamorous. Classic. Not wanting to have a strict "theme," but rather an eclectic mix that was more reflective of our style, we decided to embrace the softness of Art Nouveau and combine it with the indulgence and glamour of the 20s; essentially, a nonchalant elegance. Our colour palette consisted of gold, silver, champagne and touches of grey and green.
Flowers
White lilies, white ranunculus, white freesia, small white wax flowers, snowberries, lots of green foliage and this fabulous grey foliage called dusty miller. White lilies are my favourite flower, and whenever Jase gets me flowers, he gets me white lilies. It seemed only right they be the feature flower of the day.
Food
The starter was calamari with a lemon and garlic aioli, followed by a choice of either thyme-infused chicken supreme, sautéed new potatoes, lardoons, and a red wine jus or honey rosemary glazed salmon, served on wilted spinach and mashed potatoes, garnished with sliced almonds and a port cranberry reduction. The meal was finished with a cheeseboard of local cheeses.
Later in the evening, we served the wedding cake(s), which was a compilation of two single-tiered carrot cakes and one double-tiered red velvet cake, both topped with cream cheese icing.
Entertainment
We decided on just having a Bose and a playlist. On the RSVP cards, we included a space for our guests to write a song they would like played at the wedding, and we pepped them throughout the playlist so everyone was guaranteed at least one song they really enjoyed.
Personal touches
Our wedding was really small, with only our closest friends and immediate family, so we loved the idea of everyone sitting at one long table. Not to mention, the wood-panelled "Long Gallery" was practically begging for a long banquet table.
• We decided on the long table, and covered it with champagne coloured, pin-tucked organza tablecloths that I bought from a wholesale retailer in America. We had two large candelabra flower arrangements at each end, with an eclectic mix of flowers and vases (that we had collected from charity shops and the like) running down the centre between them.
• As far as place settings, I hired silver plate chargers from Cherry Williams Party Hire in Beverley and placed the menus, wrapped in champagne coloured napkins purchased form the same American retailer, on each.
• We placed a little box of champagne truffles from Betty's, a local tea room legend, above each place, and leaned a tiny little envelope with the guest's name against the box.
• Inside the envelopes were tiny little cards that featured "superlatives." We originally thought to write each guest a special note or a memory, but then we thought up the idea of doing it via cheeky superlatives. For example, one of my good friends religiously falls asleep every time we watch a movie, so in her card, I wrote, "Least likely to fall asleep five minutes into a movie." We intended them to serve the double purpose of making our guests feel a personal touch, as well as to be conversation starters. At the actual reception, one of my friends suggested that everyone go around and read them aloud—we had never even thought of that, but it (hilariously and sometimes embarrassingly) worked.
• After dinner, we also put out a Whisky Bar. Jase and his dad like to think of themselves as Whisky connoisseurs, so it was a nice addition for them. We just put out five half bottles of various types of whisky, along with ice, water, ginger beer and cloudy lemonade and let guests help themselves. It went along perfectly with the 20s feel.
• Jase is an incredible designer and was dead set on designing the invitations. Taking inspiration from a book of Art Nouveau posters, that man designed the invitations and every other scrap of wedding stationary we had: maps, RSVP cards, the menus, the ceremony programs, the signage. All of it. They all featured the same designs, fonts and colours, yielding a perfect cohesion between them all.
• We bought our own champagne coupes from a restaurant wholesale retailer to go along with the 20s feel. They looked amazing and were worth every penny.
• Instead of a guest book, we had guests sign the border around a framed photo from our engagement shoot with Jon. It's currently hanging in our living room.
• Our dog, Beckham, was the ring bearer…complete with bow tie. We just had to.
• As gifts to my dad and my now mother-in-law, we had sentimental poems and the date of our wedding embroidered onto the corners of hankerchiefs
• I made our own confetti by buying white and green flowers, then dehydrating them in the oven
Special moments
After the initial drinks reception, Jon took us away to take some photos in and around York. That was the first time we had a chance to really revel in the fact that we were officially man and wife. The surreal high was unbelievable. It was further heightened when we actually went into the centre of York to take photos and were receiving smiles, well wishes, and catcalls from complete strangers. It was this bizarre feeling that it was just the two of us on the street, but simultaneously connected to all that is good in the world around us. Jon captured this in an amazing shot of Jase and I kissing in the middle of a crowded street in York. It's one of our favourites.
Also, as a part of his speech, the Best Man showed a series of video messages he had collected from our friends and family spread out across the globe. Jase and I were both crying by the end of it from a combination of sentimentality and uncontrollable laughter. It really showed us how blessed we are to have such supportive friends and family, even from afar.
Advice
In a nutshell, you have to do what's best for, and true to, you as a couple. From weddings as an industry, to tradition to family politics, it's so easy to get caught up in it all. If you don't want to invite your second cousin once removed, don't. If you want to make your dog the ring barer (as we did), do it. I think there can be a lot of pressure telling you, "This is what a wedding looks like. This is what you have to do." But I don't think that's true at all. It's YOUR day. Make it yours.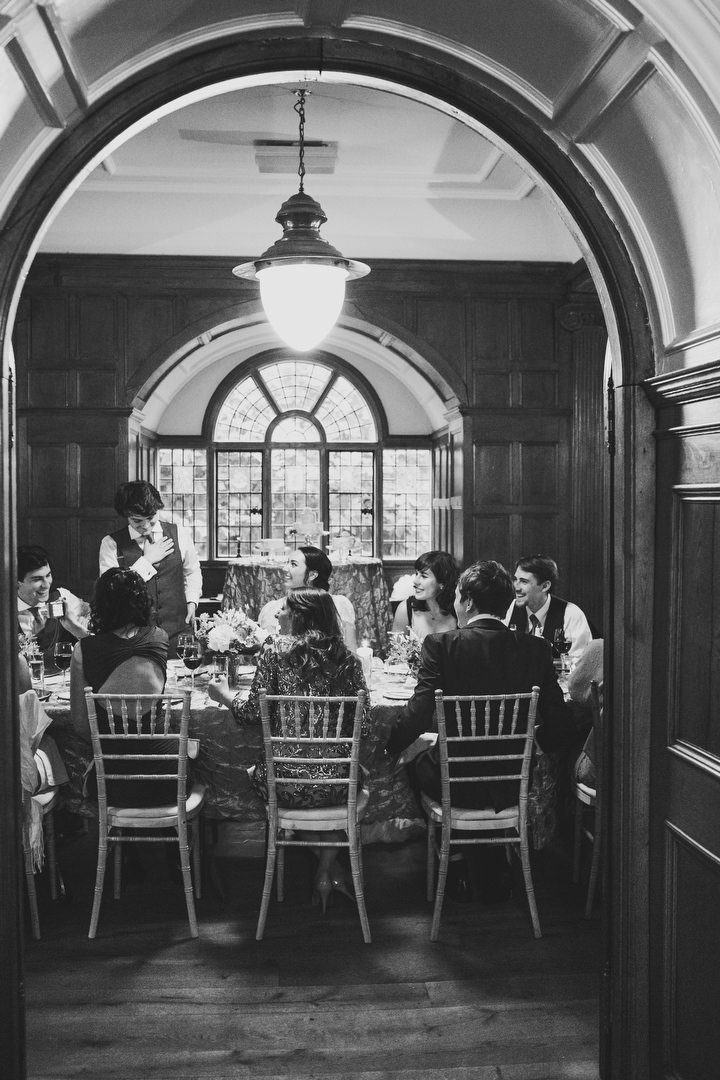 Supplier shout outs
For more information about Jon's work go to:
www.s6photography.co.uk 
s6photography.co.uk/blog
[email protected]
FACEBOOK
TWITTER
01142340295