As many of you will know (because a lot of you were there) on Monday 4th October myself and Katy from Serendipity Photography and Laura from Little White Books put on the first Wedding Tweet up in the North, in the form of the Strawberry Tweet up
We decidedto do it for two reasons 1) to get people who we are friends with on on twitter together, so we can all put a face to the name, a great chance to talk weddings, business and dare I use the word I hate 'network' 2) to raise money for Breast cancer Care.. October is breast Cancer Care month and they have run a promotion for people to put on their own tea parties to raise money for the charity.
So with these two ideas in mind we got together and the Strawberry tea party was born!
We had some amazing people involved who all offered their services for free. First of all we had to find a suitable venue. My biggest thanks has to go out to Kelly at The Millennium Galleryfor being so accommodating, incredibly helpful and totally amazing for letting us have the use of the Long Gallery. We couldn't have done it without her. It was a great space to use and i would highly recommend anyone planning a wedding to enquire about the Long Gallery, it's stunning!
I would also like to say a special thank you to the lovely Lucy Ledgerfor designing the gorgeous invitations that we sent out by email and posted all over twitter and facebook, they looked fab! Lucy also put together some great menue cards for us as well.
I would also like to thank the people who helped on the day with Decoration and entertainment. Fiona from Firenza Floral Design for providing the beautiful centerpieces, Lucy from Bunting Queen for the decoration. And Richard from Richard Smith Illustrations for the entertainment.
I'd also like to give out a MASSIVE thank you to all the people who donated the amazing prizes for the raffle. We raised around £200 on the sale of raffle Tickets alone (final count coming the next few days) and £75 on the sale of tea and cake. So thank you all for being so generous and well……eating!!!
We set up a twitter account for the event under @StarwberryTUand ran a live twitter feed that was projected throughout the afternoon, it was great to see so many people chatting away with us who couldn't make it to the event.
I really enjoyed the day, it was great to meet so many lovely tweeters, and get to know them better. After the afternoons tea party some of us went of Bar Alibi for a bit of an after party and, yes more food!!
Here are some more pictures of the lovely tweeters that attended: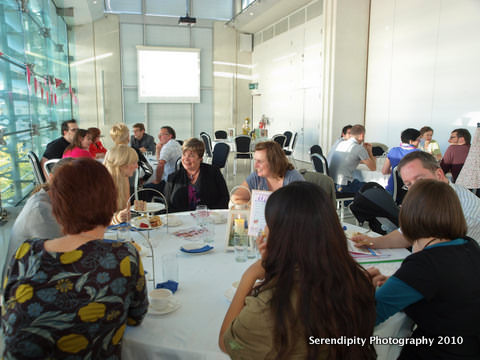 A little speach from Katy, me and Laura, and then the raffle.
Then off to Bar Alibi for the after party and a few (well quite a few) glasses of wine!
Thank you once again to everyone who got involved in the day, and thank you to everyone who came along. A Christmas Tweet up is on the cards now, so look out for news about that coming soon.
Thanks
Kelly xxxxx
Due to an email issue if you have emailed me between the 2nd & 9th of December, please resend it.
X