Happy Friday everyone, it's crept up again hasn't it! before we know it it will be the end of the year! To round off the week I have another sunny wedding for you courtesy of  Krystina Reynolds. It's a bright and sunny wedding set in Oxford.
'A formal catholic ceremony and a sit down breakfast. Hopefully I achieved a fun family friendly day with hidden personal touches amongst the family dictated formalities.'
Kate and Matt who were married on 15th September at the Oxford Oratory, Cotswold Lodge Hotel. 'Matt is from Oxford and we often spend weekends in the city. We stumbled upon the church before we got engaged and always knew we wanted to get married there. We found the Cotswold Lodge after looking at many different venues. It suited what we needed for a reception venue and was flexible with our requirements. We had 80 guests and it took almost a year to plan.'
How they met
We met at uni and dated for a year. We didn't see each other for 3 years but fell in love all over again. We have been together for 3 years this time around.
The proposal
Matt had been in a car accident (a car drove into his vintage lambretta) and suffered a head injury where he lost the ability to talk for a few weeks. After going through that together we knew that we could face anything. He took me out antiquing under false pretences and made me look at antique rings. He proposed in Gray's antique market while I was cooing over my beautiful ring.
The dress
My dress is by Paloma Blanca. My jewellery was given to me by my grandparents. My grandfather had it made for my grandmother while they were courting and they both wanted me to have it for my wedding day.
The suit and bridesmaids
The bridesmaids dresses were from Monsoon. The suits were hired from Moss Bross.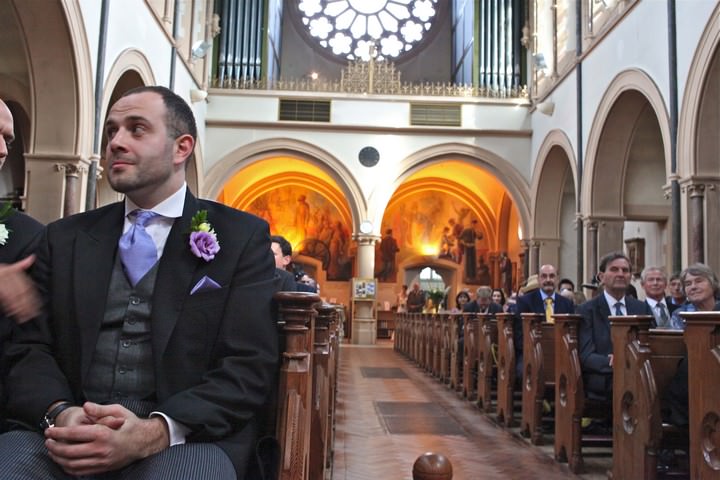 Theme
We didn't have a theme. We didn't want to be restricted in what we chose. We ended up with a lot of purple completely by accident.
Flowers
I wanted to keep it simple with lots of whites and cream (roses, dahlias etc) although my favourite was the purple Lisianthus.
How did you choose your photographer?
We met Krystina at a wedding fair – we instantly knew she was right for us.
Food
We had a quails egg and asparagus salad to start with a delicious lamb main course. Pudding was mango mousse in brandy snaps.
Entertainment
We had a playlist on the ipad – although everyone started choosing their own songs so there was quite an eclectic mix of songs.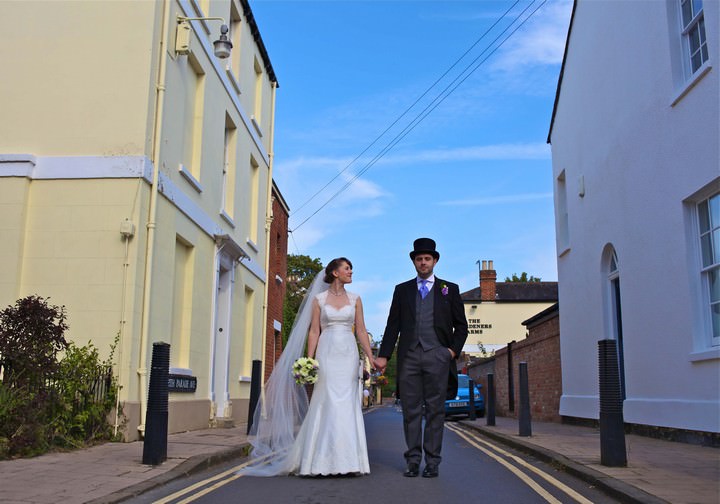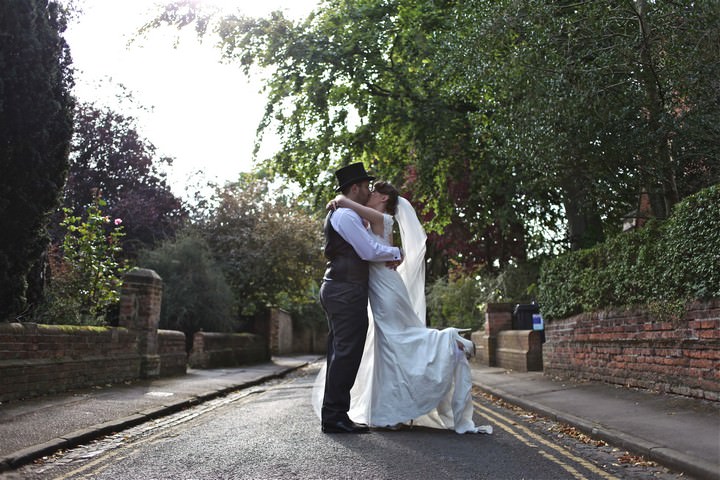 Personal touches
• I made teacup candles for each guest which acted as their name setting and doubled up as the favours.
• My mother in law made metres and metres of bunting with we hung in the courtyard.
• I made a string of photos of Matt and myself staring at either end with photos of us as children and meeting in the middle as us as adults.
• We had a guest book where Polaroids could be stuck in. One of my bridesmaids went round every table taking snaps of our guests.
Special moments
We started our day by being interview on Radio Oxford. It was a great way to get to talk to each other on the morning of our wedding day without breaking any wedding rules!
My grandfather's speech was a fantastic part of the day. I'd been dreading it but it was hilarious from start to finish.
Advice
Don't be sucked by current trends, do what feels right for you. The day is about you, don't let other people sway your choices (mothers tend to have strong opinions).
Biggest surprise
The biggest surprise was how excited everybody (even the men) got when I was throwing my bouquet.
Supplier Shout Outs
For more information on Krystina's work got to
Website – www.figphotography.co.uk
Blog – http://figphotography.tumblr.com
Email –  [email protected]
Phone Number – 07812904935
FACEBOOK
TWITTER
My name is Krystina Reynolds I am a creative wedding photographer who lives in the pretty city of Oxford, I studied photography at college and then University and after the birth of my twin girls decided to start Fig photography. I've always enjoyed photographing people, especially now those who are totally in love. I'm passionate about what I do and feel very lucky to be able to have made it my career, my style is relaxed, I try to really bring out and sum up the unique personalities of each individual wedding and capture the story of their day.
  ♥  You can see more Real Weddings featured on the Blog HERE  ♥