As we draw closer to the end of the week I hope you are having a fabulous week so far, has the weather been kind to you where you are? So far in Sheffield it has been fabulous, long may it last! We have a wonderful summer wedding to share with you today. A laid back affair where the bride goes bare foot for the ceremony and then wears a pair of customised Vans for the reception. With a Tattoo station, personalised Starbucks, lots of amazing food and so much fun, this wedding looks like a wonderful day from start to finish. I am loving Susan's look, the hair up and down option works a treat! Thanks to Amanda Karen Photography for the lovely images.
We planned the wedding by imagining a day that we would enjoy, rather than trying to recall what a wedding ought to look like. As well as our favourite place, and our favourite people, this may have been the secret to such a happy, enchanting midsummer celebration.
Susan and Mark were married on the 30th July 2016 at Oxford Town Hall and followed by a reception at The Perch Inn. 'My (Su's) family are based in Coventry whilst Mark's are from Oxford. We both live in London which is where lots of our close friends live. Oxford seemed to be a nice half way point for everyone, plus it's very beautiful. Choosing The Perch was easy, the first time I ever came to Oxford, he took me to The Perch after a walk across Port Meadow and he also proposed there! The town hall was a good distance from The Perch and it allowed for a nice walk to the venue. We had 45 guests for the ceremony, and 128 overall at the reception. We planned it over a year and a half, a relatively stress free process!'
How they met
We were working at the same school (we did a snog in the art cupboard!), we got together in December 2012.
The proposal
We went to Oxford to watch Mark's mum perform in a play, it was the winter solstice and it was reeeeally cold. Earlier in the day, we were walking around town and wandered past Rowells Jewellery shop. I'd seen an opal ring (which we definitely couldn't afford) a few months before and I was gutted that it wasn't there anymore. The next day, we went for a walk across Port Meadow (the walk we were to do on our wedding day) to The Perch and had a mulled wine in front of the fire. Mark pulled the opal out of his pocket and asked me to marry him. It was lovely!
How did you allocate your budget?
The Perch covered our food and drink which was the pricey bit and we paid for that over the space of a year. Everything else that we'd out sourced was paid for slowly over time. If we'd bought something big, we'd buy the next big thing a month later so that we could pay for as much as possible out of our pay cheques rather than our savings.
Where did you splurge and where did you save?
We bought quite a lot of booze through The Perch, which was probably our biggest expense. Arguably my ring too! We did well on saving, we had a small ceremony and wedding breakfast, just 45 of us (I was really nervous about the ceremony and didn't want anyone there, this was our compromise instead of eloping, it was still far too big in my eyes!) My sister is amazing; she did our invites and our cakes. I made the table plan, we brewed mead as our wedding favours. Everything that was could be homemade, was homemade. We also used a brides/bridesmaids bouquet's as centre pieces which worked really well (except someone forgot theirs and left it at the Town Hall so we were one short but I can't be cross because I'm pretty sure it was me).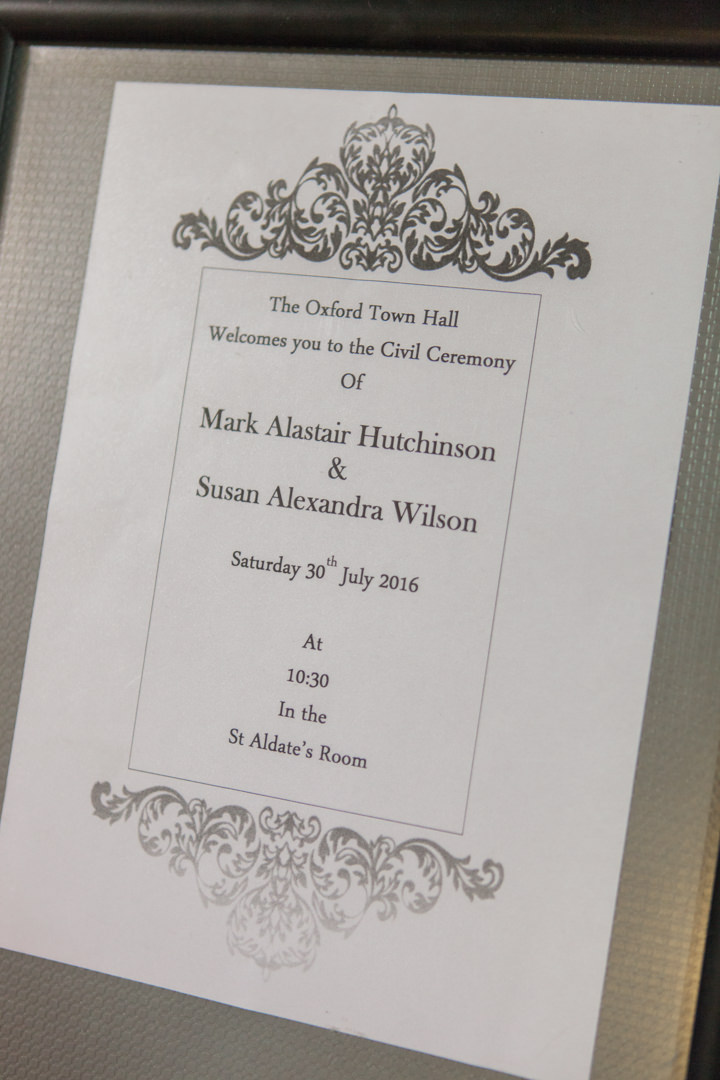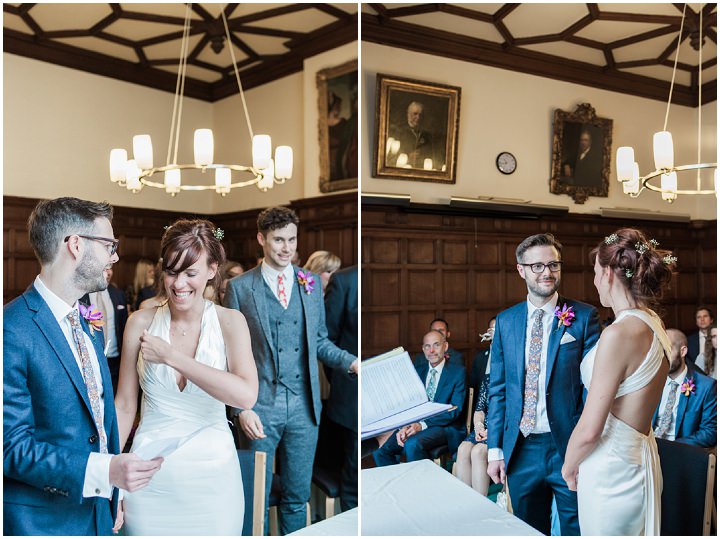 How did you choose your photographer?
Mark's sister-in-law is a wedding photographer and we'd seen her images on Facebook and Instagram develop over the years. It was a no-brainer to ask her to shoot it. We love the way she composes her shots, especially the little details. Like she took some composed photos of us on the day, obviously, but she also captured stuff like special bits of make-up I'd bought for the day, the nail varnish I wore, the 'suandmarks' Starbucks cups we had made etc. It's the little things that get forgotten about on such a massive day of your life but because of her, we'll remember.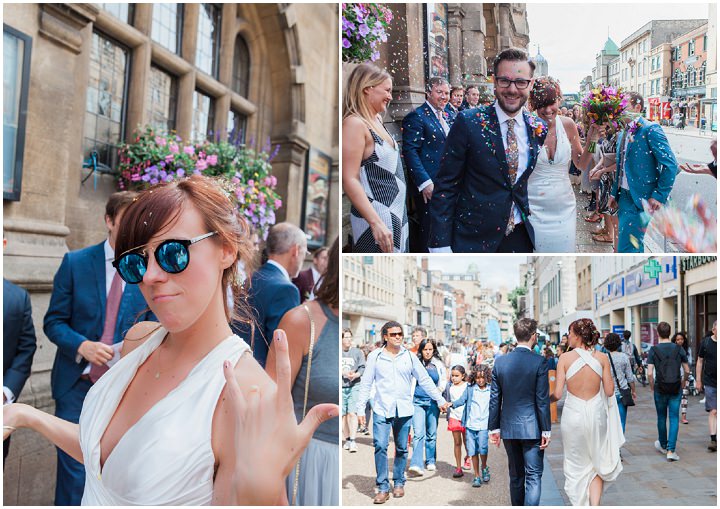 The Dress and Shoes
I'd seen my dress online, it was by Inbal Dror and most definitely out of my price range, I can't remember the exact figure but the original was thousands. So I bought a replica online for £80 then used it as a guide for a dress maker in east London. She ripped it apart and rebuilt it out of a really heavy fabric.  Her name is Miki and she was so great. She had so much advice and I just trusted her. It paid off. I wore Vans trainers! The walk across the meadow was about an hour long and we got married at 10:30 so I needed something that would keep me going for such a long day. I had them customised by an artist named William Blood.  I also had a transfer tattoo garter made too which read 'They loved with a love that was more than love' in Edgar Allen Poe's handwriting. It's a quote from a favourite poem (Annabel lee) which was read at the wedding. I also wore an Opal necklace which Mark bought me as a wedding gift, I'd seen it in Rowells where my ring was from and they said they'd lend it to us for the day. Such a treat to own it!
The Suit and Bridesmaids
Mark had his suit tailored at a tailors by Liverpool Street Station and he had his and his best men's ties made by my dressmaker using a William Morris print called Strawberry Thief.
I let my bridesmaids choose what they wanted to wear, I just said I wanted them to match somehow. They chose a floor length cream dress each, most are off asos! All but my sister… she just couldn't find one she liked and kept sending them back. So finally, I asked her to think back to what dress she felt great in and she said her wedding dress. So I told her to wear that. Most of the girls wore trainers too. My man of honour wanted to wear a cream suit to match but he couldn't find one that fit him well so he wore grey. He had a button hole to match the groomsmen. I also decided at the door to the ceremony that I didn't want to carry my bouquet, he walked me down the aisle holding it instead! He looked the part.
Flowers
Gold and purple orchids, they were the brightest thing we could find because the bridesmaids were wearing cream so we wanted something vivid.
Decoration
The Perch is decoration enough! We had bunting in the marquee, lots of fairy lights for when it got dark, a 'best day ever' banner, a big inflatable flamingo and crocodile. The table plan was a map of the world made up of spots with all the places we'd ever been marked on. Each table was assigned a country/place. At the table, there was a photo of a memory from that place and a short story about something funny that happened there.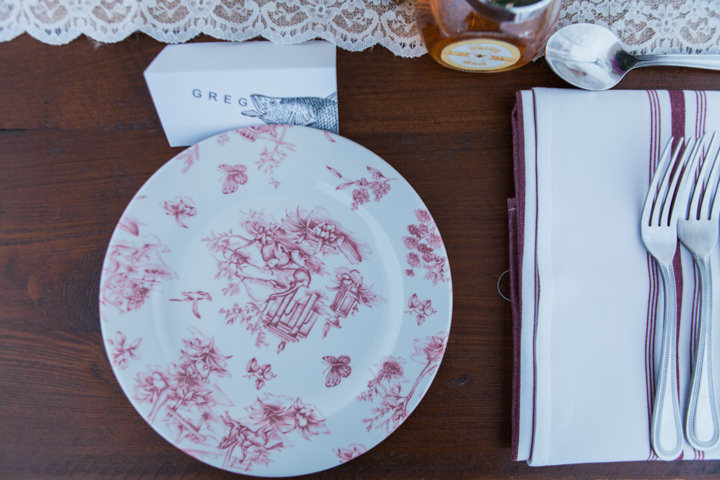 Food
Lots. I cant really remember. we had the 'country feast', canapes and we had a hog roast for evening guests. We had chips right at the end of the day too. It was too much food! The chips didn't get finished.
Wedding cake
We had carrot cake cupcakes made by my sister with mini carrots on top. They were gluten free as we had quite a few gluten free guests.
Entertainment
We had a beer pong table with personalised cups that went down very well. One of our guests is an actual beer pong champion from New Zealand so he manned the table! We also had an 'aunt sally' set outside. The music was a Spotify playlist which was made up by the guests requests which they sent to us along with their RSVPs.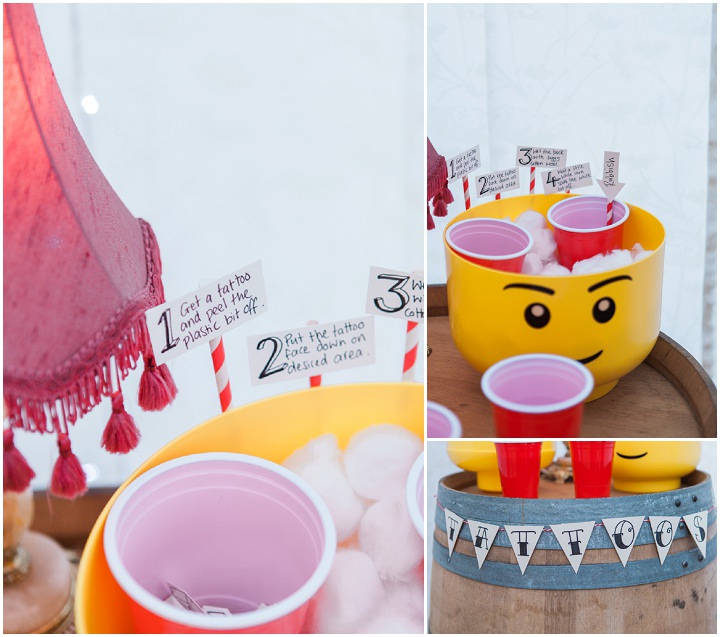 Stationery
My sister did graphic design and offered to sort everything out – thank goodness! We had little skeleton Lego men on our save the dates (Mark and I have a matching Lego tattoo) and then the invitation was a card with a perch fish on the front, inside the card was the perch skeleton with my engagement ring inside its belly.
Personal Touches
We had our Lego tattoo printed onto transfer tattoo paper so everyone could have our tattoo for the day. Our wedding favour was home-brewed Mead. My sister did the stationary and I did the table decorations/table plan.
Special moments or Highlights
The speeches were great but the walk across Port Meadow with my personalised americano from Starbucks was our favourite part. Everyone had such a good energy, it was really fun. Mark and I didn't want a first dance but at the very end of the night, Tender by Blur came on as our last song and we danced in the middle of a circle with everyone singing along. Nice and spontaneous, merry and happy. A moment I wont forget! We also walked back across the meadow in the dark to The Randolf where we stayed, everyone was really drunk and giggly, it was lovely.
Advice for other couples
My friend Maisie had told me that your wedding day goes by so fast, you and your groom hardly see each other. So Mark and I snuck off on our own down the meadow for about half an hour whilst everyone was having hog roast. No cameras or people, it was really private and lovely and the most romantic wanders of my life! I'd tell a couple to make time for a moment by themselves, just 20 minutes somewhere in the day. It was great.
Biggest Surprise
My gift of the Opal necklace was a big surprise! I bought Mark a record player after refusing to let him have one for year which I think went down well too.

Supplier Shout Outs
For more information on Amanda Karen photography go to:
www.amandakarenphotography.co.uk / [email protected] / FACEBOOK / T: @AKaren_Photo / I: @amandakarenphotography
We are a husband and wife team based in London and Essex but love to travel.  Our style is a combination of fine art portraiture and relaxed natural candid to ensure each couple's wedding is beautifully captured.  We specialise in creating stunning fine art wedding albums to really preserve those gorgeous memories