Honeymoons can be one of the most expensive parts of any weddings, with such a  large percentage of the wedding budget going towards a honeymoon theses days I thought it would be a good idea to give you some ideas on Budget Honeymoon ideas that still gave you that honeymoon luxury! So today I have invited Julie from Skyscanner onto the Blog to talk us through some fab Honeymoon Ideas as she picks out the top 5 Wallet-Friendly Honeymoon Destinations for those of you looking for a bit of holiday inspiration!

I'll pass the Blog over to Julie……….. 
Honeymooning in traditional hotspots such as Hawaii and Tahiti can give you the picture-perfect type of holiday that you would expect from a 5-star resort. Yet after already paying for a lavish wedding, you may want to avoid the sticker shock. There are countless alternative honeymoon destinations around the world to consider. The following are five tempting options offering gorgeous beaches, decadent entertainment, and world-class hospitality at bargain prices. With less time to stress about money, you'll have more time for romance.
Kyrena Northern Cyprus

The Mediterranean is well serviced by budget carriers, and stocked with intimate boutique resorts. As the famed birthplace of Aphrodite, Cyprus is an ideal romantic destination for couples. Beachfront resorts hug the sandy coastline, drenched by year-round sun. You'll find no shortage of city sophistication, cultural sights, and nightlife in Paphos and Limassol, and the verdant peaks and valleys of the Troodos Mountains offer memorable adventures. Don't miss ancient attractions like the Tombs of the Kings, before retiring to your remarkably reasonably-priced Jacuzzi honeymoon suite.
Cuba
Playa Azul, Cuba

As the largest island in the West Indies, Cuba boasts all the same amenities of nearby Caribbean islands without the hefty price tag. Sip a mojito on a balmy white sand beach or while away the day in a romantic Havana café whilst admiring the historic architecture that surrounds you. Try your hand at salsa dancing or simply enjoy a quiet candlelit dinner at a beachfront restaurant. There are often good flight deals to Cuba from low-cost carriers such as Thomson Airways, at times as low as £300 from London.
Turkey
Istanbul, Turkey

Live it up in Byzantine splendour when you plan a honeymoon getaway in Turkey, another top Mediterranean destination that benefits from readily available cheap airfare. From the bustling, fragrant markets of Istanbul to the sunny resorts and unspoiled beaches along the Black Sea, there's no shortage of ways to pass the time. Travel agencies such as Anatolian Sky offer excellent value honeymoon packages, starting as low as £499 per person for a 7-night stay.  Enjoy wine tasting or a boat tour for two in this gorgeous historic destination.
Vietnam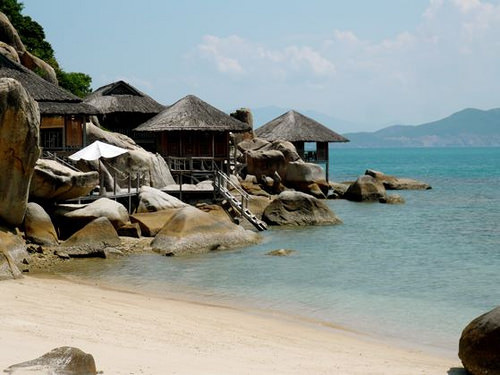 Six Senses Hideaway in Ninh Van Bay

Although it's often overshadowed by Thailand in its bid for honeymoon visitors, Vietnam is a jewel of a country known for its warm hospitality and stunning landscapes. If you're after privacy and relaxation, enjoy Vietnam's golden beaches at a popular resort like the Six Senses Hideaway in Ninh Van Bay.  Admire the French architecture of Hanoi, master the fresh cuisine with cookery classes, enjoy a river cruise or bike tour of the rice paddies, or take a trek into the lush inland forests.
Sri Lanka
Sigiriya, Sri Lanka

Rather than trekking out to the costly resorts of the Maldives, consider another lush spot within the Indian Ocean: Sri Lanka. Boasting thick jungle to explore, exotic beaches framed with swaying coconut palm trees, and ancient cities teeming with culture, you'll find every detail in line with the definition of paradise. Highlights of your Sri Lanka honeymoon could include enjoying a glass of champagne in a hot air balloon high above the ancient ruins of Sigiriya, sunbathing on a remote beach, or spotting native wildlife such as leopards and blue whales. You can get the luxury treatment in a boutique seaside hotel, or rent your own flower-bedecked bungalow for added privacy.

Thanks so much Julie, I hope you found her suggestions helpful? I'd love to know where you have planned for your honeymoon, are you doing it on a budget or are you going all out for complete luxury and blowing the budget?

Photo credits: Cyprus,  Cuba,  Turkey,  Vietnam,  Sri Lanka

Article by flight and hotel comparison site Skyscanner.
To find inspiration and the best flight and hotel deals for your honeymoon visit:
Skyscanner.net
FACEBOOK
TWITTER

If you are a holiday company and would like to share your honeymoon tips with my readers please get in contact at [email protected]
Due to an email issue if you have emailed me between the 2nd & 9th of December, please resend it.
X