It's a sad day today as today sees the last in the series from Emily Jane .  Emily is our resident vintage stylist and image consultant and she has been talking us though each decade, showing you how you can dress in vintage but making sure you dress for your own body type. So if you are a straight up and down kinda gal, or more of a curvy lady then Emily is here to help you.
We started with the 1970s and worked our way down the decades, so today it is all about the 1920s!
Just click on each one for a re-cap
I'll pass the Blog over to Emily…………..
Hi Boho readers! I'm back again for the last in the series of vintage inspired wedding styles that will suit and flatter your body shape. Just have to say thanks to Kelly for having hosted these posts on her blog, it has been an absolute pleasure!
So, let's crack on with the bridal style! For the final era in this series, I'm looking at the 1920s. A quick review how I am approaching body shapes to begin with; if you've ever been confused by the whole array of body shapes, trying to work out whether you're an hourglass, celery stick, pear or apple etc. do not panic! It is highly likely that as all women are different, you may not fit exactly into one of these categories – working out your exact body shape is what a stylist is for! So, for the sake of simplicity in these posts, I have split everyone into two basic categories – curvy, and straight. You may be curvy (large bust, large bottom, defined waist) or you may be straight (small bust, no defined waist, straight shoulders, flat stomach & bottom), or you may even in fact be a combination of the two, but hopefully by giving some hints and tips for each shape, you'll be able to find the perfect dress to flatter your figure on the big day. Remember we are talking shape, not size here! You can be a curvy size 8 and a straight lined size 20, or vice versa.
Straight lines – Deco Diva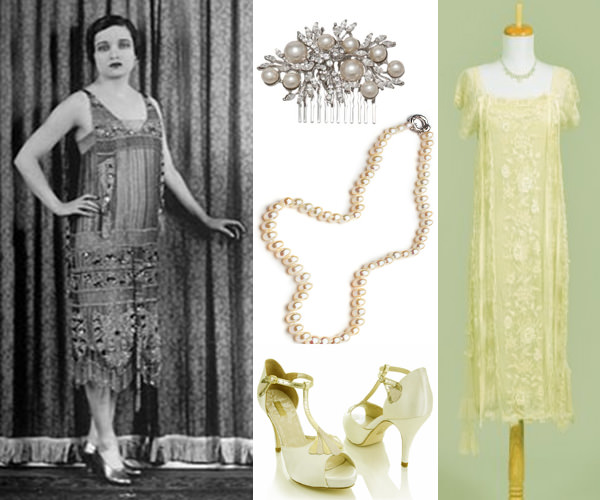 If you are straight lined, congratulations! The 20s was made for you! Women of this era longed for a straight-lined bod, ideally without a defined waist, and with a flat chest. This means that really authentic cuts will look amazing on you.
Things to look out for 
Dropped Waist: the 'square' shape of the typical flapper style dress is perfect for you. Look for dresses that hang from the bust and fall to a dropped waist at hip level – this is fantastic for showing off your neat proportions, and perfectly skims over your lack of defined waist.
Deco Details: don't be afraid of texture! The detailed art deco style beading and embroidery on many 1920s style dresses will lend the fabric a stiffness that really suits your figure
Pearls: what could say 1920s more than long strings of pearls? The length of your beads will also emphasise your straight lined figure giving you a willowy look. Remember to keep your jewellery in scale with your figure – the larger you are, the more strings of pearls you can take!
How to do this look if you are curvy
For those who want to break the rules, fear not, there is a way round this! If you are keen on deco detailing but are curvy with a defined waist, look for dresses that are cut on the bias as these will show off, rather than tent your curves.
Curvy – Flapper Finery
A lot of curvy girls automatically discount the 20s from their wedding style choices thinking that it is impossible to do the era justice with curves. Not so! With the right fabric and cut choices you can still pull off a 20s look and feel fabulous on your big day!
Things to look out for: 
Illusion drop waist : look for soft and draping fabrics that hug your curves. Although there may be an illusion of a dropped waist to your dress (look out for seaming and detail on the hip) your own natural waist must be shown off also to make sure that this look is flattering.
Hair bands: hair bands or tiaras should be worn across the forehead for a touch of authentic style. If you have long hair, ask your hair dresser about pinning it into a faux bob to complement the hair band perfectly, 20s style.
Kitten heels:great news for those hoping to dance the night away – heels of this era were not particularly high, so look for kitten and low heels that are somewhat blocky in appearance. Other authentic shoe details include buckles and T bars – perfect for adding a bit of sparkle!
How to do this look if you are straight lined: 
Think of draping done in slightly stiffer fabrics to make sure that your dress flatters your straight lines. The handkerchief hem of this style is great on you as it echoes your neat figure.
Thanks so much Emily Jane, all your advice has been wonderful over the last few months. I hope you have enjoyed the series. Remember if you have missed any of the eras then you can just click on each one below. 
♥   70s Styling ideas  ♥   60s Styling Ideas  ♥   50s Styling Ideas  ♥   40s Styling Ideas  ♥  30s Styling Ideas
For more information on Emily's work go to:
Emily Jayne Phillips – Image Consultant
[email protected]
www.emily-jayne.com
01527 579650 01527 579650
Twitter – @emilyjayneimage
Facebook – emilyjayneimage