It's the last wedding of the week and its a good one! Big thanks to JB Creatives for this Bright and Fun Wedding which comes to us from Lancashire. It's a great wedding, full of lots of personal touches, set in a fab venue!
'It was beautiful and sunny we had a lovely service mainly due to our vicar being really down to earth and fun… and the fun and laughter carried on throughout the day into the evening. It was perfect everyone including ourselves had an amazing day it was very relaxed.'
Robert and Annette who were married on 8th Sept 2012. 'Our ceremony was in St Andrews Church in Leyland and then we traveled to the Browsholme Hall Tithe Barn, Cow Ark in the Ribble Valley Lancashire for our evening reception. I (Annette) grew up going to the church in Leyland and is still where my parents attend so was keen to get married there… and then I wanted to find somewhere without carpets and pelmets mainly and managed to find this Tithe barn that was fairly newly renovated and decided straight away it was just the jig. We had 74 guests for the wedding breakfast and then around 100 all together in the evening. We booked our venue 18 months prior to the date and that was mainly I we wanted the end of summer and beginning of autumn.'
How they met
We have been together for 10 years (11 at Easter) we met through Rob's brother whom I studied an Art Foundation course with. We officially met on a night out that Stu had brought Rob along to.
The proposal
We had a day out in London as we were meeting one of Rob's friends in the evening for her birthday. We spent the day walking around the V & A (the human body section is brilliant… so kitsch!) we then had a meal at Pizza Express in the early evening before going to the pub, there was scaffolding outside the window. Just after the meal Rob was very quiet and then whispered to me 'will you marry me' and I whispered back 'yes'. He then spent ages apologising that it wasn't romantic and he hadn't bought a ring but it really didn't matter it was a great day and I thought is was very romantic and spontaneous! Rob told me afterwards that he had even asked my dad if it was OK for him to ask me… which I thought was a lovely thing to do.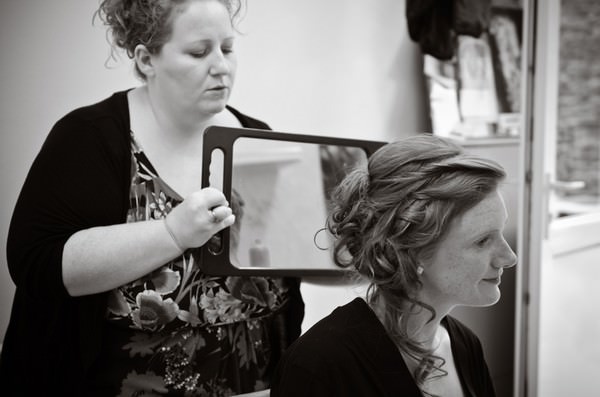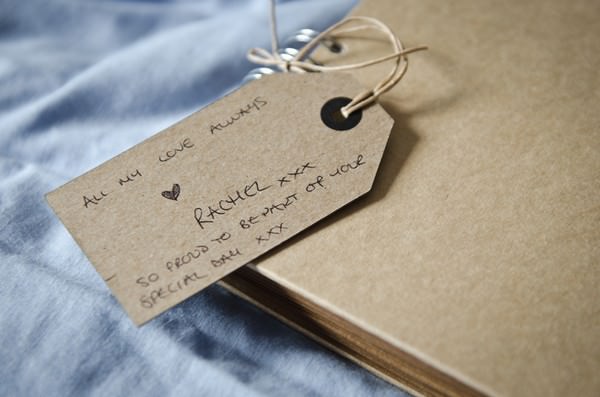 How did you choose your photographer?
Jane of JB Creatives  took all our professional photographs, Rob's brother knows her through his work and after looking at her work on the website we thought she'd be perfect as she takes modern pictures and really seems to capture everyone's personalities.
The dress
I bought my dress from 'Candy Anthony' in London I wore a pearl necklace as a bracelet from when I was a bridesmaid and my shoes were 'Bertie'
The suit and bridesmaids
All the suits were from Moss Bros and we bought the ties from M&S and my mum made the bridesmaids dresses and petticoats after we'd found a 50's swing dress pattern.
Theme
We sort of had a theme of festivals, for the colour scheme I just wanted lots of colours with the flowers so they looked country like and the bunting. For the bridesmaids I wanted something a little different so after some persuasion with my mum she started to see that black bridesmaid dresses dressed with red would really stand out and not look morbid.
Food
We had caterers that were attached to the Tithe Barn but they were brilliant they were called 'with a twist' they did fun canapés including sausages on a washing line, mini fish and chips, mini Yorkshire pudding and beef, goats cheese pastry things. The wedding breakfast we had cold salmon starter followed by lamb and then a lemon posset with crackling candy on top. In the evening we had a hog roast with all the trimmings.
Entertainment
We had a band called the 'Northern Monkeys' from Leeds they were brilliant and supplied music in-between their sets
Flowers
I had lots of different flowers with all sorts of colours I wanted it to look like a wild flower bouquet, probably easier to see a picture than remember the names of them all. They were from an amazing florist in Leyland called AB FAB.
Decoration
We used some old school milk bottles in crates for our flowers on the tables and some little jars of flowers scattered around. I also made some garden windmills in the same pattern as the bunting fabric for the tables. We had big 3 foot white balloons on the top table and used our bouquets in vases. We used old kilner jars filled with lots or different retro sweets to identify the tables and then put them on one side for pick and mix later. I made labels for the sweet jars and drew sweets jars and put names inside them for the table plan. We also had lots of bunting that was all different colours and patterns draped across the ceiling beams. We also made little bags for the children so they had a few bits to do over mealtime.
Personal touches
The things we did ourselves were…
• Bunting: everyone helped making triangles and then my mum sewed it together
• Table decoration: I did with some help from bridesmaids and mum including sweet jars (well putting them together, flowers and windmills
• Table places: I wrote on Pebbles and made a label for sweet bags
• Bridesmaid dresses: mum made them
• Children's bags of goodies: mum made them and we filled them with note books, pens and puzzles
• Table plan: I made
• Wedding rings: Rob's mum made (Alison Richards)
• Cake: we had a women's institute style wedding cake so we all made a cake as follows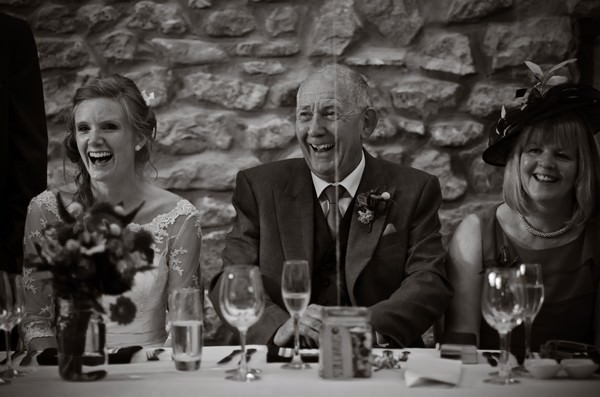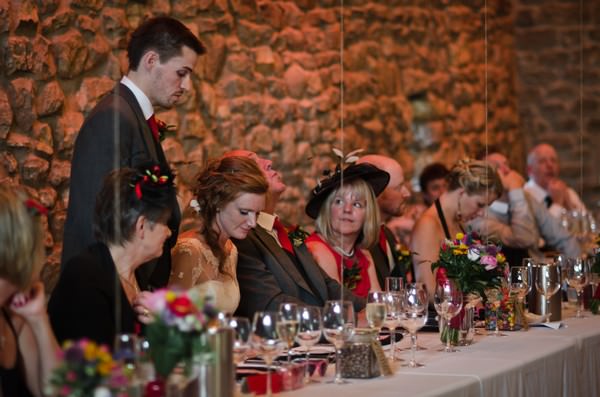 Special moments
All of it really… I'm pretty sure me being about 30 mins late for the church was not Rob's highlight of the day oops… but the service was amazing and really fun as well as capturing the sincere parts well. The reception was a lot of fun and celebrating with friends.
Advice
Make sure you do what you want to do with your BIG day… you will never please everyone. In the last few days before your wedding make sure you have a window of time just for yourself as it can be quite overwhelming even if it's a run, getting your nails done or something like that.
Biggest surprise
That everything actually went smoothly and everyone had a fun and relaxed day! … one of the biggest surprises was a guests pointing out that in my mad rush I'd spelt 'Virginia sponge' VIRGINA oops!
Supplier Shout Outs:

For more information on Jane's work go to 
www.jbcreatives.co.uk
www.jbcreatives.co.uk/category/blog
[email protected]
TWITTER
T: 07709 350141
I am a wedding photographer and wedding stationery designer based in Otley, just outside Leeds. My photography style is fine art reportage, I love to tell the story of a wedding day as it unfolds.
I love capturing those special and memorable moments, the beautiful details and the secret glances. I like to capture natural shots of guests laughing and enjoying themselves, along with all the little things that may be missed in the flow of the day. I am unobtrusive in my approach capturing the day from the brides excited preparations in the morning through to the romantic first dance in the evening.
I want my photographs to do more than just remind my clients of the day, I want them to evoke the same emotions, the smiles, tears and laughter that made their wedding so special.
 ♥  You can see more Real Weddings featured on the Blog HERE  ♥