Happy Monday everyone, I hope you all had a good weekend? We have another jam-packed week for you planned here on the blog and another collection of gorgeous weddings for you to draw inspiration from for your big day. We are starting off the week with this wonderful Berkshire wedding from the lovely Jordan and Ines from Source Images. I have known Jordan and Ines for a good few years now, so it's always great when I get the chance to feature their work. This wedding is full of pretty pastel details, lots of homemade projects and is brimming with inspiration. So many wonderful details put together by Cassie the bride and her friends and family. From the flowers to the cake, the stationery to the decoration. It all looks amazing as I'm sure you will agree.
'A relaxed Boho village wedding with plenty of personal touches and a hand crafted feel throughout'
Cassie and Dom were married on 17th July 2015. The ceremony was held at St Mary the Virgin Church, Hurley, Berkshire and the reception was held at The Olde Bell, Hurley, Berkshire. 'I grew up in Hurley village and my mother still lives there, so it very much felt like home throughout the wedding. The familiarity of walking past the village shop where I once did a paper round and being by the river where we have always walked our dogs made it feel more homely and down to earth. We had 100 guests in the day and an additional 40 for the evening party. Planning wise took just under a year'
How they met
We met through an internet dating site, we have been together about three years
The Proposal
I had just had some wisdom teeth removed and wasn't feeling or looking my best! Dom took me down to Dorset for a weekend away in our campervan and proposed during an evening stroll along the beach when we reached the Durdle Door arch.
How did you choose your photographer
A friend of a friend who got married at the same venue a few years prior was chatting to me and she told me I must use Source Images Photography and that Ines and Jordon were simply brilliant. I met Ines and we ended up chatting mostly about our cats like a pair of mad old cat ladies, I knew she was the photographer for me!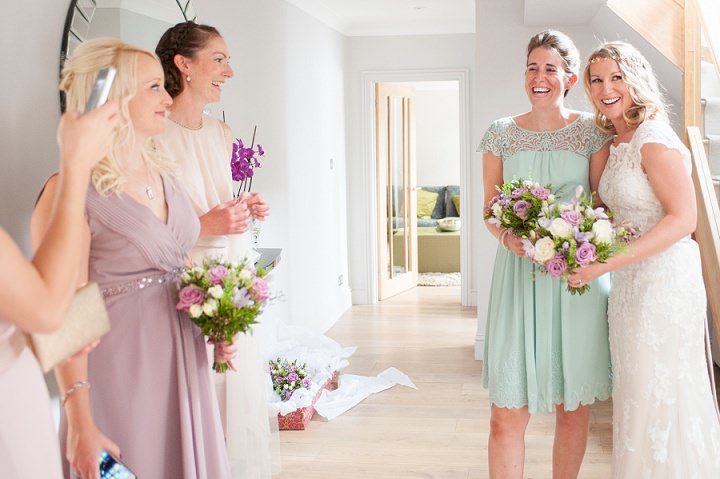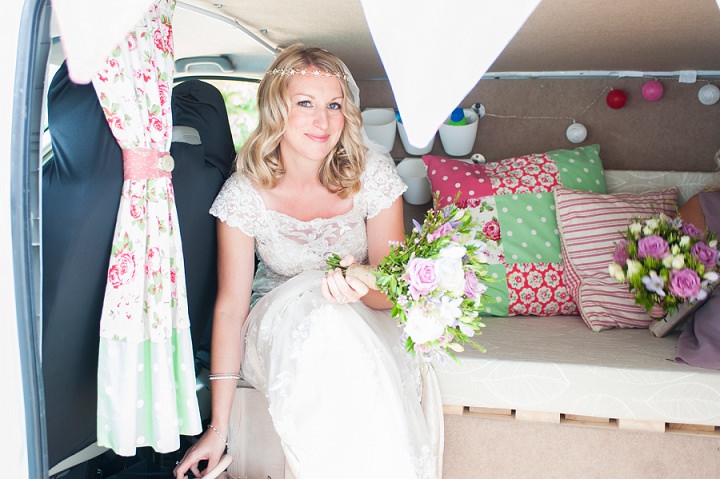 Where did you splurge and where did you save
Save: The best saving for me was on the wedding vehicle. Dom had recently refitted our campervan and the wedding seemed like the perfect debut to show it off! We covered the van in bunting and ribbons and inside added lots of personal touches with old family wedding photos, fairy lights and jars of sweets. The bridesmaids and I all squashed along the sofa in the back to be driven from one end of the village to the other for the ceremony. It was something a bit different and once back at the reception we opened the van up so that guests could check it out and see all the fun things we had displayed inside like the best RSVPs with witty responses. We went on to honeymoon around Cornwall in the van.
Splurge: I don't get dressed up very often, I'm a bit of a tomboy and can usually be found doing something hands on and DIY related, so for me it was an incredible treat to wear such beautiful things and have stunning make-up and hair. This was definitely my indulgence on the wedding day but worth every penny because it made me feel beautiful on the day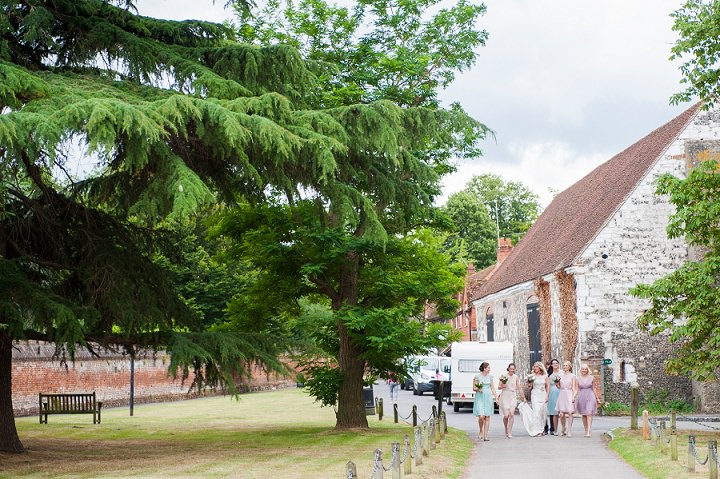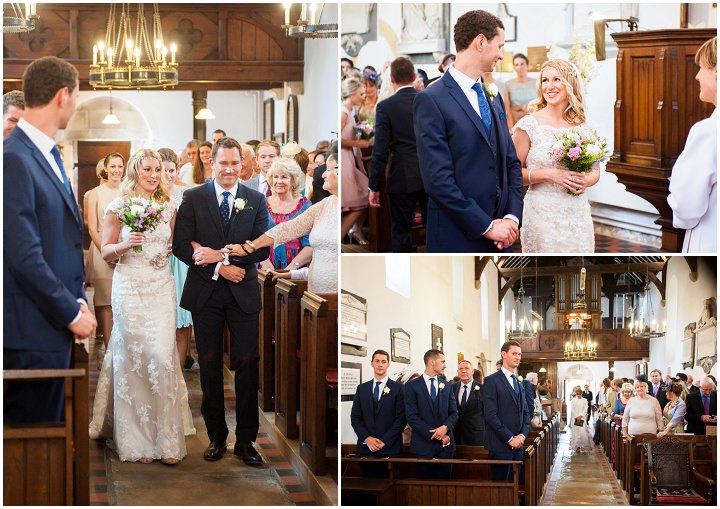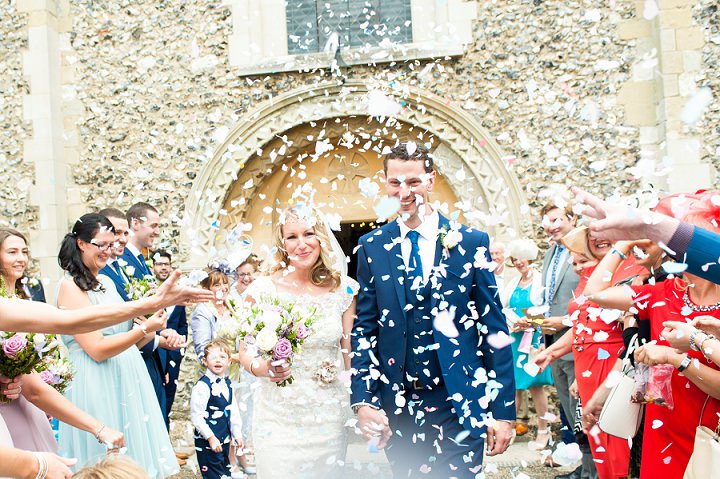 The Dress
Dress: by Sincerity, purchased through Wedding Warehouse in Ascot. Sash: Wedding Warehouse, ascot. Veil: Bespoke by Emma Louise Designs. Shoes: Monsoon Accessorise, St Moritz Heat Seal Vintage Sandal – Pink Rose. Headpiece: Debbie Carlisle, Astrid Crystal Wedding Hair Vine Comb – gold
The Suit and Bridesmaids
The suits were from Moss Bros, they were blue Ted Baker three piece suits and everyone wore tan shoes. The groom's party all wore simple blue ties from Debenhams with a light polka dot design and the groom wore the Ted Baker blue paisley tie for some stand out.
Bridesmaids – The Bridesmaids' dresses were by far the most time consuming and difficult thing to source and choose. I had decided right from the start that I didn't want matching bridesmaids, I had five mature friends and I am not a huge fan of everyone having identical outfits which almost always you find the bridesmaids never wear again. So I hunted high and low for a selection of pastel dresses which although were totally different could work together as a collection. Green dress – Monsoon. Pink dress – Coast. Lavender dress – Debenhams. Blue dress – Debenhams. Nude dress – Asos.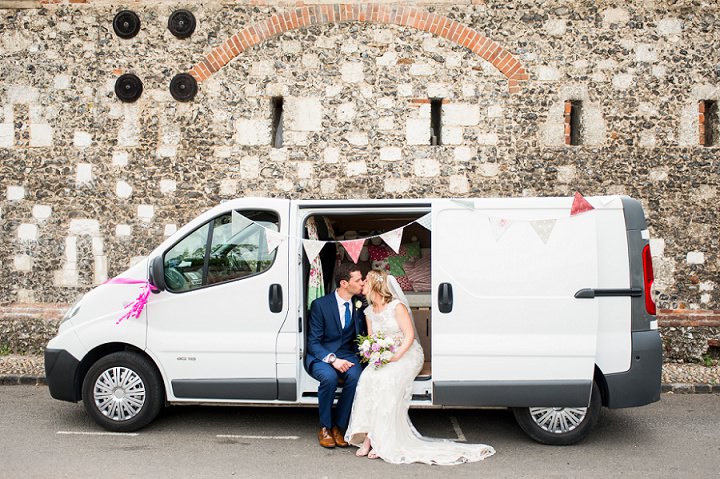 Theme or Colour Scheme
It was very much a mix and match craft/country fair feel. I love fabrics by designers like Cath Kidston, Kate Foreman and Susie Watson and set about creating bunting, name cards, sweet jars toppers and so on from a range of different fabric patterns and colours to create a fun eclectic look. I also introduced some burlap and twine to give it a more rustic edge.
Flowers
Bouquets, button holes &corsages – avalanche roses, cool water roses, dusky pink wax, lilac freesia, green bell rosemary and other foliage bound in twine.
Table centre pieces – Slate Grey Metal Jugs from The Wedding of My Dreams filled with country garden flowers like sweet peas, peonies and spray roses .
Food
Starter: Pressed chicken & spring onion terrine, red wine & shallot dressing
Main: Pan roasted rump of lamb, Dauphinoise potatoes, White wine lamb sauce & seasonal vegetables
Dessert: Seasonal Eaton Mess
Wedding Cake
Victoria sponge and carrot cupcakes made by a friend and decorated with handmade flags and displayed on a homemade and painted display shelf. We also had a Victoria sponge cake which we ices ourselves to display some cake toppers we had made.
Entertainment
We had a live band and hog roast for the evening guests. We also had at the reception a homemade personalised cut out photo-board which my Uncle (who is an artist) painted for us. There was a big box of dressing up props so guests could have some fun with photos.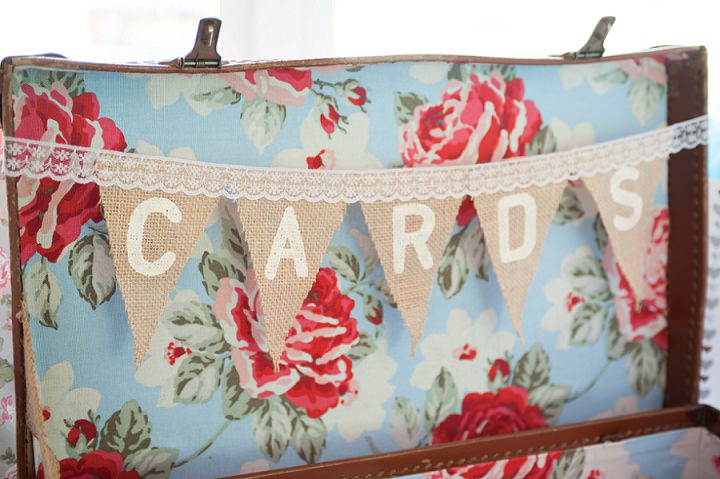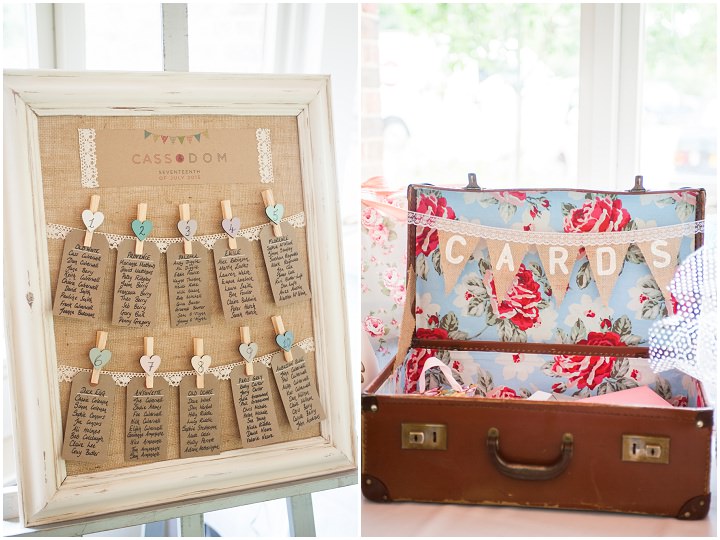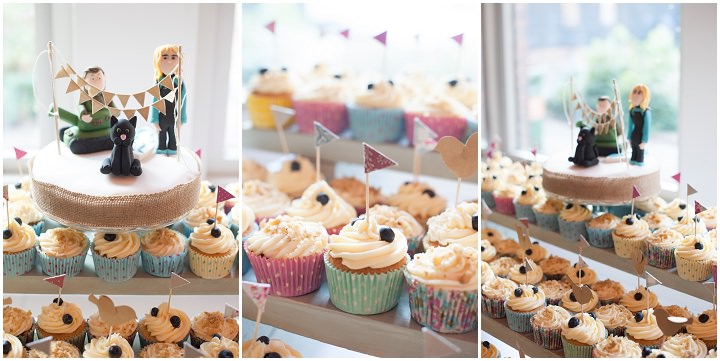 The Stationery
All the stationary was totally handmade which included the save the dates, invitations, the table planner and the table name places and decorations. My best friend is a graphic designer and created the artwork which I printed onto craft kard and then decorated. I am a keen sewer and have a huge box full of all sorts of fabric swatches which came into its own for most of the things I made. A lot of the invites, favours and stationary ended up being different as I often picked fabrics with the guest/s they were for in mind. This was not a fast process but great fun and I enjoyed it
Personal or Handmade Touches
I handmade just about much everything myself and when it wasn't done by me, it was often done as a wedding gift by a friend, for example the table flowers or the cupcakes. From the invites to the napkin rings, it was all handmade, it was a hugely time consuming and a lot of work but it was a total labour of love from the start. When I looked around the room I saw all the things I had made coming together and it felt like my own creation which I loved. Plus, lots of guests took various things like their crafty name tags or tee light jars home as a momentum of the wedding which made it worth the effort.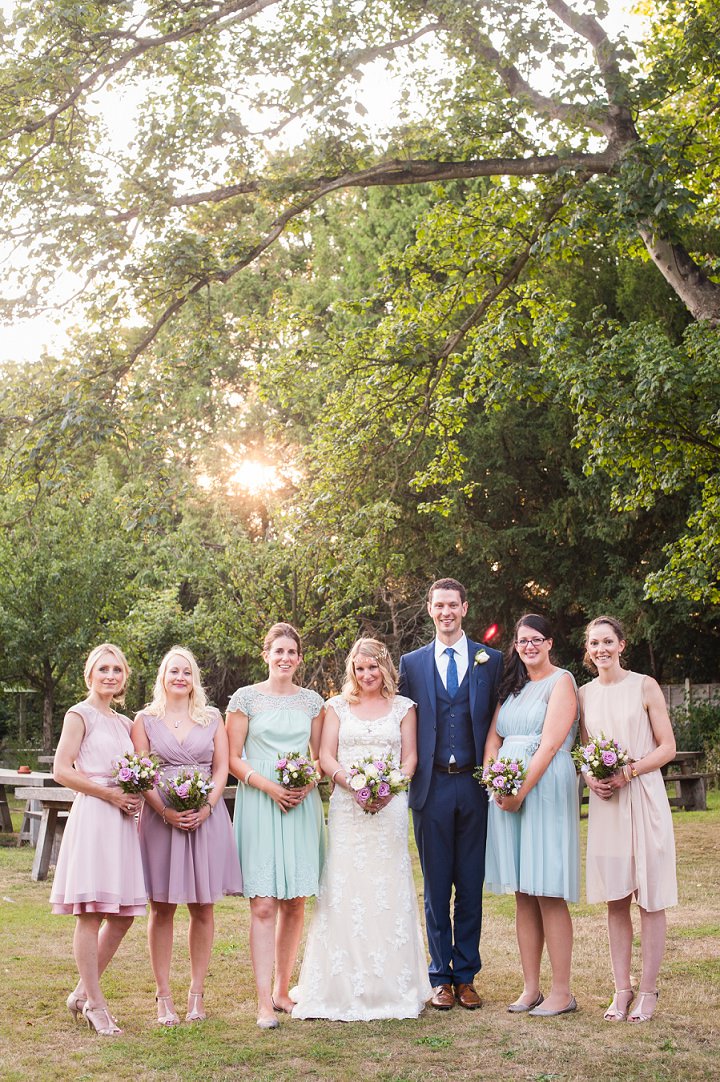 Special Moments
For me the band was the highlight of the wedding, they were amazing and did everything they could to make our wedding party the crescendo we wanted. They learnt our favourite songs as a special request and they really knew how to get the party started! I loved the finale song where all the guests encircled us and we had our final dance of the night with plenty of clapping and cheering. It was the perfect end to the day for me
Advice to other couples
There are so many aspects to focus on when planning your big day and I think it's a good idea to think about what parts matter to you the most. For example, the dresses and outfits were high on my priority list and I knew what I wanted but with the wedding cake I was relaxed and open to what we did, I didn't mind. You can't put 110% into every area so pick and choose your key areas
Biggest surprise
The speeches were brilliant, plenty of jokes and funny stories about both the bride and the groom and the room was filled with laughter throughout. My bridesmaids enjoyed revealing an email I had written some years ago regarding an ex-boyfriend with a list of positives and negatives. It was a real surprise when I realised what I was hearing was my own hand, as of course I had long since forgotten writing the email. It proved to be extremely amusing.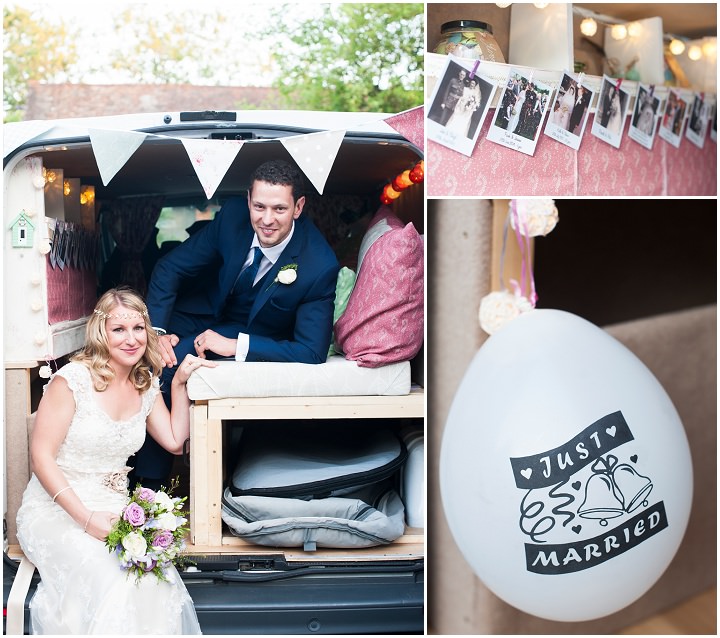 Supplier Shout Outs
For more information on Source Image's work please go to:
www.source-images.co.uk / www.sourceimagesblog.co.uk / FACEBOOK / T: @Source_images / I: @source_images / [email protected]
Due to an email issue if you have emailed me between the 2nd & 9th of December, please resend it.
X