Todays  wedding comes from South Africa and is full of gorgeous shots of the scenery, the amazing couple and the odd bird! The reason being is that the ceremony took place in the worlds largest free flight bird sanctuary which acts as a pretty cool backdrop to this stunning wedding sent into me by DNA Photograpers who I featured not long ago on the blog.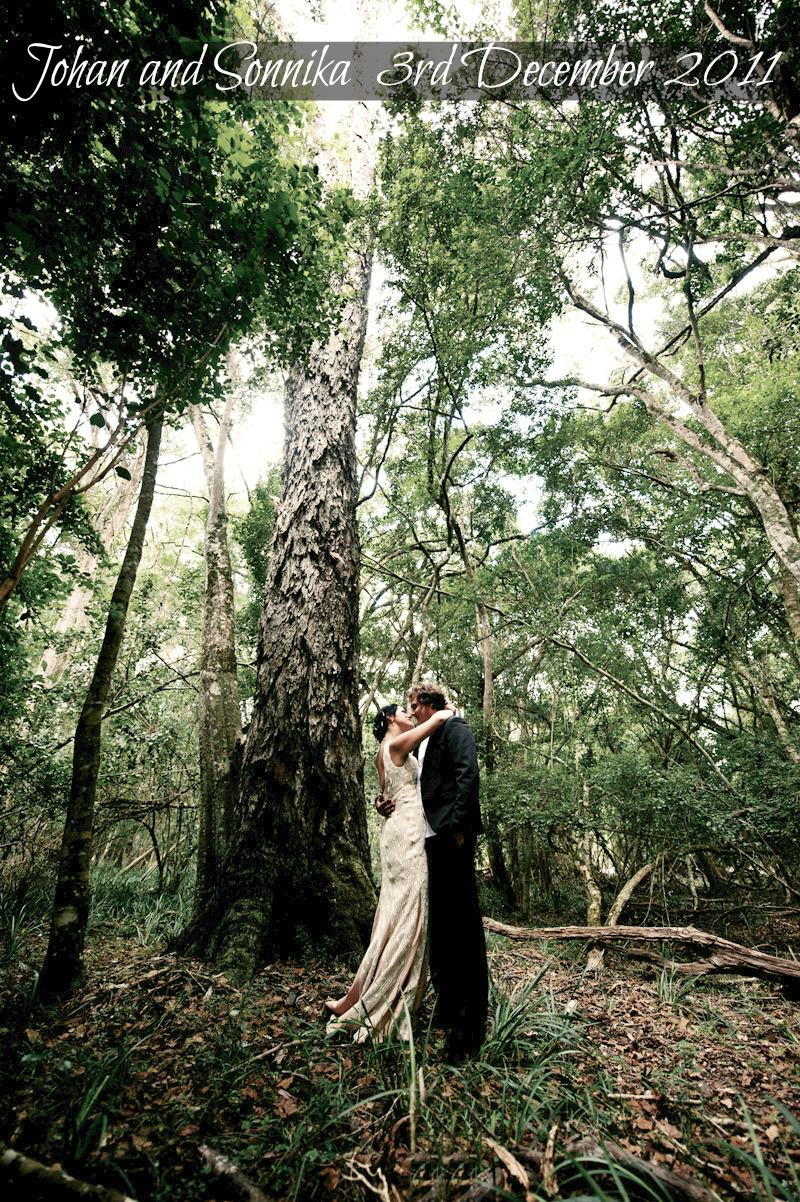 The lucky couple are Johan and Sonnika who were married on 3rd December 2011, the ceremony was at Birds of Eden with the reception at Rocky Roads Backpackers. 'We both love Nature's Valley, packed full of good memories and beautiful scenery' They had 50 guests, It took 3-4 months, to plan with the help of their niece who is a local planner
'It was an experience to remember in paradise with people I love. Wouldn't have had it any other way.'
How they met
We have been friends for 5 years and engaged for 1 year, He proposed on the beach in the Wild Coast.
How did you choose your photographer
Who else than my great pal Desmond… No problem smiling and no time for nerves with that man in my vicinity! All pro's for a bride!!
The Dress
My mother made my dress (very special), jewelry by local people in the Crags. Can't remember where I bought my shoes!
Theme
Red, black and cream with White gladiolas
Food
Kudu carpaccio, mutton with Yorkshire pudding, julienne vegetables with red wine jus. Food done by Peppermill Cafe, Crags.
Entertainment
Gembi drumming, guitar and a fire-show at reception.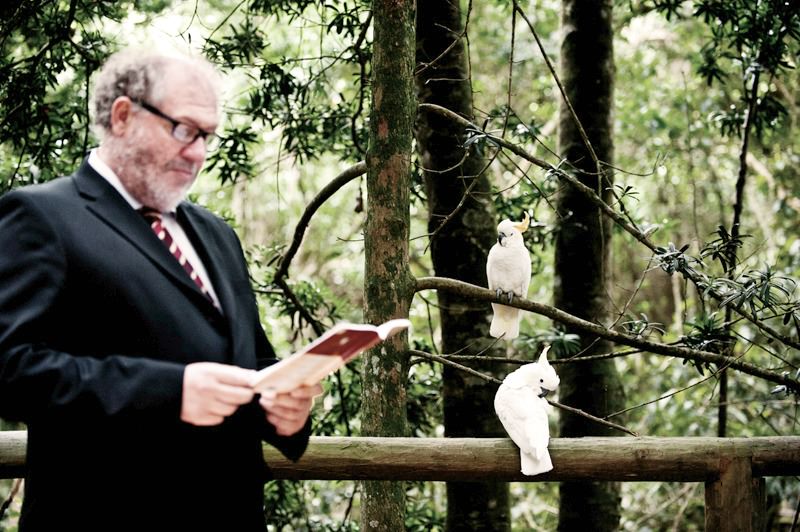 Decoration
Reception in cream stretch tent with paper lanterns for light and flowers on table. With the scenery in that area you don't need much. During the ceremony, we were in a rainforest with variety of birds and wild life in an amphitheatre… Decoration by nature.
Personal touches
• We made our invitations with my mother and a friend
• My mother made my dress and the cake which I find very special.
• Flowers were arranged by friends.
• And my niece (could be called the wedding planner) arranged venues and we decided through e-mail on all aspects.
• My sister did my make-up etc.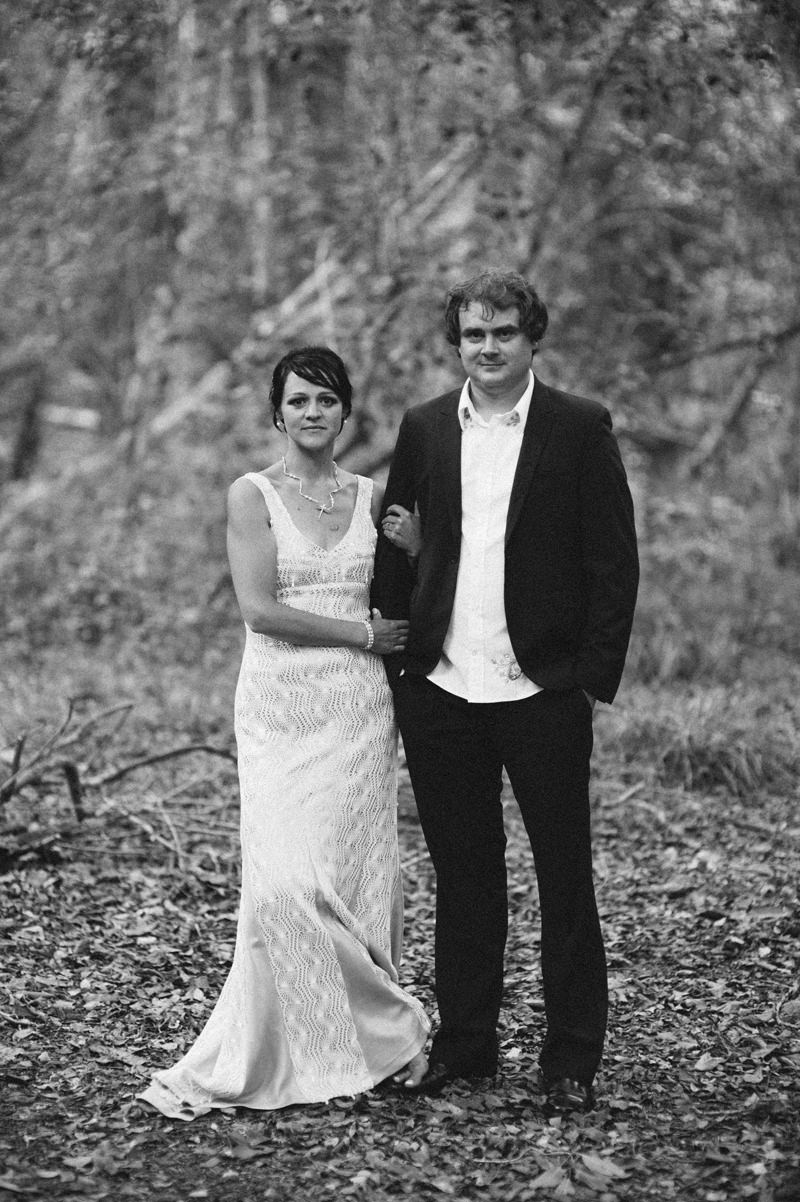 Special moments
The fun we had during the photo session :-)
The cockatoo on the priests shoulder and on the bible eating my flowers!! And the horse poking my back with its nose during photos. Last but not least …. My new husband helping me on a bicycle for the first time in probably 10 years with a long, tight dress for photo's – nerve recking!!!
Advice
Enjoy the day from beginning to end. All disasters are ok, as long as you and your life partner can get to say I DO!!
Biggest surprise
The day itself. After 30 it sort of becomes an option…. But then you get to stand next to the person made for you, and know this is not an option, but meant to be!!
Supplier shout Outs
Ceremony venue: Birds of Eden – www.birdsofeden.co.za
Reception venue: Rocky Roads Backpackers – www.rockyroadbackpackers.com
Photographers: dna photographers – http://dnaphotographers.com
Catering: Peppermill Cafe, Crags – 071 324 4454, E -mail: [email protected]
For more information on DNA Photography go to
http://dnaphotographers.com/
[email protected]
FACEBOOK
TWITTER
0027 71 495 1103
About us:
Desmond Louw and Antonia Heil collaborate under 'dna photographers'. dna for Desmond 'n' Antonia, just like Rock 'n' Roll. The husband and wife team is based in Cape Town, South Africa but travels anywhere their photography takes them. dna photographers shoot weddings, portraits, editorial, automotive, fashion and whatever else comes up. Their photography style is photo journalistic, authentic and alternative. dna's mission is to surprise you and take you beyond traditional and conventional photography. Desmond Louw (South African) and Antonia Heil (German) have been working together since 2009; Antonia is also a studied and experienced journalist (radio and online) and also collaborates with Desmond in text and image. 'We love what we do. If we wouldn't do this job we would be jealous of the one doing it.' says dna.
– We shoot mainly in South Africa and from July to September in Europe. – (we still have a few Saturday's open for weddings in August and September in Europe!)
♥  You can see more Real Weddings featured on the Blog HERE  ♥