I have such a cute engagement shoot for you today! Not only are the couple just gorgeous, but so is their story. After spending 4 years apart from each other while studying at University, they made it through the long distance relationship and are now engaged! Yay!!! (I'm a sucka for a good love story!)
The couple are Camille and Joseph who's engageemnt shoot was so beautifully put together by sister combo Ellie and Tiffani from Sun and Sparrow in May of this year in San Pedro, California. I just love all the pastel shades and wonderful use of light that Ellie and Tiffani have captured so perfectly. The shoot is fun, beautifully shot and it lets the couples love for each other shine though……justs perfect!
Their story………..
Joe and Camille exchanged only a few words throughout their entire four years at Long Beach Poly High.  It was until a graduation party in 2006, that they finally got each other's attention.  They shared a summer of romance before Camille left for Harvard and Joe stayed in California to attend Cal Poly Pomona.  During the next four years, Joe and Camille maintained a long distance relationship, visiting one another as often as possible.
They took trips to Florida, New York and many California weekend getaways whenever possible.  Skype was their savior, which they used everyday to communicate and share their separate worlds.  They introduced friends, watched movies and even studied in front of the laptop camera.  Every university break, Camille came home and they would go on as many dates as possible.  Camille's graduation rolled around Spring 2010.
Her parents arranged a vacation to Italy for she and Joe to enjoy as a graduation present.  Just before Camille's graduation ceremony, Joe asked her parent's permission to propose.  He'd bought the engagement ring months ago!Couple weeks later, Joe and Camille left for Italy.  Their first stop was Rome.  After a full day exploring, they finished the night with gelato and a stroll through the Eternal City.
When they reached the Trevi Fountain, Joe explained to Camille that she must toss a coin over her shoulder into the infamous fountain.  When she turned back around, Joe was down on one knee! They spent the remaining week in Italy sharing their newly engaged status with friendly bartenders, concierge, and tourists.  When they returned to Los Angeles, they were greeted by ecstatic family and friends and started planning their wedding!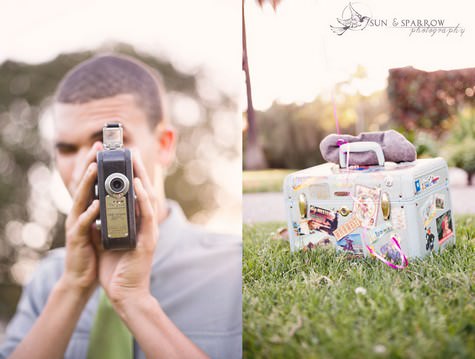 For more information on Ellie and Tiffani's work go to
www.sunandsparrow.com
http://sunandsparrow.com/blog
[email protected]
FACEBOOK
TWITTER