As a Planner I get a lot and I mean A LOT of CVs and emails from wanna be wedding planners asking for advice, work placements, jobs and experience. Unfortunately I can't help all of them, I am a small business and as I try to explain to them a lot of my work is office based so 'shadowing me' may only end up sitting watching me type and answer emails all day!
However I do think that getting some proper training is vital for any wedding planner which is why I am so pleased that there is a great wedding planning college that I can refer a lot of these wanna be wedding planners to. It's run by two people I would be more than happy to refer work onto! Joy and Lisa from The Wedding Planning Collage
Now the good news is that The Wedding Planning College is currently having a spring sale and they have worked out a fantastic pay monthly scheme to make it that much easier and more affordable to train to become a wedding planner.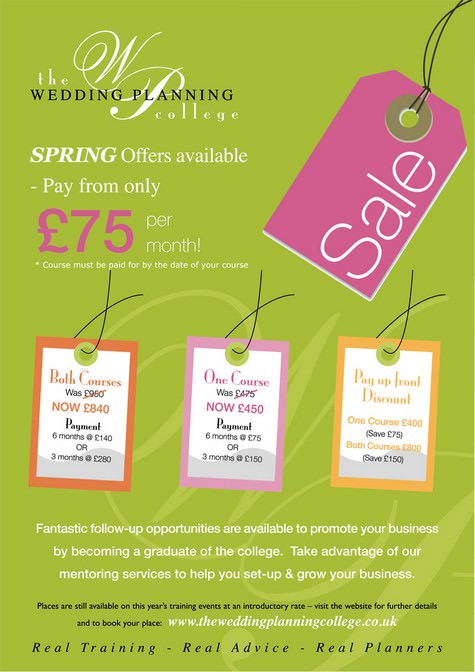 A few words from Joy one of the mentors at the College
The Wedding Planning College offers training events, mentoring and on-going business support to those wanting to either start their own wedding planning company, become a wedding planner as part of an existing company or progress in their role as a wedding coordinator at a wedding venue anywhere in the UK
The Wedding Planning College was created by two established wedding planners who wanted to implement a professional learning framework in which to advise, train and mentor new talent.
The college prides itself on offering real, honest & professional advice through training events, personal mentoring & long term business support.  It encourages the graduates from the college to become part of an on-going network that aims to bring best practice to their businesses & offers opportunities for promoting growth, via the Wedding Planning College web-site
There are two courses available:  
1) Setting up a Wedding Planning business

2) Planning & Coordinating a Wedding
♦ Both courses take place over a weekend & therefore you can train around any current commitments.
♦ The courses can be taken individually, however the most cost effective rates can be offered when they are booked together.
♦ Fantastic Spring offers are available from only £75 a month, over 6 months – see the web-site for more details www.theweddingplanningcollege.co.uk
Here's a testimonial from a recent graduate of the college
"I'm up and running- Almost everything is in place. I really wanted to say a big thank you to you both and also to say to anyone thinking of booking the courses……do it!!!!
You can go into this industry blind, or you can get all the knowledge you can and do the job well. That's what Joy and Lisa do, they give you their knowledge and then set you on your way.  Thank you Joy….thank you Lisa……I'm LOVING it!!! "
So if you're considering a career as a wedding planner then I really would advice you to look at his course. It's a great way to learn quickly and learn from two highly qualified wedding planners.

For more information on this fabulous spring offer go to
www.theweddingplanningcollege.co.uk
[email protected]
FACEBOOK
TWITTER

Photo credits  www.tierneyphotography.co.uk

*This is a sponsored post*

[jprel]