I have another gorgeous wedding for you today, this time it comes from Chester courtesy of Claire Penn. It's the wedding of Elizabeth and Stephen who were married on 18th February, at one of my favourite wedding venues Oddfellows in Chester, they had 48 guests and it only took them 5 months to plan it all.
This wedding goes to how that you don't need years to plan a wedding, it can be done quickly as long as you go with what is given to you and remember that a wedding is about the marriage as well as the details of the day. Oddfellows provides such an amazing backdrop to any wedding, its quirky decor gives each wedding an individual and unique quality, and Elizabeth and Stephen use it to its best advantage, which is picked up perfectly in this photography from Claire.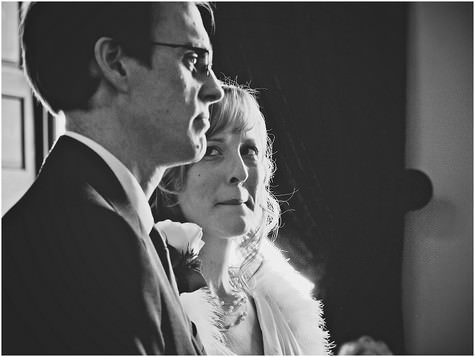 They describe their day as 'A buzz – smiling faces and laughter of friends and family, relaxed and fun day with plenty of booze and fantastic food. We wanted a wedding different to the norm and Oddfellows helped us create just that!'
How they met
We met on Match, both not expecting much and 4 ½ years later we're married.
The proposal
It was our anniversary and Steve had forgotten as he'd planned a bike ride with a mate. That was cancelled last minute so we decided to go to Lake Vyrnwy for lunch. We had a lovely walk and scrummy lunch and then I went outside to take some photos when Steve came to join me on a bench overlooking the hotel and Lake. He asked me then and there, at first I thought I'd misheard but then I jumped at the chance before making him repeat himself down on one knee. So had it not been for Martin bailing on a bike ride….
The venue
The venue is unique; we hated the generic hotel reception rooms in other places where you could literally be anywhere. Oddfellows was quirky but really elegant at the same time.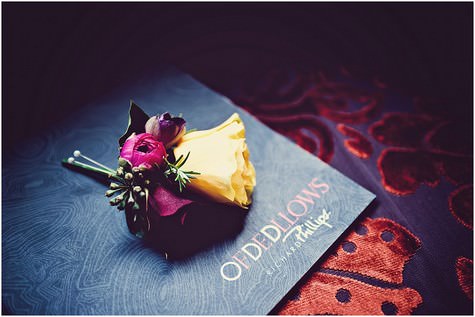 The Dress
Not sure who my dress was by! I tried on loads in shops but none were what I wanted. Although I didn't have a 'dream dress' in mind I certainly knew what I didn't want. Cost was a factor so I bought mine direct and had it shipped to the UK then had it fitted by a wonderfully eccentric but hugely talented dressmaker.
The shrug was Jasper Conran from Debenhams and the gorgeous shoes from Monsoon. The jewellery was my something old from my mum, grandmother and godmother.
The suit and bridesmaids
The suit was from Armani and the bridesmaid dresses Karen Millen with Kurt Geiger shoes.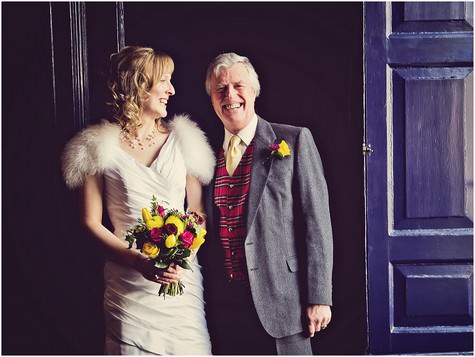 Theme
We weren't prepared to fork out for expensive chair covers so we went for colours that matched with the burgundy and orange in the room. So we chose burgundy, dark pink and yellow as our colours.
Food
We had a Welsh rarebit volute, ham hock terrine with toast, then fillet beef with blue cheese dauphinoise and finished with berry Eton mess.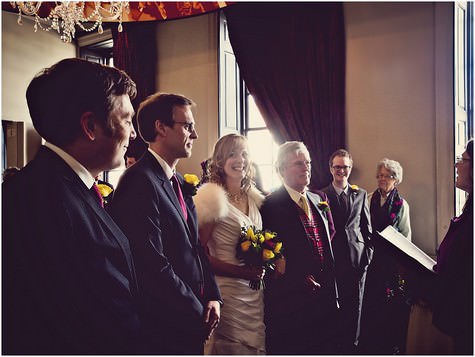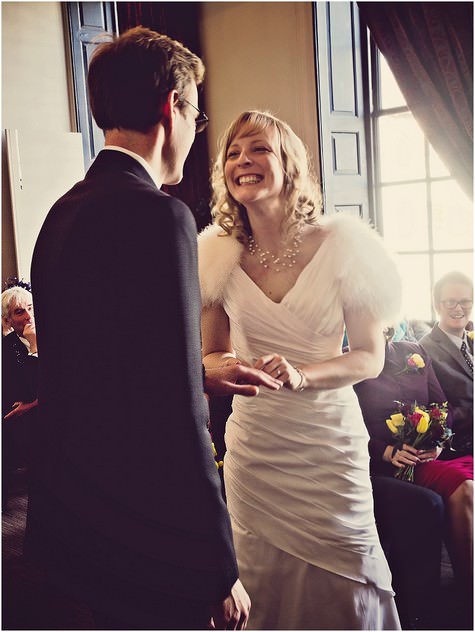 Entertainment
We played a personally compiled playlist on our IPod during the day and had a DJ for the evening.
Flowers
Roses, tulips and chrysanthemums. I am Dutch so wanted tulips to feature and Steve wanted a reminder of his grandfather so chose Chrysanthemums. His grandfather used to grow these on his allotment.
Decoration
Just simple candelabras with mirror plates below. The flowers were set to sit in the middle of the candelabra's.
Personal touches
We made our own gingerbread cookie favours in the shape of wedding cakes, decorated and packaged. Took way longer than expected but our guests seemed to appreciate the personal touch.
We bought the cake from M&S and I used some of my sugar craft skills to decorate it with handmade roses.
Special moments or highlights
• My parents live abroad so spending some time with my Dad before the ceremony I will always treasure. My Mum was a star too helping me organise everything in the days leading up to it and on the actual day.
• Walking up the aisle (not as scary as I thought) and seeing Steve all dressed up and beaming back at me.
• The sun coming out just as I was getting ready (it had rained all morning) so we could have some photo's outside. And FINALLY having some lovely pictures taken of the two of us!!
Advice
• Plan it quickly. So many of my friends stress themselves out for more than a year planning every intricate detail of their day. This leads to so much more expense and stress as it's always on their mind. Planning ours so quickly was the best thing we could have done as it was so much easier and we got everything we wanted.
• Keep in mind it's just one day and what really makes it 'perfect' is having all your friends and family there with you helping you celebrate.
• It's an intense day so make sure you take a minute a few times during the day to take it all in, or else it just flies by.
• After the wedding: plan the next day on your own with only your new husband. You are so tired and you don't get to see much of each other on the actual day so it's great to spend some time together just the two of you.
• Get the best photographer you can afford – you don't realise how important the photographs are until you see the ones others have had taken. We absolutely love our photos and are both so pleased with them. We've been told by family and friends that they are 'magical' and some of the best they've seen! We can't thank Claire enough.
Biggest surprise of the day
How long the day actually is – non stop for more than 16 hours and boy is it intense as it's all about you. You smile so much all day it hurts! Lovely though!
Supplier Shout Outs
Venue – Oddfellows (www.oddfellows.biz)
Florist – Wild Floral Design (www.wildfloraldesign.co.uk)
Photographer – Claire Penn Photography (www.clairepennphotography.com). Andrea Ellison Photography was the second shooter.
For more information n Claire's work go to:
www.clairepennphotography.com
www.clairepenn.com
FACEBOOK
TWITTER