Todays wedding is brought to you by the brilliant Claire Penn Photography, a gorgeous winter wedding, with hints of vintage glamour set in the fabulous Oddfellows venue. Julia and Chris chose a winter wedding and Oddfellows in Chester was perfect for their Darwin inspired heme. With rich colours and incorporating animal figures along with a travel theme, this wedding is elegant and personal at the same time. Julia wears a stunning Ritva Westenius dress which also adds an element of vintage inspiration and glamour to the day. I just love the animal place cards they are so cute, well done mum and dad for creating them.
'The day was relaxed and happy, with lots of laughter, combined with a little bit of glamour and our own brand of quirkiness. Our family and friends made it extra special and totally bought into the non-traditional feel of the day.'

Julia and Chris were married on 21st Feb 2015 at Oddfellows, 20 Lower Bridge Street, Chester. 'We dabbled with many different ideas when we started to think about our wedding- possible locations included a beach in Cornwall, a city, an island fort and even the Masai Mara. We found Oddfellows when we were visiting our friends who had just moved up to Chester and immediately fell in love with the quirky style and city location- it was also the perfect venue for a Winter wedding with log fires and a garden that can be used all year round (we didn't want to plan a summer wedding, only for it to rain- this way rain was always in our plans!). We had 58 family and close friends during the day, with lots more friends joining for evening (107 guests in total). It took about 15 months to plan, but all done in a very relaxed way.'
How they met
We met many moons ago at school through mutual friends. Sounds cringe-worthy, but according to my diary at the time I thought something was different even back then- clearly my teenage-self was right! Fifteen years later, 5 years long-distance in the UK, 18 months living in different countries and 4 shared addresses we made it down the aisle!
The Proposal
It was always going to be tough for Chris to surprise me, but he managed it two days before my birthday in 2013 (I had asked him out two days before his birthday back in 1999). Home from work on a Friday night, I was simply looking forward to putting my PJs on and having a glass of wine, but Chris ushered me through to our living room full of candles and the ring. The evening was rounded off with fish and chips- the perfect Friday night!
How did you allocate your budget
We didn't really have a budget, we knew we didn't want to spend a crazy amount and as we took our time planning it a lot of the costs were spread out and we had some help from family. The most important thing to me was the photographer to capture the day.
How did you choose your photographer
I found Claire while searching the web and was immediately attracted to her style. Chris agreed and we loved the fact that she seemed to capture not just the look, but more importantly the feel of the day………..people's laughter, tears and happiness seemed to leap out of the images. We were so happy with the result and it feels like I've found a new friend as well as an awesome wedding photographer
The Dress
My dress was designed by Chenca Williams for Ritva Westenius. As I used to dance, I was so excited to discover that Chenca (who used to be a Principal for the Royal Ballet) took inspiration from dance and movement when designing her dresses. I felt like a movie star all day! My something old was a vintage 1920s bracelet from an Antiques Fair (Kitty Verity- www.kittyverity.com), my hair accessories were all from Etsy (Twig and Sparrow for the hair necklace) and the feather wrap was another online find. My shoes were from Hobbs and also look great with jeans! Ameilia and Kim from Nicholas Austin did the hair and makeup for the bride, bridesmaids and Mum's- they were lovely to work with and it was a great way to start the day. We all looked and felt amazing all day!
The Suit and Bridesmaids
Chris wears suits to work so we wanted him to have a nice one he could wear afterwards as well. In the end Chris went for a Ted Baker suit (we loved the linings!) and the contrasting waistcoat was from Next (to also match the Best Men). The beautiful bridesmaids were in grey wrap dresses by Eliza and Ethan.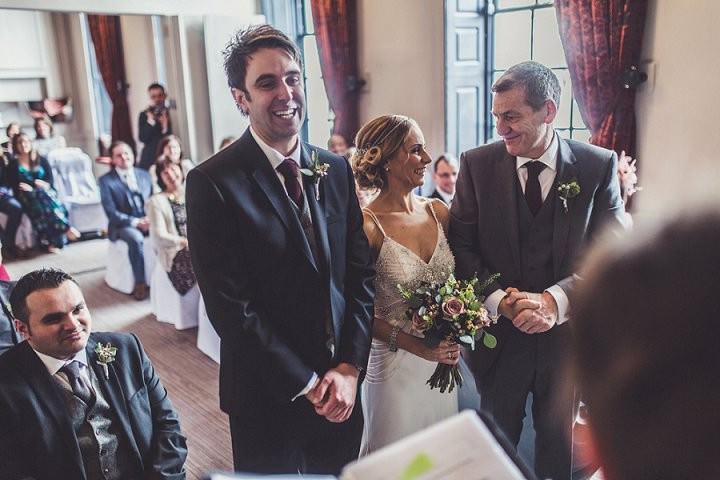 Theme or Colour Scheme
My aim was to not have a colour theme at all- the venue has so many gorgeous colours that we wanted to use throughout. In particular I loved the idea of 'dusty' jewel colours: aubergine, mustard, deep red and dark teal. In terms of overall theme- the animals used throughout Oddfellows together with the edge of glamour through the candelabra etc was perfect for us. I'm a Zoology lecturer and so we took the idea of Charles Darwin to incorporate both travel (which we both love to do) and animals into our theme, and gave it a bit of vintage feel using vintage sepia travel photographs. My parents were fantastic and made pewter style animal name cards for the tables and a banner for the fireplace which said 'The Day of Days', this is what Darwin wrote in his diary the day he got engaged.
Flowers
My flowers were by Wild who completely captured my idea of something 'wild' using a range of colours and some architectural flowers/foliage- both myself and Chris particularly loved the Brunia and the boys loved their pheasant feathers in their button holes
Decoration
We kept the decoration relatively minimal as the venue already had its own wow factor! We added our own touches with the banner and flowers. We also played old black and white movies that had either animals or far-flung destinations in them on the screens in the bar and the landing.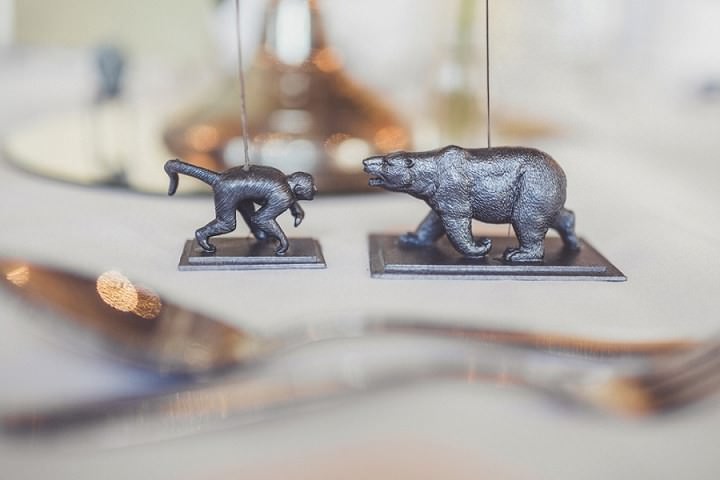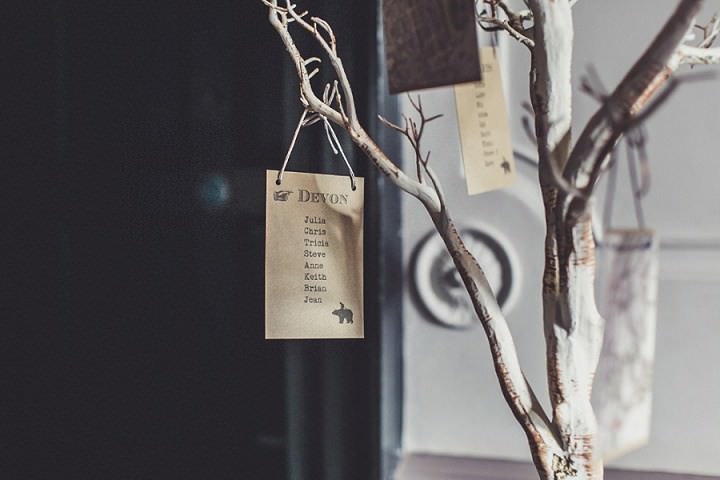 Food
The food was delicious- pork saltimbocca to start with apricots and pistachios, spiced chicken on a bed of creamed cabbage, pancetta gnocci for main and bakewell tart with amaretto ice cream to finish. We had a lot of 'alternatives' as well which were equally fantastic
Wedding Cake
I'm a bit of a baker (and completely in love with my KitchenAid) so we decided to have a 'bake off' and guests who wanted to make a cake added to our cake table. All the cakes were amazing and there were some surprises such as the beautifully decorated Africa cake. What was particularly nice is that everyone tucked in and there was barely any left at the end of the day
Entertainment
To continue our 1920s feel we had the great Kyle Harris to provide some live singing with a DJ as well. The dance floor was full all night!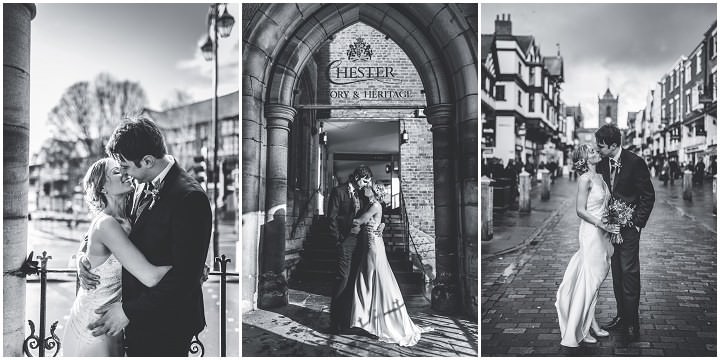 Buy or DIY your Stationery
I made all the stationary myself using Inkscape to create animal outlines and imported different texts. We printed them at home on postcard-size card and then used the same card throughout the wedding day.
Personal or Handmade Touches
In addition to the stationary, the table cards and table plan were made in the same way using vintage travel postcards. My parents were fantastic and really got crafty with my Mum quilting the banner (introduced in the theme section) and both busy with the spray paint to turn plastic animals into pewter-looking card holders! One of the personal touches was our 'icon' of a bear and a monkey- beginning with the save the date cards these characters were present everywhere- the bear is Chris (his favourite animal and as a snowboarder a polar bear was very apt) and the monkey was me (ok, so I work on orang-utans, but a monkey worked well with the bear!). Chris' surprise presents were some pewter bear cufflinks and a set of beautiful drawings by my cousin Cat of the Bear and the Monkey.
Special Moments
Other than finally being able to say that Chris is my husband (!), I think it's the personal things and the little touches that really made the day. From our Mum's being the witnesses (Mum's should be on the wedding certificate too!), the fantastic readings (including a personalised one from Chris' Auntie Karen that made everyone laugh!), to people travelling from afar (Australia and America in our case- shout out to Cat, Mark, Ed and Brownie!) and our friends and bridesmaid/groomsman Nic and Ad buying us the Oddfellows rose, there are so many amazing bits that combined to make it a wonderful day
Advice to other couples
Focus on what's important to you, don't get wrapped up thinking that you must do this, or do that. Do it your way and in a way that means you can both enjoy it- if the pressure of doing a speech will spoil that first half of the day for the groom, why do it? The whole point is that this should be one of the happiest days for both of you. Also, give yourself time to plan- planning is half of the fun and if you can take your time it will be much less stressful
Biggest surprise
Finding out where our 'minimoon' was! Chris had booked it as a surprise and we opened our presents together after the ceremony- first I opened some gloves (!?), next Chris showed me some currency from our destination (it wasn't Euros!) and finally I unwrapped a travel guide to Iceland! Amazing surprise and a great place to go- we had a fantastic few nights away after the wedding.
Supplier Shout Outs
For more information on Claire Penn's work please go to:
www.clairepennphotography.com
www.clairepenn.com
[email protected]
FACEBOOK 
TWITTER
Phone: 07729 282519