Welcome along to another week, I hope this Monday finds you well. To start off the week I have a beautiful and sunny wedding from my favourite place Ibiza. It was sent into me by Gypsy Westwood who I have featured before on the blog and who I had the pleasure of meeting last year. Gypsy is also the photographer for one fo my Ibiza Weddings this June.
It's the wedding of Joshua Martin & Lottie Coleman who were married on 6th July 2011 at Paissa d'en Bernat – St. Josep, Ibiza, they had 45 guests and the wedding took 11 months to plan. Te describe their day as 'A really relaxed day in the most beautiful surroundings. If only we could do it all again!'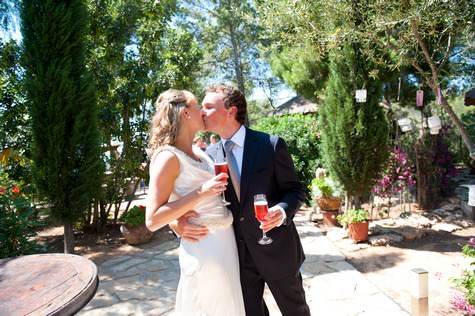 It's such a beautiful day, so sunny and so relaxed. The Villa is just stunning, and it's a Villa I recommend personally for weddings for brides who enquire about getting married in Ibiza. It is so beautiful, with such gorgeous natural decoration, so many plants, and an amazing pool. Gypsy has captured the day perfectly and Lottie and Joshua look so happy.
How they met
We met at a youth theatre group ten years ago.
The proposal
It was all very unexpected! Joshua proposed whilst we were on holiday in Ibiza in July 2010. We went out for a walk along the seafront after a meal one night & while we sat by the edge of the sea with some champagne he asked me.
The venue
We have always wanted to get married abroad & having spent some time in Ibiza it just seemed like the perfect place. Paissa d'en Bernat was exactly what we were looking for because it allowed us to have the whole wedding day, including the ceremony, in one place. I loved the fact that guests didn't have to travel between venues and it made for a really laid back, relaxed day.
The Dress
My dress was by Jason Jennings from Truly Gorgeous in Chichester. My earrings were from Zigzag Jewels. I made my hair accessories & my shoes were from Dune – lovely and sparkly in the sun!
Suit and bridesmaids
The bridesmaids dresses came from Coast & their shoes were identical to mine but in silver. Their pendant and earring sets also came from Zigzag Jewels.
Suit was from Suitsupply in Westfield.
Theme
We stuck to a blue and silver colour scheme. We wanted everything to tone in with the bright blue sky and beautiful sea view. My dress had loads of pearls sewn onto it which started a kind of pearl/shell theme for the table decorations & also the cake.
Food
Welcome Aperitif: Pomegranite cava served with warm crispy bruchettas topped with sun blush tomatoes, balsamic glaze and parmesan shavings & crushed fresh pea, mint and crumbled baked feta.
Starter: Mezze – Tapas – this was delicious! It included Chorizo, mozzarella, Serrano ham, fig jam, olives, roasted peppers, vegetable antipasti, alioli, prawns & manchego cheese.
Main: We had a choice of fillet steak with rosemary & rioja jus or parmesan and sun blush tomato stuffed chicken breast rotolo wrapped in Serrano ham.
Dessert: Bite sixed amaretto scented chocolate fudge brownies, Lemon & lavender tarts (yum – we want the recipe!) and fresh strawberries with warm chocolate fudge dipping sauce.
Entertainment
During the aperitif we had a Spanish guitarist & then we hired a sound system to play our own i-pod throughout the rest of the day. In the evening we played songs through the ages, starting with the 50s! We chose music that everyone would know so that the dance floor was full all night – it worked!
Flowers
Because the gardens at the villa already had stunning flowers & colours everywhere, we decided to keep bouquets & table flowers really simple. We just had blue hydrangeas which we tied together ourselves with ribbon for our bouquets & then a few stems of hydrangeas in the vases on each table.
Decoration
Because Paissa den Bernat is such a beautiful venue we didn't feel we needed much decoration. The gazebo where the ceremony was held was covered in flowers and voil drapes and the chairs had silver sashes to match the bridesmaids dresses. In the evening we had candlelit lanterns hanging in the trees & surrounding the pool area.
The tables had vases filled with pearls, shells and hydrangeas. Each napkin had a sprig of rosemary and were tied with silver ribbon.
Personal touches
• Invitations & RSVPs – We used a picture of the villa and created postcard style invites for our guests.
• Table numbers – we named each table after a beach that we know and love in Ibiza & created postcard style pictures for each which matched the invitations in style.
• Cake – I made the cakes & hydrangea petal decorations myself. Some might say mad to go abroad and use an oven you've never used before to create a wedding cake – but I had a lot of fun!
• Place names – were shells with each person's name written in silver pen.
• We hung a heart shape message board up in one of the trees and loads of hand died labels for people to write messages on.
• We had 2 blackboards, one saying 'wedding this way' at the top of the drive and a heart shaped one which hung on the bar advertising the 'I do' cocktails.
• The 'I do' cocktails had homemade stirrers with 'I do' on one side and '6th July' on the other.
• I made pearl hair slides for me and the bridesmaids.
Special moments or
• The whole day was just brilliant – everything we had expected it to be. I don't think I can pick out a particular special moment! Everything ran so smoothly & all the elements of the day just linked together seamlessly. We had an amazing sunset that evening, timed to some music, which started the evening party off perfectly.
• The speeches were great & seeing everyone's faces when I walked down the isle is something I won't forget.
• The great thing about an abroad wedding is you get to spend more than just the wedding day with all your guests. Everyone's on holiday, so are already in the best of spirits. When I think back to our wedding, I don't just remember the one day, I remember all the time we got to spend with everyone that's important to us. The whole week was without a doubt the best week of our lives.
Advice
Just have fun at every step of the way, it will go so fast! Relax and take moments out of the day to appreciate everything that you've worked so hard to create. Spend as much of the day together as you can.
During the planning just remember to do things your way and don't get too het up with traditions if they're not important to you.
Advice for the men – If it's going to be a hot day, pack an extra shirt to change into – you don't want sweaty photos!
Biggest surprise
I didn't really have any surprises! We did realise how lucky we are to have such lovely friends who made huge efforts to make sure they all got out to Ibiza for us.
Supplier Shout Outs
Catering – Eat Ibiza – www.eat-ibiza.com
Photography – Gypsy Westwood – www.gypsywestwood.com
Hair – Belissima – www.bellissimaibiza.com
Venue – Paissa d'en Bernat – www.paissadenbernat.com
Dress – Truly Gorgeous – www.trulygorgeous.co.uk
Wine & Spirits –  Bodega Ribas, Santa Eulalia – really helpful & friendly people.

For more information on Gypsy's Photography services go to:
www.gypsywestwood.com
http://gypsywestwood.com/blog/
[email protected]

[jprel]