Todays wedding is full of sunshine and I absolutely LOVE it! As you know I got married in Ibiza, so when I get the chance to feature an Ibiza wedding on the blog I jump at the chance. Todays wedding was captured perfectly by the wonderful Gypsy Westwood (who has the most amazing hair by the way) and was planned to perfection by Cardamom Event Planners. Hannah and Scott held the most incredible day, with a cliff top ceremony, pool side reception and dancing underneath the stars. What a stunning day it is. With the prettiest of flowers the yummiest of naked cakes, I wish this wedding was my own. Take me back to Ibiza NOW! I want to get married again!
The best day ever. To have all of closest family & friends in Ibiza with us was truly amazing.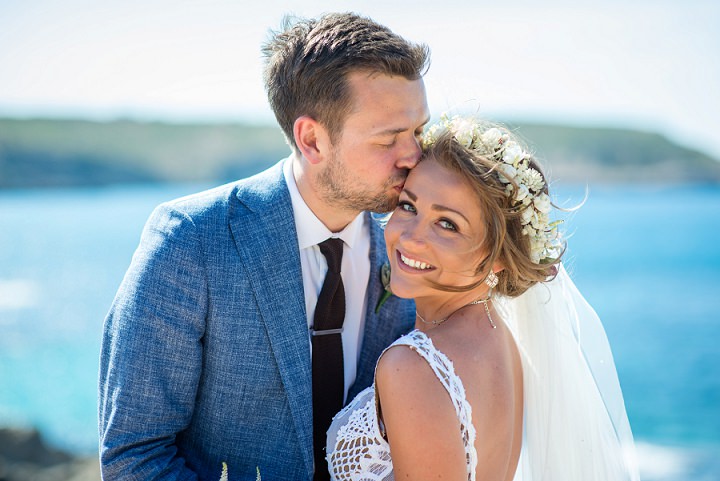 Hannah and Scott were married on the 29th of May 2016 at Casa la Vista Villa Ibiza in a clifftop ceremony followed by courtyard dining and a poolside party under the stars. 'We had seen some wedding pictures in Ibiza on Instagram and fell in love with it before we had even visited the island! We wanted something abroad which was accessible to our guests & we really love Spanish culture, which combined with the islands charm & beauty made it the perfect location! We went over quite a few times to research and look at all the different venues & villas, then we met JoJo from Cardamom who was experienced at making the wedding planning process both easy & really fun to plan. As soon as she showed us the villa we knew it was the one.  It had everything we wanted – we could have the ceremony on a cliff overlooking the sea, post ceremony drinks by a fountain overlooking the bay, dinner in a romantic pomegranate courtyard then a party in the garden, poolside under the stars. We had 50 guests and the wedding took 18 months to plan.'
How they met
We met through two of our closest friends and have been together for 7 and half years.
The proposal
We went to New York for New Year's Eve and we were walking round Central Park in the day.  I was looking for the perfect spot that was quiet and then after about 2 hours of searching we were down a path just off one of the famous walkways when I heard Saxophones being played. I knew it was the perfect spot so I had to do it there and luckily she said yes!
Where did you splurge on your wedding?
One huge part of the wedding for us was the music – we love live music and ever since seeing Lovely Laura on saxophone we knew we had to have her for the day.  She played Balearic Unplugged for our post ceremony drinks which is her on vocals & sax with Tyrell on guitar, then she returned at night with her husband & DJ Ben Santiago to get everyone on the dancefloor. We also loved Claire Wakeman and her band Sunshine Kicks who JoJo recommended for us, so they played after dinner for us also & even added our first dance song into their live set.
Why did you choose your photographer?
We had seen some of Gypsy Westwood's work and thought it was amazing.  She knows everything there is to know and captures the light perfectly.  We wanted natural shots and there are some she's got that we had no idea she was there. She made us feel really comfortable and not forced at all.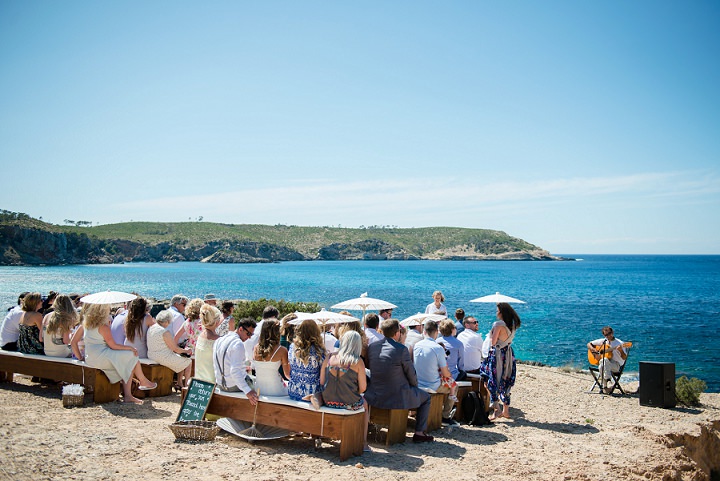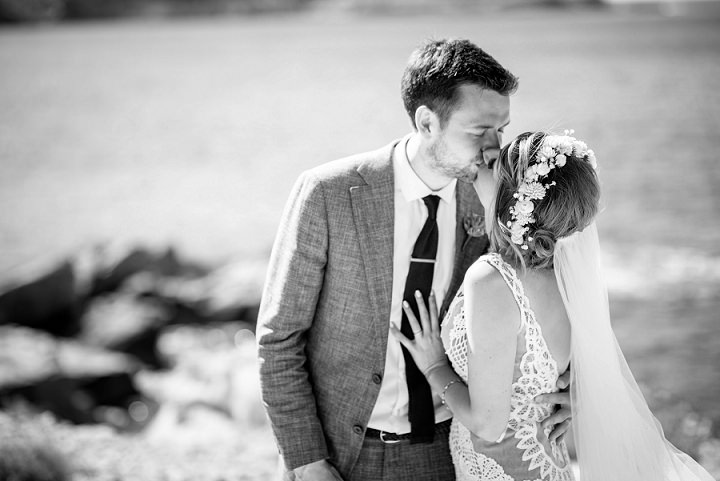 The dress
The shoes were Jimmy Choos, jewellery was from one of our favourite places in Kalkan Turkey & the dress was from Australia by Jane Hill.
The suit and bridesmaids
The suit was from Suit Supply in London – a Linen / Cotton blend for the heat as a normal suit would've been unbearable! The Bridesmaids dresses were Eliza & Ethan and are really versatile so can be worn in a number of ways.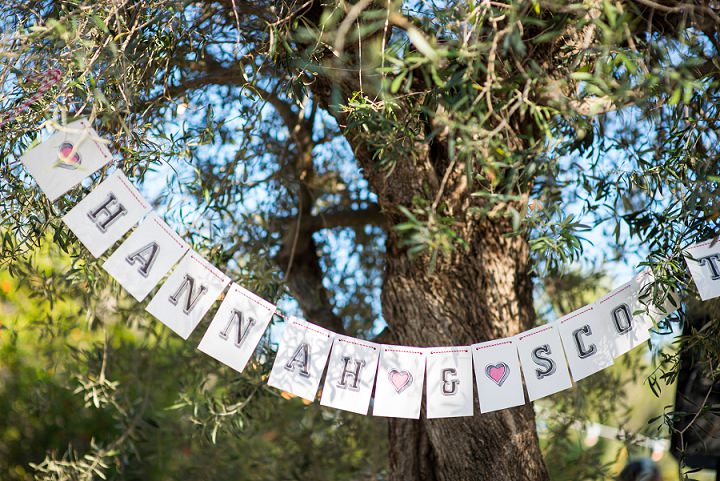 Theme or colour scheme
We wanted it to be rustic & white with pops of colour.  The tables were white with white chairs and the centrepieces were coloured mason jars with colourful flowers in each, the same as the bouquet.
Flowers
The flowers were a huge part of our inspiration and theme. We love unusual bright flowers and especially succulents. We worked closely with JoJo & Cardamom's florists and after 3 different mock up bouquets we finally had the perfect combination. We used a grey succulent, coral and pale pink peonies and orange bright roses. They really pop in the pictures.
Decoration
We wanted to keep it really simple. We used lots of lanterns, candles and festoon bulbs across the courtyard and in the garden. The venue didn't really need much decoration as the villa is so beautiful as it is. JoJo the Director at Cardamom & our event manager just suggested a few little additions like the wine barrels as high tables and comfy seating by the pool area for people to chill and take in the views.
Food
We love Spanish food so it had to be Paella.  We had a chicken and a seafood paella with beef brochettes & seabass on the barbecue alongside potato & Mediterranean salads on the tables to share.  We wanted it to be informal, so everyone could help themselves to what they wanted.
The wedding cake
It was a huge naked Victorian sponge cake with fresh flowers the same as the bouquet layered around it.
Entertainment
For the ceremony we had a Spanish guitar playing. Afterwards, Lovely Laura on vocals & sax with Tyrell on guitar as Balearic Unplugged. For the party we had the Sunshine Kicks band followed by DJ Ben Santiago & Lovely Laura on Sax.
Stationery
The tables had menus printed on brown craft paper which we printed via a contact in the UK and JoJo suggested Sal de Ibiza Salts as Wedding favours so everyone could take a bit of Ibiza home with them.
Personal Touches
We wanted our family & friends to know just how special it was to us that they had come abroad for our wedding so we wrote messages in a bottle to every individual person with their own message on.
Special moments or highlights
Very difficult to answer as the entire day was just so magical. One really special moment for us was Hannah's brother Harry reading some lyrics he had written about us. It had everyone in stitches and Harry is such a huge part of our lives so it really meant a lot.
Advice for other couples
Enjoy every minute of it.  From choosing what suit, colours, decorations, music & food just enjoy the whole process.  We had such fun planning it and felt so chilled about it all.  It helps that JoJo was a such massive help! Everyone says the day goes so fast and it really does, so just make sure you're present.  Savour every moment as it really is one of the best days of your life.
Biggest surprise of the day
For me (the groom), it was Hannah's dress.  I had waited for almost 2 years to see the dress and I couldn't believe it when I saw her walk down towards the cliff.  She looked amazing and so happy.
Supplier shout outs
FOR MORE INFORMATION ON GYPSY'S WORK PLEASE GO TO:
www.gypsywestwood.com / www.gypsywestwood.com/blog / FACEBOOK / PINTEREST / I:@gypsywestwoodphotography
Due to an email issue if you have emailed me between the 2nd & 9th of December, please resend it.
X