Today we are in my favourite part of the world, Ibiza! As you know I got married in Ibiza over 8 years ago now, so when ever I get a wedding submission from Ibiza I always want to feature it! Today's wedding was sent into my by the lovely Lucy at Mambo Weddings, who has been planning weddings in Ibiza for years now. Iris and Frank chose Ibiza as Frank owns a house out here, so it seemed natural to have their wedding there as well. They hired a private villa and planned a low-key relaxed wedding, with plenty of personal touches and lots of delicious food. With such a stunning backdrop, this wedding is filled with sunshine, smiles and has been captured beautifully by Summer Vows Photography.
A very relaxed, yet classy wedding which perfectly matched the location and the bridal couple.
Iris and Frank were married on the 27th May 2017 at Can Frare, Ibiza. 'Since Frank and his best man Marc have bought a house in Cala Salada, very close to Can Frare, 3 years ago it was quite obvious to celebrate in Ibiza. We always knew that we wanted our wedding to be intimate and relaxed, we wanted it to take place in a sheltered space: only us and our guests. So we have decided to rent a private villa with a big garden and pool area. This was also the starting point of our planning. Frank is an architect, I have a brand for home textiles so we put ourselves under quite some pressure finding the perfect place. I did a lot of research on the Internet and made appointments for several villas. Can Frare was the first one we saw and we fell in love instantly. We had 50 guests and spent 8 months planning.'
How they met
We have been together for almost 6 years. We have met at the anniversary party of a bar we both went to quite frequently. We were both in relationships so we weren't really looking for someone but somehow got into a good conversation. I had just finished university and was looking for job options, Frank knew some interesting people so we decided to meet for lunch. We met for dinner some time later, our ways kept crossing and we fell in love.
The Proposal
The proposal was very casual. We have spoken about getting married before so Frank could be quite sure I'd say yes. It was the last night of our summer holiday on Ibiza. We were staying at our house waiting for the sunset. I was still in my bikini Frank wore shorts. He brought some Rosé to the terrace. On the tray for the glasses there was also a small box with a platinum engagement ring. He asked me if I would marry him. I said yes, of course. That's how we developed our motto: ¡sí claro!
How did you allocate your budget?
We focused on the location, the atmosphere, the food and the drinks. We tried to put most of the budget into our celebration on Saturday and tried to keep the pool party on Friday simple. We were aware of the fact that villa weddings are always a bit more expensive than at restaurants or other wedding venues.
Where did you splurge and where/how did you save?
The thing which we spent most on was the location. We rented the villa for a whole week so we could stay there with our families, Frank's best man and my maid of honour. We wanted everyone to get into the right mood so this was totally worth it. We spent a quite big budget on stationery. A friend of mine designed little books with information on the destination like tips for hotesl, restaurants, beaches etc. and the wedding which we gave to our guests in advance so they could plan their trip easily. There were little possibilities to try the caterers on the island during winter. So we brought our befriended Italian chef Livio and his girlfriend Alessia from home who cooked for us the whole week which was very convenient. We went for local products and compared prices when we picked the vendors. We kept the flower decoration to a minimum. Flowers are extremely expensive on the island. And I was such a modest bride, I got my dress off the rack at the Outnet
Why did you choose your photographer?
Our wedding planner Lucy sent us a list of recommendations. We chose Eva because of her non-cheesy way of capturing emotions. We really liked her work which she showed on Instagram.
The Dress
My dress for the ceremony was by Halston Heritage. My shoes were Valentino, I got my veil from etsy. For the dinner I had another dress by Mikael Aghal. After trying several dresses in bridal boutiques I found my two dresses on the Internet. I have never been the princess type and got sick of all these trial appointments and shop assistants telling me 8 months prior to the wedding day is already late and that I'm too tall for many dresses… So I decided to create my own look with a very simple stretchy dress combined with a long veil.
The Suit and Bridesmaids
Frank wore a Zegna Jacket and shoes by Magnanni. My maid of honour bought her dress on her own, I think it was Alexander Wang.
Theme or Colour Scheme
Our theme was ¡sí claro!. We wanted everything to be easy and natural. And we gave a quite strict dress code to our guests. They should not wear dark colours.
Flowers
I have a thing for South Africa and we have spent beautiful holidays there. So I decided to have proteas in the bouquet and on some of the chairs. On the dinner table there were palm and banana leaves.
Decoration
We made our own dream catchers for the pool party on Friday as a referral to the boho island. For the ceremony we had decorated the balcony of the beautiful house with garlands and the fences with small vases filled with flowers from the garden. For the dinner table I brought small bowls for salt and pepper from my bachelorette trip to Marrakech and I got copper photo frames for the menus from Madam Stoltz. The highlight were the cloth napkins which I got printed in the design of our stationery.
Food
Perfect Mediterranean food and much too much. We love sharing so we had most of the food served on wooden platters and in bowls in the middle of the table so everybody could take what they liked. We had five courses and a little bit of everything: Prawns, mussles, asparagus, goat cheese salad, pasta, fish, meat, tiramisu.
Wedding Cake
We skipped the wedding cake for ice cream from a cold stone.
Entertainment
We didn't need much entertainment since our group was very homogeneous. On Friday we had a very talented singer, Keisher, for about two hours and on Saturday we had Brian from Beezwax DJ. Plus we got surprised by the owners of our house. They had arranged a show by an ibizan folk dance group which meant a lot to us.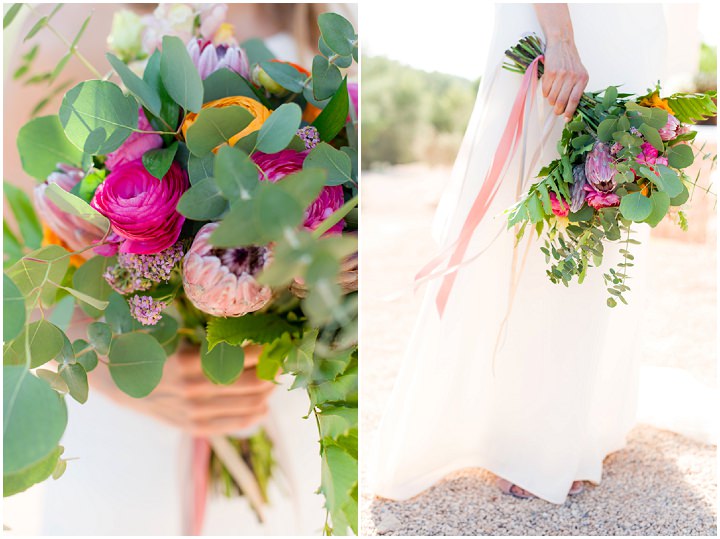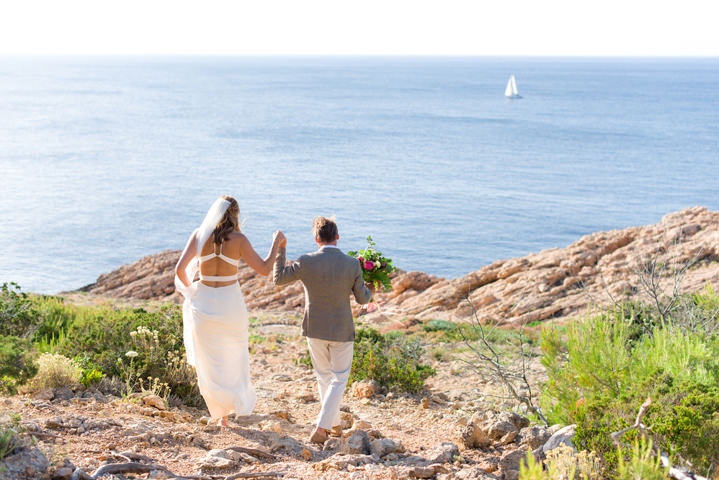 Who supplied the stationery?
My friend Maike Merz, Büro Mattschwarz.
Personal Touches
We made the dream catchers, Franks' mother got flowers from the garden to decorate the fences and the balconies, we designed our own cloth napkins.
Special Moments or Highlights
We enjoyed every minute. Our highlight on Saturday was the huge dinner table and seeing all our beautiful friends and families dressed up for us.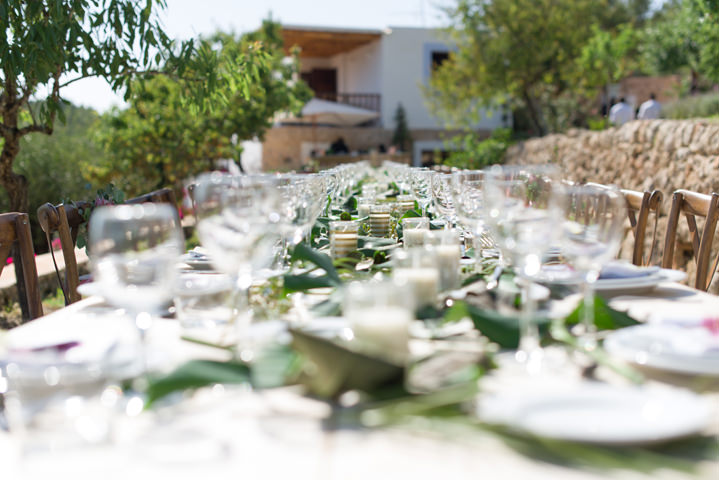 Advice for Other Couples
When you are planning a destination Wedding try to stay small and homogenous. Have a wedding planner. Don't let other people tell you what you are supposed to have. Just try to figure out what you want. Don't think you could have any DIY activities on the Wedding day itself. I consider myself as a very relaxed bride but still wasn't able to think clearly and focus on decoration, the seating order etc.
Biggest Surprise
We have had some no shows so I changed seating arrangements the night after the pool party some hours before the wedding. By mischance I forgot to fill in the names of two guests who actually attended the dinner. But we found two chairs for them. Sorry Susanne and Alex!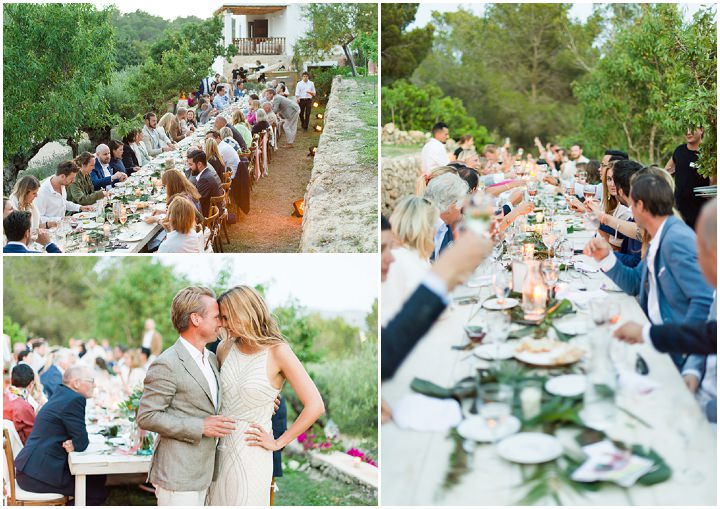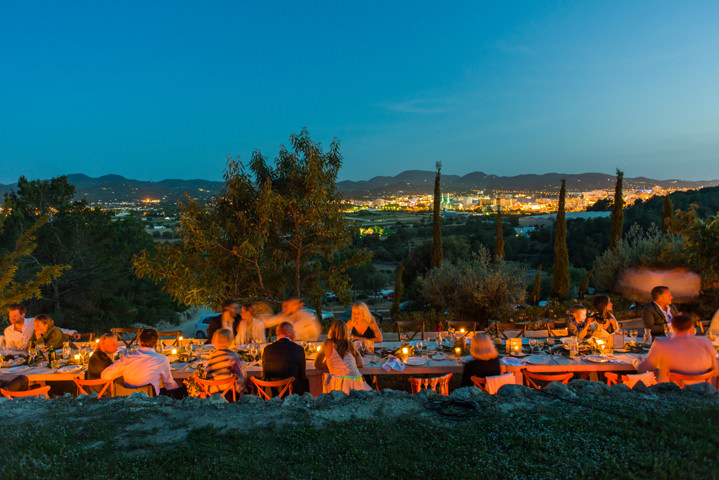 For more information on Eva's work go to: