To start the week off with a bang, I have THE most stunning wedding for you, all the way from sunny Spain! It featured the most gorgeous bride and groom, I actually had to go and get my Husband to show him when I was putting this post together as they are both so ridiculously good-looking!
It's the wedding of Helen and Dave Little who were married on 23rd September at Deia church & hotel La Residencia, Deia, mallorca Spain. They had 130 guests and it took 6 months to plan. I'd like to say a HUGE thank you to Kenny and Helen from RAW Wedding Photography for sending me in this wedding, they are regulars to the Blog and they know I LOVE their work…..They ahve really outdone themselves with this wedding!
This wedding really does Rock on so many levels, from the stunning dress that Helen had made for her, to Dave's Alexandra McQueen suit, the band 'The Overtones' that they flew out especially, the amazing scenery, the food, the amazing car………………..and the donkeys!! I LOVE Donkeys and anyone who has donkeys at their wedding is a winner for me! Helen and Dave describe their day 'Nothing will prepare you for how amazing and emotional your big day will be. It was the most perfect day of my life, and I married my prince'
How they met
We met in a bar 3 years ago and the rest is history
The proposal
He proposed in mexico drinking champagne at sunset .very romantic
The venue
The rustic feel to the village, it's the most romantic place i've ever been in the world
The Dress
My dress was made bespoke by a Liverpool designer Phillip Armstrong. He was so fantastic and came to the wedding to dress us all with his partner Tony A, and the shoes were by Gina.
The suit and bridesmaids
Alexandra Mcqueen suit with Gucci shoes and the bridesmaids wore Phillip Armstrong dresses with shoes from Carvela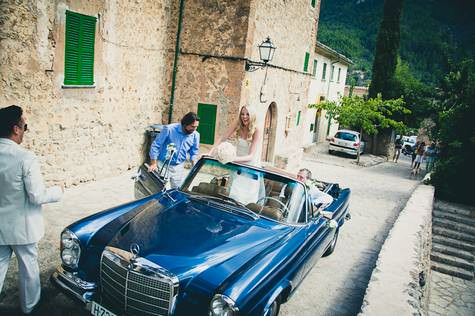 Theme
I didn't have a theme or colour, it kind of all just came together, and I just kept all colours neutral and dusky.
Food
We ate crispy belly pork and king prawn to start, and lamb wellington to follow and white chocolate cannelloni to finish.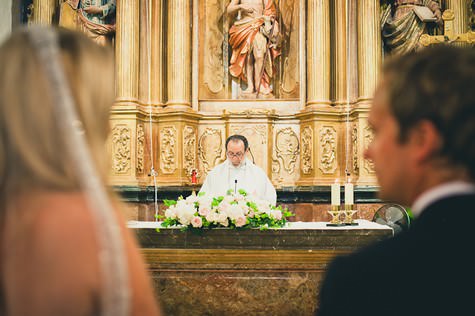 Entertainment
We had the group the overtones; they made it so special for us.
Flowers
Old english roses, peonies and hydrangeas.
Decoration
Very simple vase name card holder Cox and Cox) and Swarovski scattered crystals.
Personal touches
• We had a painting done by the local artist for guests to sign
• My sister made our favours (small glass jars with sugar almonds and ribbon)
• We had donkeys at the hotel after we walked down from the church which made it special as I love donkeys
• Because it was in Spain and people came for the weekend we made hampers for guests to keep which included wine, chocs, olive oil, local salt, champs and a book of pictures of Dave and I and our families (which my sister made)
Special moments
The band the overtones, i've loved them for a while which made it so special.
The weather also made it special it was perfect.
Just having all my family and friends together with us.
Planning advice
Try not to stress in the planning and enjoy every second of it
Biggest surprise
My dad's speech as he's a man of little words but he touched everyone with a beautiful long speech  and also my best friend flew out to surprise me on the day …after we had fell out earlier in the year.
Supplier Shout Outs: 
For more information on Raw Photography go to:
07961 591099/60
[email protected]
www.raw-weddingphotography.co.uk
FACEBOOK
TWITTER