A few weeks ago I posted the AMAZING wedding of Jenny and Ben which you can see HERE. It was shot by the very talented James Melia in Greece. A few weeks later I had an email from James telling me that Jenny was really pleased with the post and so was her sister Becky, so much so that Becky had asked if I would like to post her wedding. When I saw a few shots from it I was gob smacked! The total opposite of Jenny's beautiful day but equally as gorgeous! Set in -35 degree Canadian snow, Becky braved the snow with no coat to get some of the best wedding images I have seen!
Becky and Daniel were married on 17th January 2012 at the Emerald Lake Lodge, Canada, After Daniel proposed live on TV  in the TV series  Tool Academy which they won!!!
The UK reception was held at Le Metro Halifax they had 6 guests.
It really is a truly stunning wedding, the scenery is all the decoration and detailing that they need, with James doing an amazing job with some beautiful portrait shots! I was truly spoilt for choice when putting this post together, it's not often a bride braves the snow in such a brave manner, and she make sit look like it isn't even cold!! Gorgeous images for a gorgeous couple!
Becky and Daniel say 'Our wedding was chilled, romantic and cold. Although standing there in the -35 snow didn't effect me at all during the ceremony. It was amazing'
How they met
We met through a mutual friend – we had been together 2.5 years when we got married.  Not the longest of relationships before marriage but we both knew it was right.
Our first date was to Disney World Florida. I'd arranged it with my ex and he pulled out 2 weeks before going. I asked Danny last-minute, we arranged to go as friends but we definitely fell in love there.
The proposal
It took place on a television show – Tool Academy. We won the season and when I found out he won, he got down and asked me to marry him.
Watch it HERE
Venue
Because my sister lives out there, we want to eventually live out there and because its was just with my family so Danny knew he was joining a loving family.
The wedding planning
We only wanted something small and intimate. We ended up in the most beautiful place I've ever been to. I'd say it took us 3 months to arrange. I had to get my dress over from the states because I didn't give the dress shops in Halifax enough time to get it. I knew which dress I wanted.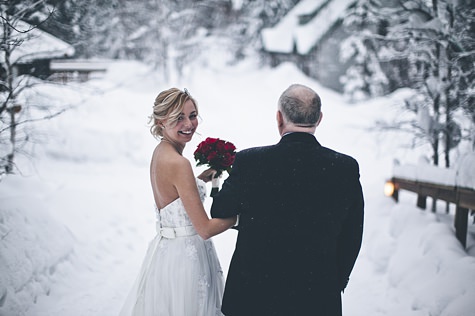 The dress
My dress is the Alfred Angelo Disney Princess inspired dress – Snow White. – I had to have something Disney related after our first date. The headress was from HF Couture
And the suit and bridesmaids
The suit was high street – Burtons. He bought it 1 week before we were due to go.
My bridesmaid – my sister Jenny was wearing BCBG, she bought this the day before because she's pregnant we didn't know how big she would be.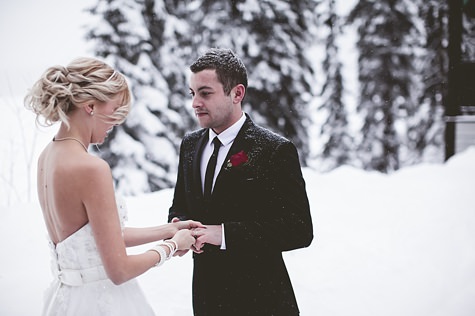 Theme
We literally didn't have a theme. We just wanted to get married. It was only until the day before the wedding where we saw a red cape, the one that features heavily in the pictures. We bought it for $10 (£7.50) and that became the theme. Even my flowers were last-minute, we ordered them 3 days before the wedding.
Food
We sat down and had a family meal at the restaurant, because of the timing although we didn't book the whole place to ourselves, no one else was staying at the hotel. It couldn't have been more perfect.
Flowers
Red Roses for me, White Roses for my bridesmaid
Personal Touches
I have done a lot of DIY for our party back in England, but for Canada there wasn't any.
Special moments
My special moments we walking down the aisle and seeing Danny also been pleasantly surprised that I wasn't freezing to death. Also after everything and we went back to our room we sat out on the balcony and it was the most silent place I'd ever been. And when we turned up at the venue, we started driving down the road and saw all the trees with snow on, it was like been in a Narnia film.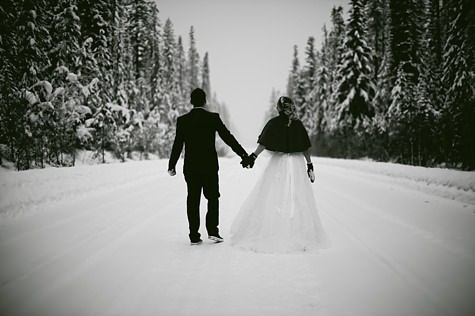 Wedding Planning
Just remember its about what you want, I always thought when I was younger that I wanted a massive wedding with everyone I know there. But in the end up I would have happily done that day with just Dan and I been there. Also sometimes the perfect day happens if you just wing it.
For more information on James go to:
www.jamesmeliaphoto.com
[email protected]
TWIITER
FACEBOOK