Say what you like about awards ceremonies, some people think they are great and others think they are just one big waste of time, but once you have been nominated for one your thoughts may change a bit. I've always been a bit of a doubter to be honest, there seem to be so many awards these days, some I see as reputable and some just massive publicity for the people running them, while others are just one big 'vote for me' plea from suppliers. So when I found out about The 2012 Wedding Industry Awards I was interested!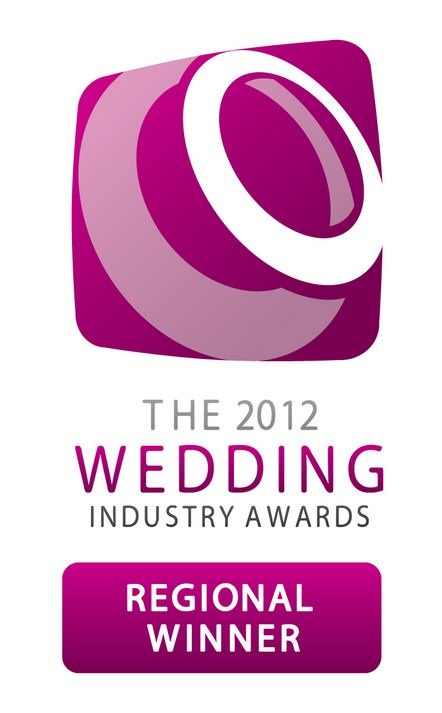 The reason being is that the main bulk of the awards is voted for by the bride and groom, the people who actually use us wedding suppliers, so making it a lot fairer for us smaller one man bands! Votes are taken from our customers and it's the content of the votes not the number of votes that are taken into consideration.
This year saw the first year of the awards so no one really knew what to expect, but somehow I was lucky enough to find myself as a regional winner in the North East Wedding Planner category. I've only been going for 2 years, so to win this award really did make me pretty chuffed with what I have achieved in such a short space in time. I then found out that I had also been shortlisted for the best new comer award!…………..all this meaning that along with the other 6 regional wedding planner finalists I had been put froward for the national award.
So last week I went down to London for the award ceremony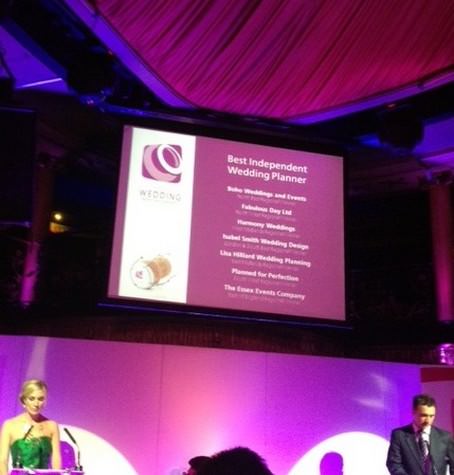 The night was busy, hot and hectic!………….I didn't win, and I have to admit at the time I was pretty gutted! I didn't expect to win, as I am still a relatively new company but at the same time it's hard not to be disappointed! BUT I have to remember I am still a regional winner and to get that far was pretty incredible!
So I'd like to thank all my lovely couples who voted for me, without them I wouldn't have made it as a regional finalist! Now the awards are over I have been granted access to the voting feedback and I am pretty bold over by the amazing feedback I got from my amazing couples. I thought I would share with you some of the lovely comments my brides and grooms left for me………….yes self indulgent, but hey if I can't blow my own trumpet sometimes, then hell who will!!
So here are a few of the wonderful comments left by my couples. What I am so pleased about and what seems to be a running theme is that as well as supporting my couples and being there for them, offering advice and inspiration they all seem to acknowledge the fact that I have encouraged them to have the day they want, a day that is reflective of who they are and to try something different.
General Comments
"Kelly was absolutely amazing. From the first email I sent her to the coordination on the day of the wedding she surpassed all expectations. She was open to all of our suggestions and ensured that our wedding remained the way we wanted it while giving us loads of help and support. She gave us lots of ideas we used on the day like a post box for cards and a wishing tree. I would never have known about these things without her. I also called and emailed Kelly a lot in the lead up to the wedding. She was always supportive and helped me to feel calmer and more prepared for our big day. I would recommend her service to anyone. She made our day 1000 times more enjoyable because we didn't have to worry about anything – she did all the hard work. In addition to all this Kelly is a lovely person who was a pleasure to work with!"
"kelly is a good wedding planner and was a fountain of knowledge ! kept me on the right track also. have already recommended her"
"The service we had from Boho Weddings and Events was excellent. We booked them for on the day co-ordination of our wedding reception and found that in every respect we were dealt with in a friendly and professional manner. We had a telephone consultation with Kelly from Boho almost as soon as we had booked her services and she was interested and excited about the ideas we already had. We met with her three times before the actual wedding and she was extremely organised, having kept a personal file on our wedding plans and how we were progressing with them and what we needed from her.  The day before the wedding Kelly met us at the venue and set up the reception hall. She arrived early the following day to make the final preparations and from our earlier meetings with her we knew we could completely trust her to arrange things as we wanted them. Having her to hand things over to in the days before our wedding meant that we could relax in the knowledge that everything would be organised perfectly on the day. During the wedding reception Kelly was very much present but in the background, so much so that some people didn't notice she was there but we are positive that without her there our day would not have run smoothly or been as relaxed for us as it was. We feel that the service we received from Boho weddings was second to none and worth every penny."
"Kelly was tremendously helpful in sourcing the perfect suppliers, ones that were not entirely obvious and that I definitely would not have found myself."
"Kelly was amazing at understanding what we wanted our wedding to be like. She offered advice and suggestions as well as accepting our ideas and plans. On the day she put my mind at rest and organised our wedding picnic beautifully and ensured everything ran smoothly. There is no way we would have been able to do this without Kelly and her enthusiasm and expertise."
"I wanted someone there on the day to make sure everything ran to plan so i didn't have to worry about a thing…I met Kelly at a wedding fair and I was surprised to hear that it was possible to just have 'on the day' coordination. It was exactly what I wanted and Kelly was just brilliant – before, during and after the big day. She was extremely  professional but also good fun, and all the guests commented on how impressed they were with her!"
"Boho provided a truly excellent service, handling all of the problems that we faced with confidence and ease. Our numbers increased dramatically, the marquee suppliers let us down, the venue was a challenge, the caterers decided they did not have the capacity to cope – all of this some 6 weeks before the event. Boho was fantastic, coped with it all and we had a wonderfully smooth wedding day, with memories we will treasure forever"
"Me and my husband had the best day of our lives. It was a magical day full of fun and good times and was planned to precision. Without Kelly it would have been very difficult to arrange and manage as we had 160 guests in the day and 250 at night so her help was amazing. We were so grateful for her time and experience. She thought of every eventuality."
"Kelly's enthusiasm for the industry, the job and specifically her understanding of the want for unique and individual weddings sets her aside. Nothing is too much or too little, she immediately understood my vision for the day, she calmed my fears, organised my to do lists and recommended brilliant suppliers as I required, but even more than that – her passion made me feel even more excited about my plans for my wedding. On the day, she was so friendly and personable with the suppliers and guests as well as always maintaining a professional approach. She struck the balance perfectly, ready with an ashtray, a mop, a smile and a simple solution to any/every problem. She was a joy to have on board, and she worked so hard whilst never looking anything but happy- I felt like I had a secret weapon that meant nothing would be anything but perfect! My day would not have been the same without her help in the build up and on the day. I hardly even think of how much her services cost as it was the best money I've ever spent."
"Both my husband Tom and I feel very strongly that the wonderful Kelly Hood @ Boho Wedding and Events should win one of your awards. Kelly has been an absolute godsend throughout our 18 months of planning for our wedding in Ibiza; from sourcing suppliers (some who only spoke Spanish -meaning she had to translate all emails for us!), our wonderful photographer, and our breathtaking venue. Kelly goes over and above what her role as wedding planner dictates – not only did she source our venue, photographer, singer, DJ and florist – but she also negotiated our contracts, and was a great sounding board for a couple who (like most) have not gone through this before, either in the UK or abroad! Kelly has a great passion for what she does – it is clear that it is more that just a job for her. Her blog provided endless inspiration, and her monthly 'catch-ups' were extremely useful in making sure everything was on track, as well as getting advice. The fact that we could see Kelly crying through our ceremony showed us once and for all that she LOVES what she does – and literally puts her all into helping you plan your dream day. Hand on heart, our wedding day was as amazing as it was largely down to Kelly at Boho Wedding and Events – a perfectionist, super-organised; knowledgeable and now, someone we can call a friend."
"When we first started planning our wedding I would've never imagined I would need or could afford a wedding planner. How wrong was I? Kelly was invaluable throughout the process (my mum and husband would definitely back me up on that). She was there to give me the confidence to carry through my ideas. She prompted me on what questions to ask suppliers as well as introducing us to our caterers who were amazing on the day. On the day I was so relaxed just knowing that Kelly was there to sort everything out. She was like a best friend, excited for us but wanting to make sure everything ran perfectly and that's what she did."
"Kelly found an amazing photographer for us plus did an amazing job on the day, melting in to the background but ensuring that everything went amazingly smoothly. Kelly took a very detailed brief prior to the day to ensure that everything went as we wanted & checked our guests were as comfortable as possible & enjoyed our amazing day. She comes highly recommended & has the additional expertise of weddings in Ibiza too….. perhaps if we decide to renew our vows?!"
Why They Booked
"I was lost as to where to get married and I needed help with my venue search, and so I googled for assistance. Kelly's website really sums up what she is about. She shows passion and personality. She "gets it"…. how important the day is, how hard it is to let go of the control, how overwhelming it can be and how complicated it can be to make your day unique. She went above and beyond in finding me over 12 options (when she promised a minimum of 5). We agreed on an outdoor ceremony and reception in the grounds of a B and B in the middle of Gargrave, but there was no events or catering team which meant everything had to be hired in, even the toilets- kinda scary and lots of room for things to go wrong!. I needed to know that there would be someone with experience to bring all the different elements and suppliers together and keep the day running smoothly, so I booked Kelly to do the on the day co-ordination. I normally like to be in control of everything and hate not knowing what's happening, but I knew it was essential that I found a way to relax and enjoy myself. Once meeting Kelly I was confident that with her in charge it would be just as if I had organised it all myself. It made so much difference to my enjoyment of the day and I would not hesitate to recommend her services."
"I was organising the day myself, but suddenly had a dramatic increase in my workload meaning I had to work full-time and at weekends. I knew I needed help – so I asked the co-ordinator at the venue who works for Sheffield City Council. She recommended Boho straightaway ."
"We were planning a non-traditional wedding ceremony that would be relaxed and informal but it was also in a venue that did not usually cater for weddings. This meant that although we were happy to plan everything and gather together all the decorations and other materials we needed it would be impossible for us to run the event on the day. We decided to hire a wedding planner to make sure everything went to plan and Boho Weddings came across as a company that would be happy to help us plan/organise an unusal wedding reception without imposing their ideas on us and without having any expectations of what we 'ought' to do for our wedding."
"Kelly provided such a diversity of services with a package for every need & budget. I had done much of my research prior to booking Kelly, however she helped us with our most difficult decision (photographer – who absolutely met our ideal) as well coordinating on the day for us – she was there until well into the night ensuring all went smoothly & was amazingly discreet as well. She definitely deserves high recommendation & awards in our opinion & we would gladly recommend her to anyone planning a wedding in the future."
"I needed a planner! I was trying to plan the wedding from overseas and was having a really hard time getting suppliers to return my phone calls and/or emails to get quotes…so I started looking for a wedding planner. She made everything so easy and it was great to have boots on the ground when I couldn't see anything myself. She was amazing and totally reassuring when everything felt overwhelming and impossible. The day went off without a hitch…I didn't have to worry about anything. She was great, highly recommended!"
"For her professionalism, vision and the fact that she had good witness testimonials."
"My husband (then fiance!) and I both lead very busy lives – with full time jobs that often see us working 50+ hours a week each. On top of this, we had reached the period in our life where all of our friends were also getting married, turning the big 3-0 (including us!) or having children – so we planned to marry in a year that was chocca full of hen do's, stag do's, birthday weekends away and christenings…Boho Weddings and Events was therefore a 'must-have' on our wish list once we were engaged as we realised early on that we needed a little help. Because we wanted to get married in Ibiza, we also wanted a planner that had good knowledge of the Island and suppliers – but was based in the UK so we could meet face-to-face and discuss our dream day. To my knowledge,Kelly at Boho is the only planning company to offer this service in the UK- and she was absolutely invaluable to us in the planning process. After an initial consultation with Kelly, we knew on the drive home that we would book her. Her sheer enthusiasm for our wedding on the white isle, doubled with her clear knowledge of weddings abroad and organisational skills meant that she was booked without hesitation and we would highly recommend her for any wedding – and in particular, ones on the beautiful Island of Ibiza."
"To take the stress out of the organisation of our wedding day as we were living abroad while planning the wedding. We also went for a venue which had limited staff so we needed someone to help us with coordination on the day."
"Because I only plan on getting married once and I deserved the best wedding I could possibly imagine and that's what I got. The best wedding planner who helped me achieve the best day possible. Without Kelly I wouldn't have had the confidence to break from all the traditions and just do things the way we wanted simply because we wanted to! I would and have recommended her to friends without hesitation. xxxxx"