It may not be very cool to sing your own praises BUT on this occasion I really don't care. On Friday evening I found out that I had become an award winner….so I just wanted to put a short post together and thank all my lovely brides who voted for me.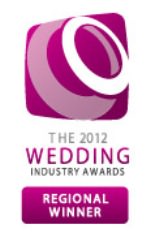 The 2012 Wedding Industry Awards is an independent body which is celebrating 19 different categories within the wedding industry, one of them being Wedding Planning. The awards are voted for by brides themselves and then by a judging pannel. Each category has been split into regions and I was put into the North East area for Wedding Planning. At the beginning of the month I found out that I had been shortlisted for the prize and was told that a winner would be announced at the end of this month after the results from the votes given had been analysed.
So it turns out I have become the North East Regions Wedding Planner Winner! and I couldn't be more happy!
Next……it's onto the nationals. Each company who has won a regional award automatically gets entered into the national finals, where one supplier out of a list of 7 will be picked by the judges. The awards are on 18th January in London and we find out on the night of we are winners or not.
So I wanted to say a HUGE THANK YOU to each and every bride who voted for me and left all your lovely comments, I can not tell you how much I appreciate it. I have contacted each one individually but I just wanted to say another thank you, as without you I wouldn't have won. Also a massive thank you to the wedding industry awards themsleves.
So lets see what happens in London. To  be honest I'm not expecting to win, there is a very strong group of wedding planners that I am up against, but I am more than honored to have got as far as I have! and it makes me very proud to see what I have achieved in the last 2 years! It's not been easy and I have worked incredibly hard BUT things like this really make it all worth while, so thank you once again.
Big Boho Love
Kelly xxx
Due to an email issue if you have emailed me between the 2nd & 9th of December, please resend it.
X