Happy Thursday everyone! As we speed towards the weekend I hope your week is going well so far? Winter seems to have arrived here in the UK, the nights are now much darker and it's certainly getting colder, so today I thought I would warm you up with this gorgeous destination wedding. Rachel and Kyle held their destination wedding in Akumal, Mexico with a tropical theme. The whole day was more than the couple could ever imagine with the help of expert wedding planner, Eri Rosales from Infinity Weddings. Eri took care of everything leaving Rachel and Kyle free to enjoy their wedding run up and have the most relaxed day ever! The day is full of colour fun and the most amazing backdrop. Thanks to Hideki Falcon for the delightful photos.
Eri Rosales from Infinity Weddings tells us of some highlights
During the rehearsal dinner and welcome cocktail we handed out Polaroid cameras for the guests to take pics of themselves, but instead of putting them in a book we used them to decorate the seating chart on the wedding day. The couple of course brought some more Polaroids from their parent's weddings and other moments with the guests prior to the wedding.
Instead of champagne toast we did tequila toast, for which we had a special setting on the table top for each seat with a tequila glass, salt and lime.
Father of the bride wore a shirt the bride gave him, fashioning Mickey Mouse's between palm trees, as they share a love for Disney movies, their dance of course was "belle and the beast" theme and dad made sure to have a red rose for the bride at the end.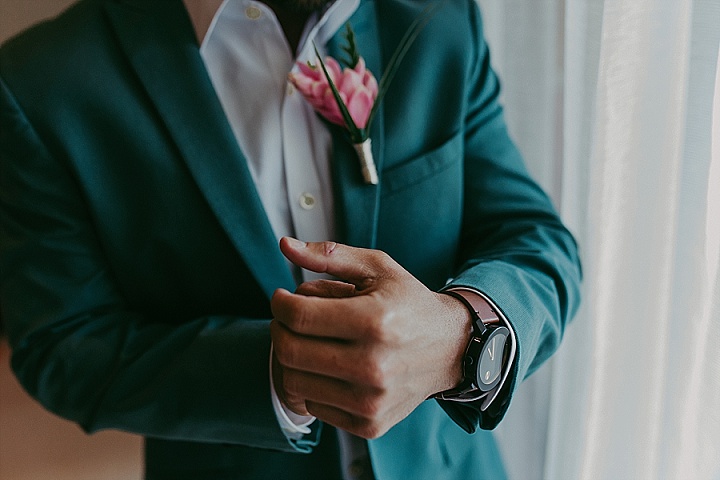 The venue
Beyond words. We hosted three events over our wedding weekend, welcome party, rehearsal dinner
and the main event. Each event was perfect, and we can honestly say that there wasn't one issue. All our guests raved about the events, beautiful grounds across the property, endless activities, wonderful staff that was always happy to help assist with any needs and the delicious food/ craft cocktails.
The planner
We could write a novel on how wonderful Eri was, so we will try to keep this brief. From our first Zoom meeting we knew Eri's #1 priority was to get to know us, hear our vision and priorities and deliver the best wedding events possible. She listened intently, authentically cared to get to know us and professionally gave us suggestions, which led to the smoothest wedding week a bride and groom could ask for. We never had to worry about a thing, what bride and groom can say their wedding and events leading up to the wedding went off without a hitch? We can honestly say our destination wedding experience would not have been the same if we were assigned a different wedding planner, Eri got us and she was able to deliver our wants and needs to her team and preferred vendors, who respected her.
Favourite decoration detail
Our ceremony backdrop, we provided our vision to Eri and the beauty of the tropical arrangement was way more than we could have imagined.
Which of your vendors stand up the most, and why?
Aside from Eri's services standing out, the floral arrangements, especially the bridal bouquet, blew
us away.
Favourite moment of your wedding day?
We both agreed that marrying each other was our favourite moment but to be more specific for Rachel it was not doing a first look with Kyle and seeing him for the first time while walking down the aisle, Rachel yelled out "Awe, Kyle" upon first look and that touched all of our guests hearts, they felt the love that Kyle and Rachel have for each other. For Kyle it was the lasting memories created while getting ready with his groomsmen.
Supplier Shout Outs