Today's wedding is one beauty of a day and with not one but two brides it is packed full of glamour.  Krystal and Anna wanted a very specific wedding, a white barn as the backdrop with accents of black in the clothing and the decoration set against the clean, crisp backdrop. They created so many of the elements themselves, from the flowers to the stationery to the decoration, a real DIY affair but the level of detail is quite outstanding, it really does looks super fancy! The whole day looks amazing, but the best part for me are these two beautiful brides, how stunning do they look! Big thanks to April Pinto Photography for the gorgeous photos.
Boho meets farmhouse meets The Addams Family. Perfect.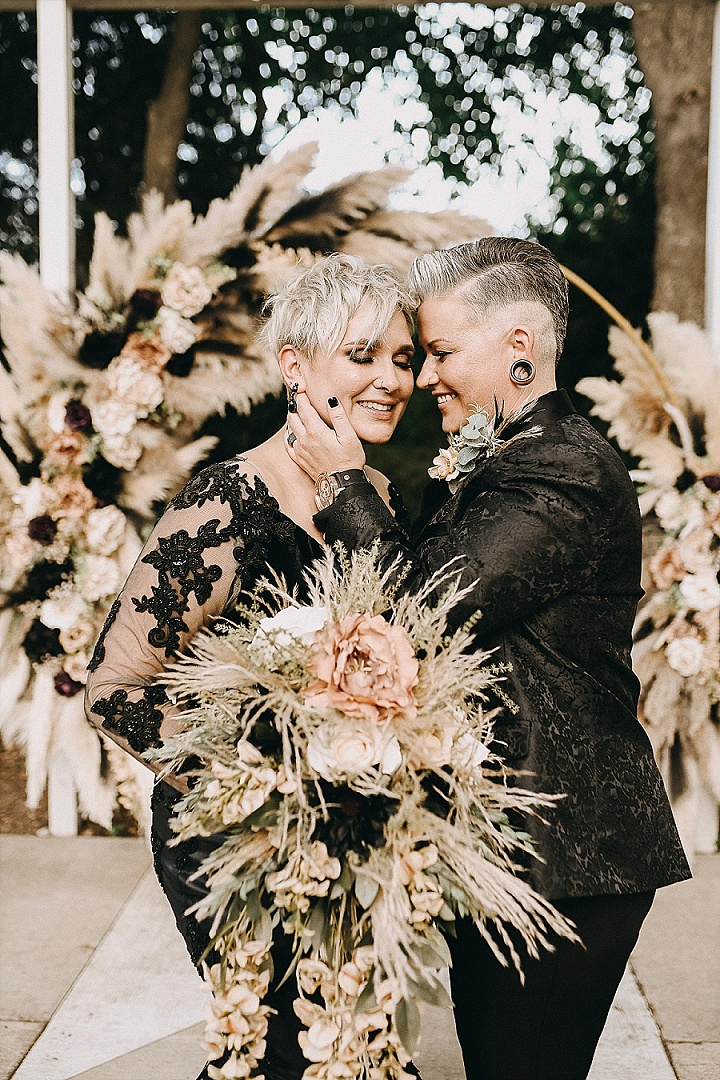 Krystal and Anna were married in May 2023 at Rosemary Barn in Texas. 'We had a very specific aesthetic in mind when we started planning our wedding.  We specifically wanted a white barn with an outdoor ceremony space in order to contrast our primarily black wedding. We had approximately 85 guests. We became engaged in February of 2022 and were married in May of 2023, so about 15 months to plan.' 
How they met
We met on Instagram via a mutual contact.  We followed each other for two years before we had a conversation, but once we started talking it was obvious we were meant to be together.  We are celebrating our 2-year anniversary of being smitten this September 8th.  (Yes, it was a bit of a whirlwind.)
The proposal
I (Anna) took Krystal on a trip to Costa Rica for her birthday in February of 2022.  I told her I had arranged for a photoshoot on the beach so we could finally have something more than cell phone selfie pictures.  Once we arrived at the predetermined spot (a cliff overlooking the beach), the photographer directed us to do a certain pose and then I handed Krystal a card.  Once she got to the end (where it alluded to what was about to happen), I got down on one knee and proposed with a ring made out of a twist tie.  There had been horrible snow storms all that week leading up to our trip, and her custom made ring was delayed getting to me due to the weather.  Lucky for me, she had specifically told me on multiple occasions that I could propose with a twist tie and she would say yes.
How did you allocate your budget? 
We had three main priorities:  venue; photography and videography; and overall aesthetic (decor, etc.).  We had the most specific vision for our wedding and making that come to life was key.  Documenting it was equally important as, when all is said and done, that's all you have left of all the time, effort, and money spent.  I (Anna) am a photographer myself, so the first thing I did was research and find a photographer with a style that fit ours.  We allowed for extra expenditures for those things and looked for ways to cut costs everywhere else.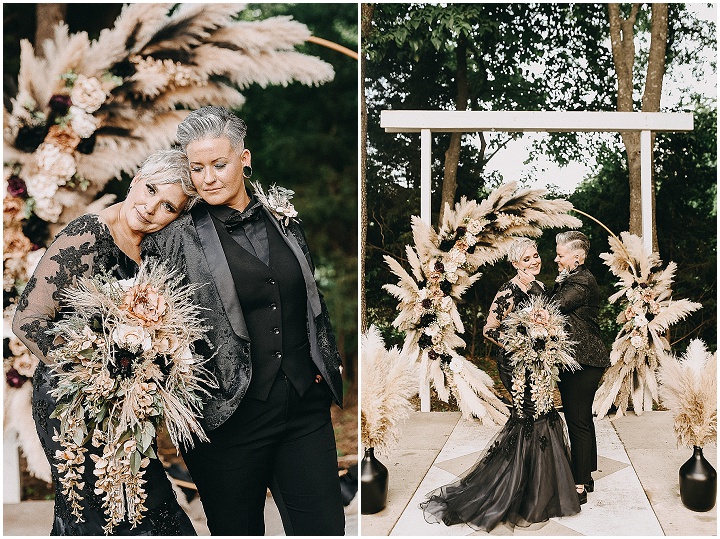 Where did you splurge and how did you save money?
We feel like most of our expenditures were within reason.  Our one big excessive splurge was my (Anna's) dress.  My dress was custom made by the amazingly talented Kaitlyn Coufal Couture.  Once again, we had a very specific vision and we could not find anything remotely close at any bridal shop or online.  Reminiscing on that day and how I felt in that dress and how Krystal reacted to seeing me in that dress, we regret nothing.
We saved money in several ways, but there were three areas that stand out.  The first was by doing our decor all on our own.  Every floral piece, from boutonnieres to the huge floral ring used in our ceremony was designed and made by Krystal and her mom, Georgia.  We bargain shopped online and made Hobby Lobby runs almost weekly to clean out the items we needed while they were on sale.  I helped by painting vases and creating the printables we used on the tables at the reception.  Luckily, Krystal and I own a business handcrafting custom home decor and designing decor and florals for events, so we were well-suited to take this on.
Secondly, we cut a lot of costs with our invitations.  We purchased a design on Etsy, which I customized and printed through Zazzle during one of their sales.  We purchased black envelopes on Amazon and Krystal hand-addressed every single one with her amazing calligraphy skills.  We made them look extra fancy with a custom wax seal on the envelopes.  (The stamp for the seal was also purchased from Zazzle on sale.)
We also saved a fortune with our cake.  We ordered a small two-tiered cut cake and an assortment of cupcakes from Smallcakes in Frisco, and then Krystal applied the floral to the cake to make it look like a custom bakery confection.  Smallcakes' cakes are so delicious and we were able to get an assortment of flavors so there was something for everyone while still having the "picture-perfect" wedding cake for display and photos.
Supplier Shout Outs
April Pinto Photography
www.aprilpintophotography.com / www.aprilpintophotography.com/FlowerMoundPhotographer / FACEBOOK / INSTAGRAM