If any of you know me, you will know I LOVE food! Food is such a big thing at Christmas so I thought as it was Christmas week it would be the perfect time to share with you some Christmas recipes in case you were looking for inspiration for your Christmas Dinner.
(Photo Source)
The recipes come courtesy of PJ Taste who are a Sheffield based catering company, who use ingredients sourced locally and sustainably from Yorkshire and Derbyshire. I have had the pleasure fo working with PJ Taste on a few weddings this summer and have more booked in with them next year. They are a great company and are fully committed to using locally soured products.
A few weeks ago they invited me along to a Christmas food evening……I didn't need any encouragement, the words Christmas and food had me hooked. The evening was a series of food tastings and food demonstrations. I throughly enjoyed myself as did my husband Nik, and we went away with our Plum Pudding sorted for Christmas Day as well as ordering THE most amazing Pork Pie in the world courtesy of www.jlordandson.co.uk (OMG seriously I have never tasted anything like it)
one of the food demonstrations

Peter at PJ Taste has been kind enough to let me share with you 4 days worth of Christmas recipes from that night, starting today with a couple canapé ideas. Wednesday we will be looking at Christmas Stuffing, Thursday, Christmas Veg and Friday the good old Christmas pudding! So if you're not hungry, you will be by the time you finish reading this!
Christmas Canapés
Squash Shots with a Pumpkin Oil Garnish (V),
(Serves 6)
2 Large ish Butternut Squash
1 Large Onion
3 Cloves garlic
Olive oil/Butter
½ lt vegetable stock
½ lt milk
Freshly grated nutmeg
Salt and Pepper
(photo source)
Chop the butternut squash into large chucks removing seeds and roast with olive oil and garlic in the oven at a high heat. Soften the onion in more butter/olive oil and then add the stock and milk and bring to a simmer. Scoop the squash from the skins and add to the stock along with the seasonings. Simmer for 15 minutes. Then liquidise and serve.
Cinnamon & star anise cured salmon
150.0g brown sugar
300.0g rock salt 3 oranges, zested
2 star anise
1 cinnamon stick
500.0g salmon, centre piece of fillet, skinned and pin boned
2 slices sourdough bread, toasted, each cut into 6
crème fraîche to serve
3 slices of raw beetroot, peeled and shredded
12 coriander leaves
Whizz the sugar, salt, zest, star anise and cinnamon in a food processor. Spread a small amount onto a tray and lay the fish on top, tip over the rest of the mix over the top of the salmon and spread. Cover with clingfilm and leave in the fridge or a cool place for 24 hours.
Wash any remaining mixture off the salmon and leave to dry for 1 hour. Slice when needed then use for your recipe. Brushettas can be made with a generous amount of salmon, a dollop of crème fraîche, some beetroot and a coriander leaf.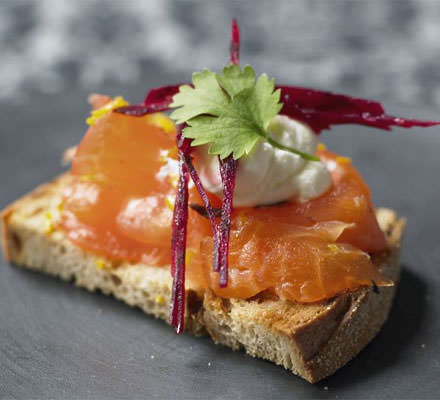 (Photo Source) 
Pop back tomorrow as I will be posting a yummy Christmas stuffing recipe!
For more information on PJ Taste go to:
http://pjtaste.co.uk
http://peterpjtaste.wordpress.com
(If not other wise stated photo credit to PJ Taste)