A Couple of weeks ago I took myself north and had a day in North Yorkshire, I visited some amazing places broadening my venue knowledge so I can recommend the best venues to my brides and grooms, I strongly believe that I can't recommend anywhere until I have been there myself!
One of the places I went to visit is the The Priory in Syningthwaite, Wetherby.
I had heard about this fabulous venues from my good friend Mark Skeet who recommended I go and visit it. I'm so glad I did as it is amazing, with so many possibilities!
When you book the Priory you pretty much get a blank canvas to work with, so if you are looking for a wedding you can put our own mark on, then this is the perfect place for you.
You also get the place exclusively yours for 43 hours along with 7 luxury cottages set in the beautiful grounds, with 17 bedrooms offering accommodation to 29 guests, Perfect for a wedding weekend!!
The barn itself where the weddings take place has recently been renovated and both built and decorated to an extremely high spec, perfect for any wedding day, or celebration.
The priory it self is set in the amazing scenery of North Yorkshire, the views are to die for, the perfect back drop your wedding day.
They specialise in small intimate weddings which are held in the barn area which holds up to 60 guests or larger weddings in the marquee, which is set adjoining the barn for up to 300 guests. Again both are decorated to an incredibly high standard. When you book you get the whole thing, so no worrying about unexpected guests turning up, or bumping into another bride. You will get to enjoy your wedding day as well as two nights in one of the luxury cottages.
The Priory is a family run business and they pride themselves on the friendly and personal service, they offer many options and lots of little personal touches that will make not only your wedding but your stay at the cottages perfect!
The 7 cottages are all different and, like the barn, decorated and furnished to a fantastic standard, with amazing gardens and the peaceful scenery it really is the perfect place for your wedding guests as well as the happy couple.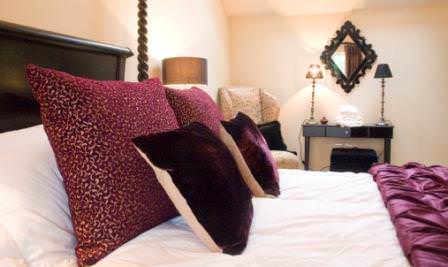 I'd like to say a big Thank you to Serena who took time out of her busy day to show me round the venue. As you can tell I really liked this place, I'd love to spend a some time in the amazing cottages with my husband ……….a perfect way to spend a couple of relaxing days!!
I can't recommend this place enough, and I can't wait to plan a wedding here, so may possibilities my little Boho head is swimming with ideas!!
For more information about holding your wedding at the Priory or hiring out the cottages go to:
www.theprioryvenue.co.uk
[email protected]
01937 282919