Well it's Friday and yet again I have no idea how it came round so fast! I know I say it every week but the weeks really are whizzing by faster and faster! It will soon be Christmas! Have you got that Friday feeling? I do hope so! To finish of the week I have this cute Picnic wedding from Anna Louise Crossley sent into me by Leanne the beautiful bride. Leanne and Stephen decided to make the most of the glorious summer we had this year and take their wedding outside into the ruins of Byland Abbey in Yorkshire. They held a fully outdoor reception and enjoyed the summer sun. Full of amazing picnic food, pretty details and lots of fun this wedding is truly British!
'In terms of style we didn't want a traditional 'sit down' wedding so we would describe it as a 'country fete' where everyone could enjoy themselves and have fun.'
Leanne and Stephen were married on 18th August, the ceremony was held at Newburgh Priory, in Yorkshire with the reception at Byland Abbey & Byland Abbey Inn. 'Steve is from Yorkshire and we fell in love with this particular area and the venues I mean just look at them. Also Jane and Michael were so enthusiastic about every thing it made us feel good. We had 74 guests and it took 9 months to plan.'
How they met
We worked together (although Leanne in Dublin and Steve in London) we have been together for 3 years the first of which was in different countries.
The proposal
Originally it was planned to be in the Duck & Waffle in Heron Tower on the anniversary of Leanne's 1st year in London. However it didn't feel right and a facebook comment re engagement put the plans to propose on hold. A couple of days later during a dinner at Benihana (one of our favourite restaurants) Steve got down on one knee.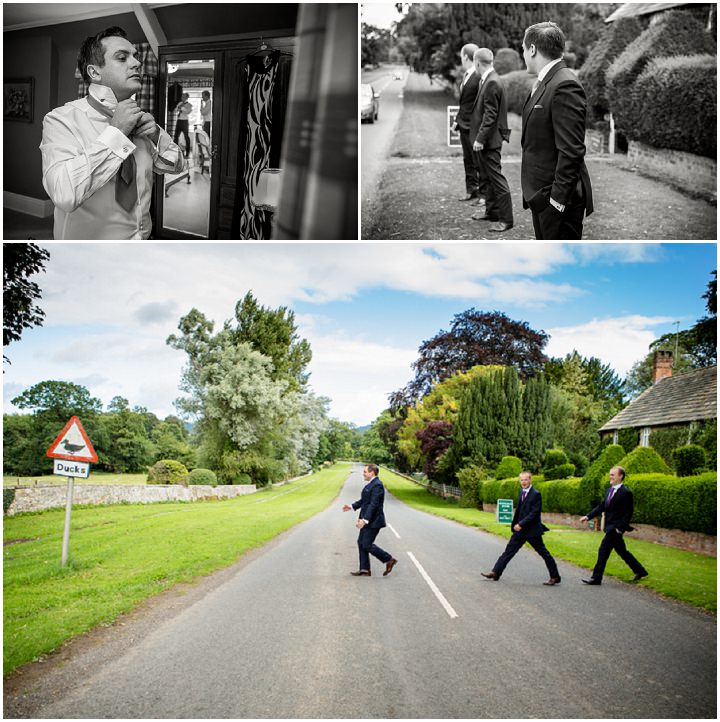 How did you allocate your budget?
A lot went on the Honeymoon to Kruger Park, Seychelles and Dubai, Wedding Dress, Entertainment and the best quality food.
Why did you choose your photographer?
Anna was recommended and after our first phone call and seeing some of her pictures we new we had chosen the right person. The main attraction was her natural unforced style and ability to get a fantastic picture with out having to pose for hours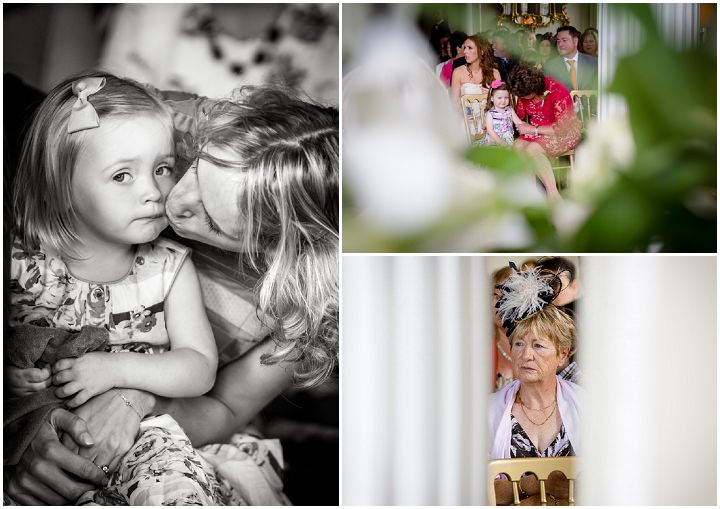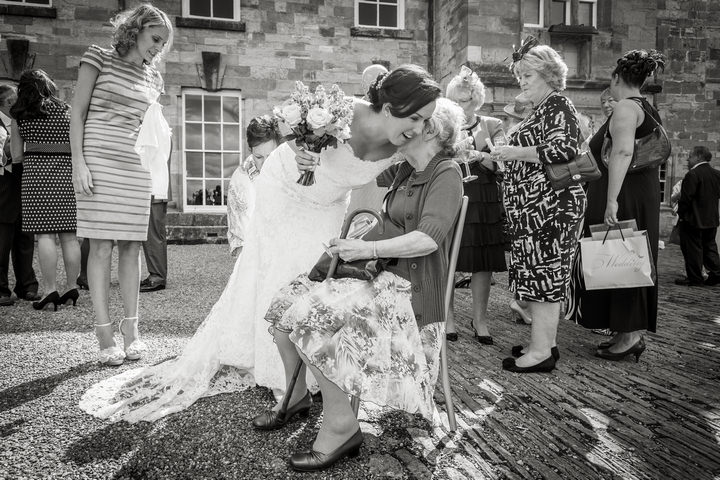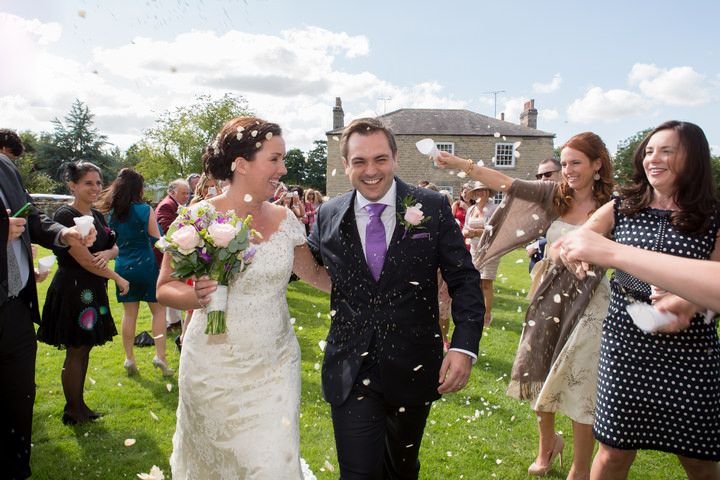 The dress
The dress was from Emma Hunt in Wimbledon the accessories were also from Emma Hunt, the shoes were from Else by the rainbowclub.
The suit and Bridesmaids
The suit was from A suit that fits Steve has had suits made by them before. Shoes from Oliver Sweeny.. I decided to just have a flower girl (my niece Laura) whose dress came from Janie and Jack

Theme or colour scheme
We didn't have a specific colour scheme when we started planning however we chose Lavender as this fitted with the theme and the venues.
Flowers
Wild Lavender and wild flowers
Personal and homemade touches
Where to start! Christa (Steve's step mum) did most to the decorations and table settings, confetti etc, however we're sure she had a lot of help from Steve's dad, sister and others. Patricia, Steve's mum, made the favours which where filled with Yorkshire mixture from Dobson's in Elland. Leanne's sister Vivienne played the beautiful music at the service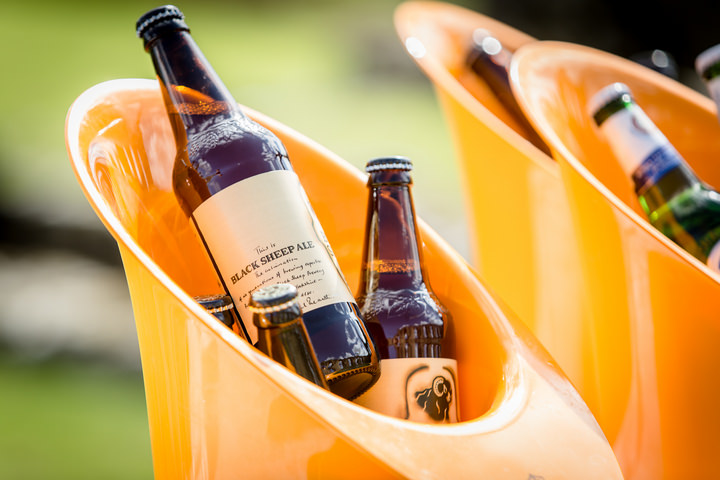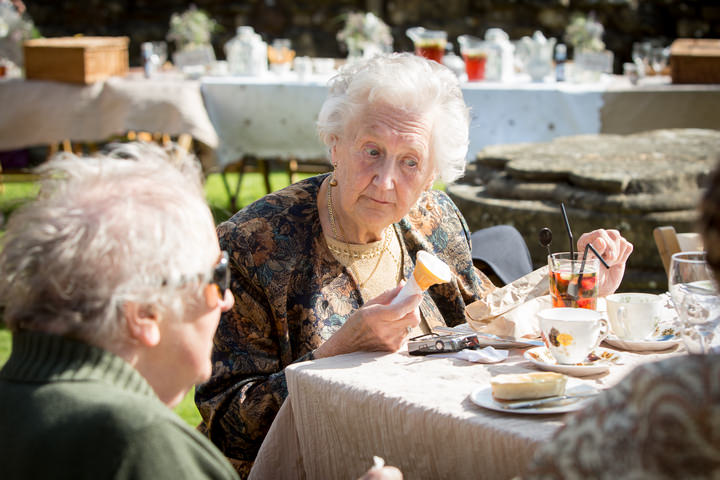 Food
Picnic – in the Abbey: Selection of sandwiches, Asparagus tarts, Local pork pies, Scotch eggs, Rustic Breads, Lashings of Pimms and Black Sheep
Gourmet Yorkshire Barbecue – Prime Yorkshire Sirloin Steak. Proper Yorkshire Bangers, Lemon & Rosemary marinated Chicken,
Fish & Shellfish Parcels, Queen scallop, prawn & salmon, chilli & lemongrass, Al Forno potatoes, Summer Green salad, Sweet & spiced Cous Cous, Cucumber, chilli & poppy seed, Basket of Homemade breads and Focaccia
Entertainment
Magician, Ice-cream – Neil had his tricycle with him. Music from The Vernon Sisters, and a Juke Box. We also had Games in the garden (Giant Jenga, croquet, cricket, giant photo frame)
Special moments
There where so many however for me it was seeing Steve turned around when I was walking down the Aisle which is so unusual especially being Irish. It got me to him without a tear.
Steve – seeing Leanne when she was walking down the aisle.
Biggest Surprise
Walking into the ruins of Byland Abbey and seeing how the whole place looked. The tables were fabulous, icecream trike was amazing, the music was incredible, Durham Ox staff were in their finest and Jane our wedding planner had such a smile of success on her face. It was very emotional for us both.
Advice for other couples
Leanne: Do not get stressed out and make sure to take at least 20 mins away from everyone to be alone. The day goes so fast so cherish every moment.
Steve: Enjoy the day and don't care what other people think, it's your day.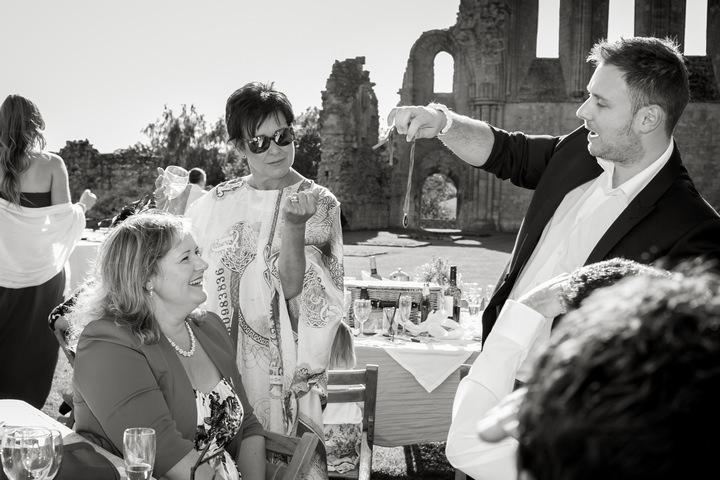 Supplier shout Outs
For more information on Anna's work go to
http://annalouisecrossley.co.uk
http://annalouisecrossley.co.uk/blog
FACEBOOK