Well hello Friday! I can't believe it's the end of the week already! Mind you I have only been in the office for 2 days, after a delightful few days in Norfolk! If you are currently juggling childcare with work, then the end is in sight, as the kids go back to school next week. I've had a lovely few weeks off on many an adventure but I feel that our household is ready for some much needed routine, what about you? How has your summer been? Lucy and Richard who's wedding I am sharing with you today, had a lovely summer last year as they got married in full party style. They held a beautiful church ceremony, followed by a fun filled reception at their parents house in Hampshire. They brought in many a keg of their favourite ale and a fair few bottles of their favourite gin which I'm sure fuelled the party into the early hours. Kristian Leven Photography was there to capture the day for us.
It was a day full of our favourite things, people and places who all came together to celebrate our love with the most incredible energy.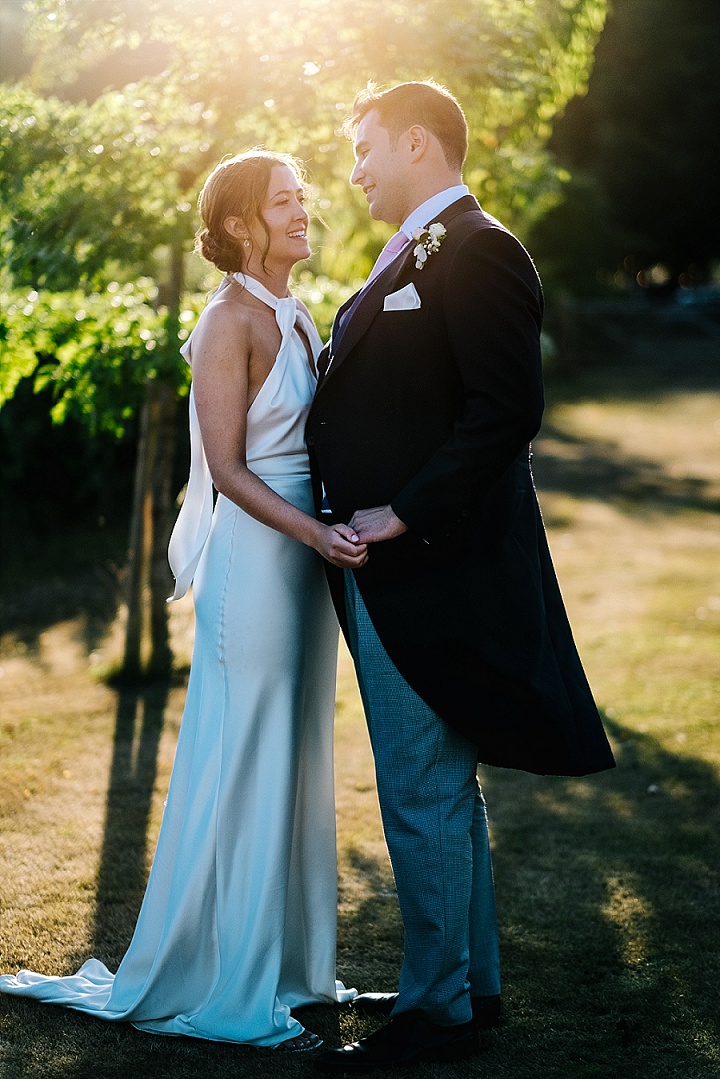 Richard and Lucy were married on 20th August 2022 at All Saints Church, East Meon in Hampshire. Reception at Swanmore Park House (parents house). 'The house is a wonderful setting belonging to Richards parents, with a good sized meadow and garden where we decided to host the event. We even got engaged in 2021 in that very meadow. We had around 100 guests, we got engaged in April 2021 and married in Aug 2022 so just over a year to plan it all.'
How they met
We met in Quito, Ecuador, both on our third year abroad from university (both language students). Richard happened to be good friends with Lucy's best friend from university who put us both in touch when she knew we would be in Quito at the same time. We met in an Irish pub, Finn McCool's and it all went from there. Lucy then spent the next year travelling between Brazil, where Richard was studying for his second part of his year abroad and Milan (where she was supposed to be studying). This September (2023) we will be celebrating nine years together.
The proposal
The proposal was a bit impromptu! We had gone to visit my parents for Easter 2021 down at Swanmore and Richard had decided that he was going to ask the question – in the months ahead. He assured me that there was a pot of savings set aside for jewellery… having spoken to his dad on the night we arrived and told him of his intentions, the following day when we got back from a dog walk, Richard's parents beckoned him into the kitchen and offered him the use of his mothers ring. Later that day we walked in the meadow and Richard asked the question. Lucy wasn't the most surprised given she had heard most of the conversation in the kitchen, but thrilled nonetheless.
How did you allocate your budget?
The budget definitely changed once we got into the throes of planning and understood just how much everything cost.  There were certain elements we knew we didn't want to compromise on and so focused the budget there such as photographer, videographer, band, food and alcohol.
Where did you splurge and where did you save?
Splurges included both of our outfits for the day, especially Richard's shoes. The alcohol which we ordered way too much of but that has happily supplied all of our family parties since the wedding day. We knew we wanted to have good quality food so spent more there. The photographer and videographer were really important to us and we are so glad we went ahead with both as it's our favourite thing to do to reminisce and look back over the photos and our videos. Our marquee company were amazing and although it was a lot of money, everything was included – portaloos, generators, tables and chairs. They helped with everything and gave us great advice when it came to marquee decoration, flowers etc.  In terms of savings we had a lady local to Richard's parents do our cake which was very affordable, gladly so as we didn't even get round to cutting it on the day and our dog Betsy ate half the bottom tier the next morning! We also did a big Hobby craft shop for table decorations, place settings and table plan which again I am glad we didn't spend too much money on as they are all things no one focuses on too much.
How did you choose your photographer?
Lucy typed into google 'Best Wedding photographer UK' and found Kristian. Looking through his photos we knew his style suited what we were looking for and we are so pleased with the photos.
The dress
My dress was the 'Cheryl' by Halfpenny London, shoes were AEYDE and most of my jewellery were lovely gifts that I received the morning of the wedding. My earrings were Sophie Breitmeyer who also did my wedding band. I had two bracelets, one by Monica Vinader and one was a brand off Wolf & Badger.
The suit and bridesmaids
Richard's suit was made by Cad & The Dandy, his shoes were John Lobb. Bridesmaids were all in blush Ghost dresses.
Theme or colour scheme
We weren't too strict on a colour scheme but our flowers were white, greens and light pinks (to match the bridesmaids).
Flowers 
We had amazing flowers, both in the church and at the reception. The lovely church flower ladies did our flowers for the ceremony, again focusing on green, pink and white. In the marquee, I wanted lots of foliage running from the ceiling to dress it up. We also had a lovely hoop of foliage and flowers above our bar which I loved. We also brought the church flowers back from the ceremony to the reception as it felt a shame to leave them.
Decoration 
Most of our decoration inside the marquee definitely came from the flowers. Aside from that we had mix matched candle stick holders dotted along each of our tables with light pink candles. We also had chandeliers hanging from the ceiling above each of our tables.
Food
We used a catering company called 'With Fire' who specialise in cooking over open fire. We had a few different options but the menu included picanha beef steak, cedar wood salmon, miso roasted aubergine all served with a variety of salads. For dessert we had fire glazed peaches and ice cream but by that time everyone was already up on the dance floor!
Wedding cake
We had a three tier naked vanilla cake and we dressed it with flowers.
Entertainment
We may be biased but we think we had the best band. They were called 'The Jukeboxes' who were a classic rock band and just what you needed to get everyone on the dance floor. Richard's brother also plays the guitar so we had him playing in the garden whilst our guests arrived from the ceremony. JC also ended up joining the band on stage later in the evening for a rendition of Highway to Hell.
Who supplied the stationery?
All of our invites, save the dates, order of ceremony I ordered through Papier.
Where did you go on your honeymoon?
We went to the Isles of Scilly for one week and then to Cornwall for our second week. We were toying with the idea of an exotic honeymoon but in the end we opted for somewhere closer to home, mostly so we could take our dog Betsy with us too. The Isles of Scilly are a special place for Richard and his family and it was Lucy's first time and it really was the perfect location. We could well have been in an exotic location with the white sand beaches and crystal clear waters. We stayed at the Hell Bay Hotel the Isle of Bryher which I couldn't recommend enough.
Personal touches
We tried to personalise the day as much as possible by involving all our favourite things, so for drinks Richard knows a brewer, Charlie Macintosh, and wanted his Macintosh ale for the day – we had 5 barrels of bitter and pale ale lined up on top of the bar so people could serve themselves, which was great! Likewise, we have a favourite gin, which is a small distiller based in Wimbledon called Bloody Bens, we had their pink and clear gins for our G&T bar. We both love a BBQ hence the With Fire catering. We worked with The Jukeboxes on a setlist which included plenty of our favourite rock'n'roll songs!
We drove away from the church in Richard's Morris Traveller, which we used to drive around in during the early days of our relationship – Richard had it with him up at Newcastle Uni.
Richard also gifted all his groomsmen with personalised engraved tankards on the day which was another nice memento – and we gifted all guests with a pot of local Swanmore honey.
And our dog Betsy came to the reception wearing a collar of flowers!
Special moments
The speeches were definitely very special, we had Lucy's Maid of Honour, Richard's Best Man and Richard do speeches and they were all amazing. Also seeing all of our planning come together and sharing the day with all of our favourite people in one of our favourite places is something we will treasure.
Advice for other couples
I know it's easy to say being on the other side of it but try not to stress. You won't be able to control everything that happens on the day. For example our organist didn't show up so Lucy initially walked in the church to no music, only for a moment!
biggest surprise 
Seeing how ballistic everyone went from the moment the first note was struck by the live band, right the way through the night! Full beans were given which we were very thankful for. We also exchanged some lovely gifts prior to the ceremony, Richard was particularly surprised by some exquisite cufflinks!
Supplier Shout Outs
Kristian Leven Photography
 www.kristianlevenphotography.co.uk / [email protected] / 07743720369 / FACEBOOK / INSTSAGRAM