The Boho Wedding Directory is a hand-picked list of all awesome wedding suppliers in the business, ready to help you plan your Boho wedding. The Directory is located in the main menu bar at the top of each page and is super easy to use. It is split up into suppliers and regions making it easy for you to find the perfect Boho supplier for your wedding.
To make sure you don't miss any of the wonderful suppliers that have been added to the directory, each week I showcase the suppliers that have joined in a mini update. This weeks new suppliers added to the directory are:
Planners & Stylists: QueenyBee & Co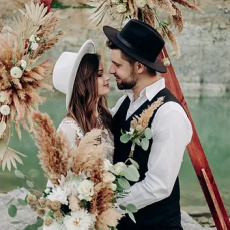 Eco Conscious, Bohemian Wedding Designs, for the wild at heart, free spirited lovers of love. We work with Couples who want to create their chic boho Dream Wedding throughout the UK.
More Information: www.boho-weddings.com/queenybee-co
Jewellery: Estate Diamond Jewelry
Estate Diamond Jewelry is an antique jewelry boutique that curates fine jewelry from the Victorian Era, Edwardian Era, Art Deco Era and Edwardian Era. Collection available online and ships worldwide.
More Information: www.boho-weddings.com/estate-diamond-jewelry

Entertainment: Last Minute Musicians
Last Minute Musicians boast a selection of over 3000 of the best solo musicians, bands, entertainers and entertainment services in the UK. From classical music for weddings to full 10-piece party bands for corporate events, you'll find everything you need to plan the entertainment for any sort of event.
More Information: www.boho-weddings.com/last-minute-musicians
Cakes: Cakes By Robin
Renowned in London, Cakes by Robin excels in bespoke wedding cakes. Tailored to your theme and taste, our tiered, modern, or novelty designs are culinary works of art. From classic fruitcake to red velvet, we cater to all preferences. Contact us for unforgettable wedding cake perfection.
More Information: www.boho-weddings.com/cakes-by-robin
Venue: Plas Dinam Country House
With a rich and wonderful history, we are thrilled to invite you to our rural escape in Wales, sharing the charm, character, and warmth that Plas Dinam has to offer. Plas Dinam is about happy and relaxed weekend weddings with onsite accommodation, our Old Stables party "barn" and lots of flexibility.
More Information: www.boho-weddings.com/plas-dinam
IF YOU ARE INTERESTED IN GETTING YOURSELF ADDED ON TO THE 'BOHO WEDDING DIRECTORY' EMAIL ME AT 

[email protected]

 FOR AN APPLICATION FORM.
HAVE A FABULOUS WEEKEND  
BIG BOHO LOVE