The Boho Wedding Directory is a hand-picked list of all awesome wedding suppliers in the business, ready to help you plan your Boho wedding. The Directory is located in the main menu bar at the top of each page and is super easy to use. It is split up into suppliers and regions making it easy for you to find the perfect Boho supplier for your wedding.
To make sure you don't miss any of the wonderful suppliers that have been added to the directory, each week I showcase the suppliers that have joined in a mini update. This weeks new suppliers added to the directory are:
Photography: Delicious Photography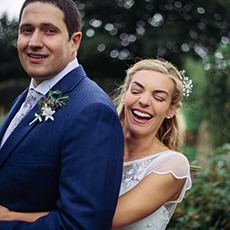 Natural, informal, beautiful wedding photography telling the story of your day through images of you laughing your heads off! I love working with relaxed couples who choose fun over traditions and want a photographer that will blend in with their guests capturing the moments as they happen.
More Information: www.boho-weddings.com/delicious-photography
Cakes: Hayley's Piped Dreams
Hayley's Piped Dreams offer luxury wedding cakes in North Wales. Your wedding cake should reflect your personality and style and tie in with the feel of your magical day, but most importantly it should be delicious, something that you and your guests will talk about long after the last crumbs have been enjoyed!
More Information: www.boho-weddings.com/hayleys-piped-dreams
Photography: Captured by Katrina 
My photos are creative, light filled and inspired by nature. For me every wedding day is an adventure and I capture this spirit – hugs with friends, jaeger bombs on the dance floor, crying happy tears down the aisle and dancing in bare feet as the sunsets – this is my happy place and I'd love to share it with you
More Information: www.boho-weddings.com/captured-by-katrina-photography
Photography: Joshua Wyborn Photographic
I am based in Carlisle Cumbria but available worldwide to document your wedding day. My style is a mix of shoot from the hip, with some fly on the wall. Plus an added dash of well-planned creative fun awesomeness… Smoke grenade or fire anyone?!
More Information: www.boho-weddings.com/joshua-wyborn-photographic
Makeup: Sarah Hetherington Makeup
Qualified and experienced makeup artist specialising in bridal and occasion makeup. Mario Dedivanovic masterclassed and certified. Working in Sheffield and the surrounding areas.
More Information: www.boho-weddings.com/sarah-hetherington-makeup
Photography: Emma-Jane Photography
Emma-Jane photography is a conceptual wedding photographer based In London and Oxford. Creating fashion inspired wedding images that can be treasured. Covering the whole of the UK and abroad.
More Information: www.boho-weddings.com/emma-jane-photography
Photography: Nathan Dainty Wedding Photography
I'm a documentary wedding photographer capturing all of the moments you'll cherish forever. I'll document those fleeting glances, the tears, the hugs and kisses, the butterflies and everything in between!
More Information: www.boho-weddings.com/nathan-dainty-wedding-photography
Photography: Rachel Hudson Photography
Hey I'm Rachel. I adore documenting days full of love, in a natural, informal and discreet style. Your day is unique, and as it unfolds i'll be there to capture the emotion and spirit, making it relaxed and fun for you too. I would love to hear from you.
More Information: www.boho-weddings.com/rachel-hudson-photography
IF YOU ARE INTERESTED IN GETTING YOURSELF ADDED ON TO THE 'BOHO WEDDING DIRECTORY' EMAIL ME AT 

[email protected]

 FOR AN APPLICATION FORM.
HAVE A GOOD WEEKEND
BIG BOHO LOVE
KELLY XX